Trump: 'Scary and difficult time for young men' in US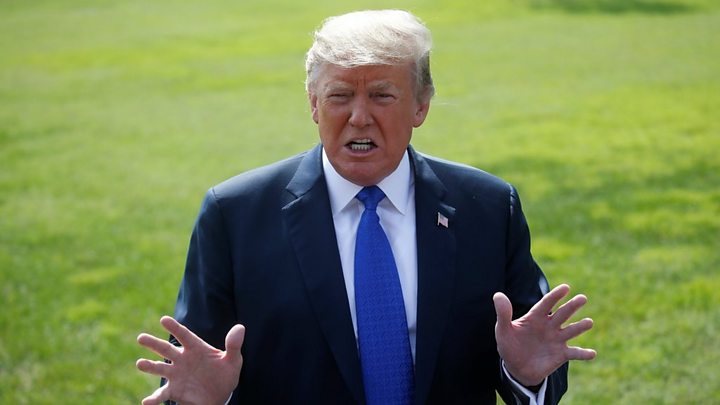 President Donald Trump has told reporters it is a "difficult" and "scary" time for young men in the US.
Mr Trump's remarks came as he reiterated his support for Supreme Court nominee Brett Kavanaugh, who is battling sexual misconduct claims by several women.
A vote to confirm Judge Kavanaugh has been delayed as the FBI investigates the claims, which he denies.
Mr Trump said he believed the Senate would approve the judge.
His appointment would be expected to tilt America's top court in favour of conservatives for years to come.
What did President Trump say?
Speaking to reporters at the White House on Tuesday, Mr Trump said: "My whole life I've heard, 'you're innocent until proven guilty', but now you're guilty until proven innocent. That's a very, very difficult standard.
"It's a very scary time for young men in America when you can be guilty of something that you may not be guilty of."
The president said he was waiting to see what would come out of the FBI investigation into his top court pick, and he did not want to "interrupt" anything.
At a rally later in Southaven, Mississippi, Mr Trump mocked last week's Senate testimony by Prof Christine Blasey Ford, who says Judge Kavanaugh, 53, assaulted her when they were teenagers
The audience laughed as he said: "Thirty-six years ago this happened: I had one beer! Well, you think it was…? Nope! It was one beer.
"Oh, good. How'd you get home? I don't remember. How'd you get there? I don't remember. Where was the place? I don't remember.
"How many years ago was it? I don't know. I don't know. I don't know! I don't know! What neighbourhood was it in? I don't know.
"Where's the house? I don't know! Upstairs, downstairs, where was it? I don't know! But I had one beer. That's the only thing I remember. And a man's life is in tatters."
Mr Trump then criticised those who he accused of manipulating the accusers for political reasons.
"They want to destroy people," he said. "These are really evil people."
The crowd chanted: "We want Kavanaugh! We want Kavanaugh!"
The president has come to the defence of young (presumably white, presumably privileged) men, innocent or guilty, who suddenly find their reputations and livelihood threatened a year after the #MeToo whirlwind first swept on to the scene.
In a nation where young black men are incarcerated at a rate five times those of their white counterparts, the concept of "innocent until proven guilty" in criminal proceedings may ring hollow.
For the rest of the nation, however – particularly the wealthy and well-connected – it has been central to the American concept of justice and due process.
Those guarantees are proving to be scant protection now, however, when it's the court of public opinion, the court of the mass media, the court of American culture at large that are rendering their verdicts.
Judge Kavanaugh's critics have been quick to point out that his nomination process is more akin to a job interview, where the worst that can happen is he doesn't get a promotion to the most powerful court in the nation.
But is it just a promotion at play? Judge Kavanaugh's defenders counter that the accusations against him risk making the man a professional and social pariah.
He has been disavowed by students and faculty of his alma mater, and his Harvard Law School teaching job has been terminated. If his nomination fails, he may still be a judge – but he will be always be the accused judge.
The court of public opinion may not send people to prison, but – as the president notes – its verdicts come with their own sharp bite.
What's latest with FBI investigation?
Senate Majority Leader Mitch McConnell said on Tuesday only senators will see the FBI's report on its investigation.
Mr Trump and his fellow Republicans want the FBI inquiry over this week.
Meanwhile, a lawyer for Prof Ford said they had yet to be contacted by investigators, five days after the inquiry was launched.
"It's inconceivable that the FBI could conduct a thorough investigation of Dr Ford's allegations without interviewing her," her legal team wrote in a letter to FBI Director Christopher Wray.
Republicans accuse Democrats of seeking to delay a vote until after the mid-term elections, in the hope they will win control of Congress and derail Judge Kavanaugh's appointment.
But Democrats say they should not be rushed into a vote and the FBI should be allowed more time to investigate all allegations against the nominee.
What's the political reaction?
Top judiciary committee Democrat Dianne Feinstein said Friday would be too soon to vote on the nomination, as Republicans are thought to be planning.
Senator Lindsey Graham, a South Carolina Republican who has fiercely championed the nominee, said the president should put Judge Kavanaugh forward again if the Senate fails to confirm him.
Senator Jeff Flake, an Arizona Republican who helped spur the FBI inquiry, criticised the judge for "sharp and partisan" remarks in his own Senate testimony last week.
"That concerns me," Mr Flake said at an event in Washington on Tuesday. "We can't have this on the court."
It is not clear how Mr Flake will vote, but Republicans narrowly control the Senate by 51-49 and can only afford one defection.
In his recent testimony, Judge Kavanaugh portrayed the allegations against him as a smear plot "on behalf of the Clintons".
Appearing at the same event as Mr Flake on Tuesday, Hillary Clinton scorned the nominee's claim.
Judge Kavanaugh denies the claims of three women:
Psychology lecturer Prof Christine Blasey Ford, the first woman to come forward, says he tried to remove her clothing, pinned her to a bed and covered her mouth at a house party in 1982, when she was 15 and he was 17
Deborah Ramirez, a student at Yale at the same time as him, says he exposed himself to her during a college drinking game
Julie Swetnick says she went to house parties attended by him in the early 1980s, where she said he and his friends had tried to "spike" girls' drinks
Hundreds of permanent voters card discovered by hunters in Bayelsa
Over 320 Permanent Voters Cards were dumped inside an uncompleted building along the AIT/Elebele road in Yenogoa, the Bayelsa State capital.
The hunters handed over the PVCs to the Independent National Electoral Commission (INEC) on Wednesday, July 27, in Yenagoa, the state capital. the Commandant of the association, Moses Okano
Said :
"We have been combing the bushes in the nooks and crannies because of the happening we have been hearing in the bushes. We started from Azikoro and went through Elebele," he said
In the course of our going round, we ran into an uncompleted building in the bush and we heard some noise with our usual way of operation to ascertain those who were there, the people sighting us started to jump out of the windows of the uncompleted building.
So, we were able to penetrate the building and what we saw were the abandoned voters' cards. So knowing full well that these are Federal Government property and the only authority empowered or authorised by law to keep custody of these items is INEC, we have to recover them and decided to bring it to the Commission." he said
INEC rules out another extension of voter registration
The Independent National Electoral Commission (INEC) has ruled out another extension of the ongoing Continuous Voter Registration (CVR).
The INEC National Commissioner in charge of Ebonyi, Enugu and Imo States, Chief Ken Okeagu, stated this at a media briefing on Wednesday in Abakaliki.
The REC said he had visited the commission's local government area offices to assess the progress so far recorded in the exercise.
He expressed satisfaction with the turnout of prospective voters.
He said: "I'm quite impressed. The arrangement is good and people are turning out.
"So far, we don't have challenges other than the number of people that have been coming out to register.
"I have gone round some of the centres and we are discussing how to take care of the surge.
"Some of the arrangements are going to be internal and we are looking basically at getting more machines to attend to people.
"We are not going to extend again.
"We have done it once for one month and we are not going to extend again.
"Those who have yet to register should go and get registered.
Man exposes the condition of Psquare's village house 
A video making the rounds on social media captures the moment an unidentified man showed off P-square's alleged village mansion.
In the viral clip, the man noted that the duo who are known for their hit track 'Do Me' have such a dilapidated house in the village.
Watch the video below: