Trump: 'Scary and difficult time for young men' in US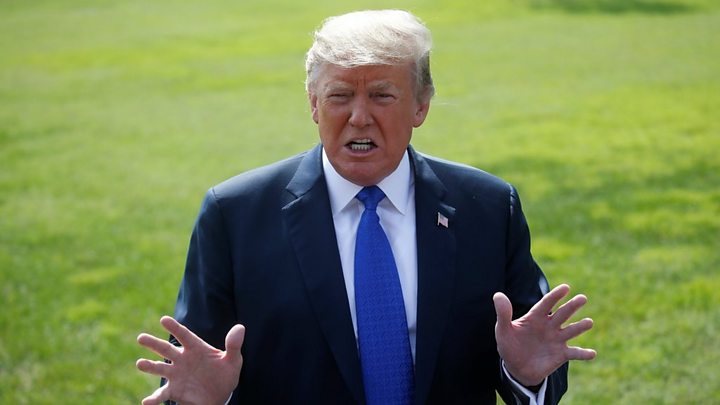 President Donald Trump has told reporters it is a "difficult" and "scary" time for young men in the US.
Mr Trump's remarks came as he reiterated his support for Supreme Court nominee Brett Kavanaugh, who is battling sexual misconduct claims by several women.
A vote to confirm Judge Kavanaugh has been delayed as the FBI investigates the claims, which he denies.
Mr Trump said he believed the Senate would approve the judge.
His appointment would be expected to tilt America's top court in favour of conservatives for years to come.
What did President Trump say?
Speaking to reporters at the White House on Tuesday, Mr Trump said: "My whole life I've heard, 'you're innocent until proven guilty', but now you're guilty until proven innocent. That's a very, very difficult standard.
"It's a very scary time for young men in America when you can be guilty of something that you may not be guilty of."
The president said he was waiting to see what would come out of the FBI investigation into his top court pick, and he did not want to "interrupt" anything.
At a rally later in Southaven, Mississippi, Mr Trump mocked last week's Senate testimony by Prof Christine Blasey Ford, who says Judge Kavanaugh, 53, assaulted her when they were teenagers
The audience laughed as he said: "Thirty-six years ago this happened: I had one beer! Well, you think it was…? Nope! It was one beer.
"Oh, good. How'd you get home? I don't remember. How'd you get there? I don't remember. Where was the place? I don't remember.
"How many years ago was it? I don't know. I don't know. I don't know! I don't know! What neighbourhood was it in? I don't know.
"Where's the house? I don't know! Upstairs, downstairs, where was it? I don't know! But I had one beer. That's the only thing I remember. And a man's life is in tatters."
Mr Trump then criticised those who he accused of manipulating the accusers for political reasons.
"They want to destroy people," he said. "These are really evil people."
The crowd chanted: "We want Kavanaugh! We want Kavanaugh!"
The president has come to the defence of young (presumably white, presumably privileged) men, innocent or guilty, who suddenly find their reputations and livelihood threatened a year after the #MeToo whirlwind first swept on to the scene.
In a nation where young black men are incarcerated at a rate five times those of their white counterparts, the concept of "innocent until proven guilty" in criminal proceedings may ring hollow.
For the rest of the nation, however – particularly the wealthy and well-connected – it has been central to the American concept of justice and due process.
Those guarantees are proving to be scant protection now, however, when it's the court of public opinion, the court of the mass media, the court of American culture at large that are rendering their verdicts.
Judge Kavanaugh's critics have been quick to point out that his nomination process is more akin to a job interview, where the worst that can happen is he doesn't get a promotion to the most powerful court in the nation.
But is it just a promotion at play? Judge Kavanaugh's defenders counter that the accusations against him risk making the man a professional and social pariah.
He has been disavowed by students and faculty of his alma mater, and his Harvard Law School teaching job has been terminated. If his nomination fails, he may still be a judge – but he will be always be the accused judge.
The court of public opinion may not send people to prison, but – as the president notes – its verdicts come with their own sharp bite.
What's latest with FBI investigation?
Senate Majority Leader Mitch McConnell said on Tuesday only senators will see the FBI's report on its investigation.
Mr Trump and his fellow Republicans want the FBI inquiry over this week.
Meanwhile, a lawyer for Prof Ford said they had yet to be contacted by investigators, five days after the inquiry was launched.
"It's inconceivable that the FBI could conduct a thorough investigation of Dr Ford's allegations without interviewing her," her legal team wrote in a letter to FBI Director Christopher Wray.
Republicans accuse Democrats of seeking to delay a vote until after the mid-term elections, in the hope they will win control of Congress and derail Judge Kavanaugh's appointment.
But Democrats say they should not be rushed into a vote and the FBI should be allowed more time to investigate all allegations against the nominee.
What's the political reaction?
Top judiciary committee Democrat Dianne Feinstein said Friday would be too soon to vote on the nomination, as Republicans are thought to be planning.
Senator Lindsey Graham, a South Carolina Republican who has fiercely championed the nominee, said the president should put Judge Kavanaugh forward again if the Senate fails to confirm him.
Senator Jeff Flake, an Arizona Republican who helped spur the FBI inquiry, criticised the judge for "sharp and partisan" remarks in his own Senate testimony last week.
"That concerns me," Mr Flake said at an event in Washington on Tuesday. "We can't have this on the court."
It is not clear how Mr Flake will vote, but Republicans narrowly control the Senate by 51-49 and can only afford one defection.
In his recent testimony, Judge Kavanaugh portrayed the allegations against him as a smear plot "on behalf of the Clintons".
Appearing at the same event as Mr Flake on Tuesday, Hillary Clinton scorned the nominee's claim.
Judge Kavanaugh denies the claims of three women:
Psychology lecturer Prof Christine Blasey Ford, the first woman to come forward, says he tried to remove her clothing, pinned her to a bed and covered her mouth at a house party in 1982, when she was 15 and he was 17
Deborah Ramirez, a student at Yale at the same time as him, says he exposed himself to her during a college drinking game
Julie Swetnick says she went to house parties attended by him in the early 1980s, where she said he and his friends had tried to "spike" girls' drinks
Breaking News : Oil tanker explodes in Lagos .
A tanker explosion has occurred at Toyota bus-stop inwards Mile 2, along Oshodi-Apapa expressway.
The tanker was fully loaded with fuel at the time it exploded.
Fire service arrived at the scene to put out the fire.
The Federal Fire Service giving an update on Twitter moments later, the Federal Fire Service said, "Update: The tanker fire situation at Toyota Bus stop, along Oshodi Apapa Expressway, Lagos State has been brought under control."
Lagos state government shuts down all schools over #EndSARS protests
The Lagos State Government has ordered the closure of public and private schools in the state indefinitely.
This was announced in a press statement by the state's Head of Public Affairs, Ministry of Education, Kayode Abayomi, on Monday.
The statement was titled, 'Lagos directs students to stay at home'.
It quoted the Commissioner for Education, Mrs. Folasade Adefisayo, as saying that the schools were shut down over "tension generated by the 
#EndSARS
 protests."
The statement read in part, "The Lagos State Government has directed all pupils/students in public and private schools to stay at home following the tension generated by the anti-SARS protests.
"A new date of resumption for all classes will be announced as soon as possible."
Adefisayo added that "the safety of the pupils/students, parents and all staff working in schools is paramount at this critical period".
She however advised parents to "keep an eye on their wards and not allow them to be used as willing tools in the hands of those who might want to hijack the protests to unleash mayhem on the society".
The Commissioner also encouraged schools to "utilize other means of distance teaching and learning i.e radio, television and online media as they have been doing during and post the recent COVID-19 lockdown".
Siberian Husky Awaits Trial For Allegedly Murdering Neighbor Cat
A Siberian Husky in Denver was accused of killing a neighbor's cat and now sits in an animal shelter awaiting a trial.
Zuma, the 12-year-old dog who lives with Kevin and Valerie Kickham, reportedly wandered over to a neighbor's yard in Central Park early August and took the life of a seven-year-old Tabby cat, according to FOX 31 News.
"It was only this one moment in time that I lost track of Zuma and something did occur," Kevin confessed to the outlet with Valerie by his side.
Denver Animal Protection eventually picked Zuma up and has held him in their shelter since the alleged incident.
While Kevin and Valerie "feel bad" about the loss of the cat, they are very concerned for Zuma, whom they have sheltered since he was eight weeks old and call "son."
"He's very much our child," stated Valerie.
"I remember him taking part of his first Thanksgiving turkey," Kevin recalled fondly. "We fed him turkey in the bowl and next thing you know he actually jumped up and grabbed a piece of turkey for himself."
A spokesperson for the Denver Animal Protection told the outlet that a judge may exonerate Zuma. If found guilty, however, Zuma could be put to sleep or relocated "somewhere outside the city."
"It's not a scenario that's ideal," explained Kevin.
While they await the trial date set for mid-November, the Kickhams are allowed weekly visits to the shelter.
"Both of our last visits he wasn't excited," Kevin told the news source. "It's been very hard."
With the life expectancy of a Siberian Husky ranging from 12 to 15 years, the couple are fearful they may not have much more time together with Zuma.
"We know that it's not going to be much longer," Kevin added. "We've cherished every moment with him."
The outlet said they have reached out to the family of the feline victim, but there has been no response.