Trump administration steps in to kill police-reform plan.
The Trump administration informed a federal judge in Chicago on Friday that it's seeking to scuttle a plan negotiated between the nation's third-largest city and the state of Illinois that envisions far-reaching reforms of Chicago's 12,000-officer police force under close federal court supervision.
In a statement announcing the intervention, Attorney General Jeff Sessions blasted the roughly 200-page plan, also known as a consent decree, because of the court oversite. And he offered a full-throated defense of Chicago police, saying they must take the lead in stemming city violence.
"There is a misperception that police are the problem and that their failures, their lack of training, and their abuses create crime," Sessions said. "But the truth is the police are the solution to crime, and criminals are the problem."
An 11-page Justice Department statement of interest — filed with Judge Robert M. Dow Jr., who must grant the proposal final approval — says the reform plan, as it is, would deprive police of flexibility to do their jobs right. And it criticizes criteria in the plan meant to assess police compliance as vague.
It asks Dow "to allow state and local officials — and Chicago's brave front-line police officers — to engage in flexible and localized efforts to advance the goal of safe, effective, and constitutional policing in Chicago."
The filing and Sessions' comments came a week after jurors convicted white Chicago police officer Jason Van Dyke of second-degree murder for shooting black teen Laquan McDonald 16 times in 2014 as he walked away from police with a knife.
A video of the shooting, released about a year later, sparked outage nationwide and led to an Obama administration investigation of Chicago police, which was followed months later by a damning report that found widespread police abuses.
The Department of Justice Friday simultaneously announced the creation of a "Gun Crimes Prosecution Team" at Chicago's U.S. attorney's office focused on gun crimes. The Bureau of Alcohol, Tobacco, Firearms and Explosives will assign five violent-crime coordinators to work with federal prosecutors.
Responding to the announcements, a spokesman for Chicago Mayor Rahm Emanuel, Matt McGrath, said the city appreciated the additional resources, "but we don't appreciate efforts … to impede our public safety reforms or inhibit our efforts to rebuild the bonds of trust between officers and residents."
Illinois Attorney Lisa Madigan — without objection from Emanuel — sued the city last year to ensure any police reforms would be overseen by a judge. That killed a draft plan negotiated with Trump's administration that didn't envision a court role in reforming the department and led to the ultimately successful talks to create the current plan.
The reform plan now on the table foresees far stricter rules on the use of force by officers. One provision requires officers to file paperwork each time they point their weapons, even if they don't fire.
Sessions again echoed President Donald Trump, who told officers at a convention in Orlando on Monday that a three-year-old agreement between Chicago and the American Civil Liberties Union of Illinois to curb stop-and-frisk procedures by police prevented officers from doing their jobs.
"When police are restrained from using lawfully established policies … when arrests went down, and when their work and character were disrespected, crime surged," Sessions said. "There must never be another consent decree that continues the folly of the ACLU settlement."
Chicago officials and the ACLU have said those and similar claims by Trump administration officials are exaggerated, get the data on crime in Chicago wrong and misstate the underlying causes of crime.
Karen Sheley, the director of the police practices project at the ACLU of Illinois, said the move Friday by the Trump administration to sink a plan in the works for over a year was "a last-minute political play at the expense of real people in our city."
"The Trump Administration and Sessions' Department of Justice have never attempted to learn about the problems in Chicago or what reform is necessary," Sheley said in a Friday statement.
Twitter CEO, Jack Dorsey reveals special #EndSARS emoji after endorsing the movement
Twitter CEO,  Jack Dorsey has revealed special #EndSARS Emoji after endorsing the movement against police brutality and other unlawful crimes in Nigeria.
Jack tweeted his support for the #EndSARS protests and called for Bitcoin donations towards the movement two days ago.
Last night, Twitter experienced issues globally with large numbers of users unable to post tweets, access their timelines, or see notifications. After fixing these issues, Jack Dorsey revealed a special #EndSARS emoji, a fist with the colour of the Nigerian flag.
Nigerians have flooded his comment session to thank him for his support and the special #EndSARS emoji he created for the movement.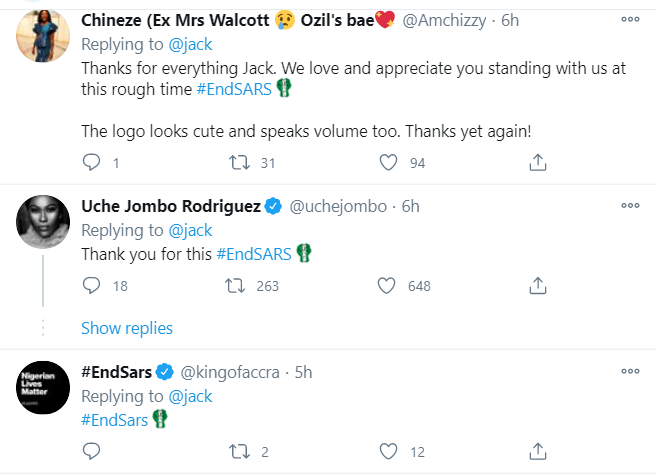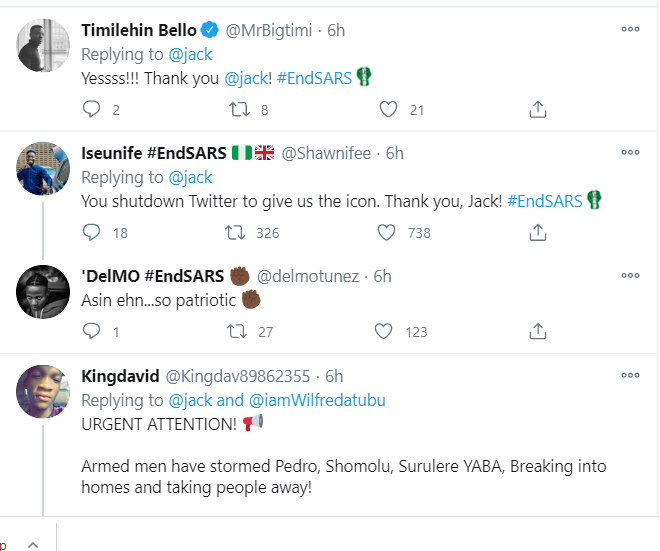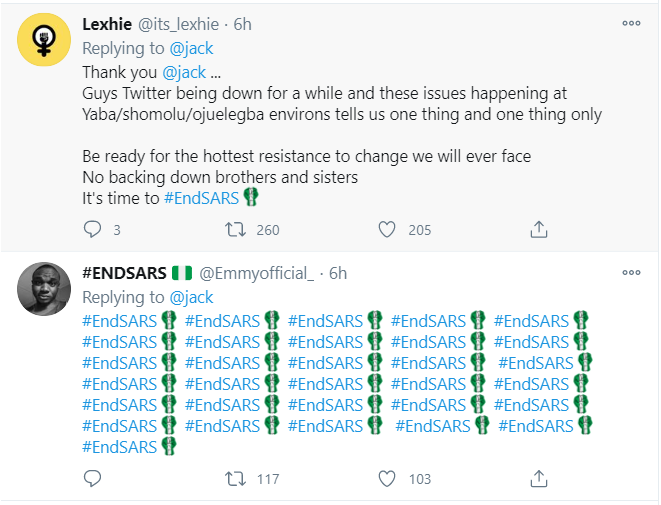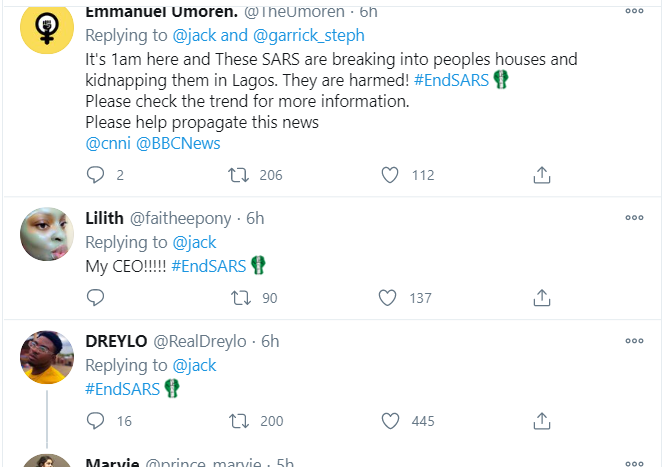 Brazilian footballer Neymar faces fresh police questioning over claim he raped a model in Paris hotel room
Brazilian footballer, Neymar, 26, will be questioned for the second time over claims he raped a model in a Paris Hotel room.
The Paris Saint-Germain star has reportedly agreed to fly into São Paulo in Brazil to meet with detectives over the alleged rape attack on 26-year-old model, Najila Trindade Mendes de Souza. 
Speaking to MailOnline, Dr. Juliana Lopes Bussacos, the officer in charge of the investigation, said: 'He will be treated like any other citizen. He has the same rights as any other man.
'I have interviewed many men in these situations and everyone is equal and they all have the right to tell their story and produce evidence to back it up.'
With detectives desperate to get to the bottom of what happened,  Dr. Juliana said she couldn't enter into details of the rape accuser's complaint due to confidentiality.
'There are so many questions and answers that need clarification. He says he did not rape her and she has said she has evidence.
The former Barcelona striker is expected to give his statement in the next 48 hours, and then officers will decide if there is a case and if it is necessary to bring them together.
This comes after it was revealed that Neymar could be cleared of the rape accusation levied against him within days over lack of more evidence from his accuser.
The Brazilian model has been informed by her lawyer that she faces seeing her case against the Paris Saint-Germain star dropped except there is more evidence. She also faces losing the second lawyer to represent her after he said he could not carry on if his professional 'trust' in her was compromised.
Trindade's attorney Danileo Garcia de Andrade said he still believed Ms. Trindade had a case, but he would step aside if there was a lack of evidence.
Mr. Daileo said he had given her a deadline to produce the video and photographs she claimed to have had which would help prove her allegations of rape against the Brazilian superstar. But if the evidence was not forthcoming, he said, he would drop the case next week.
Mr de Andrade told Brazil's UOL Esporte: 'If the police investigation of the supposed break-in where she lives shows there was no break-in, I am leaving the case.'
He added: 'The attorney-client relationship is based always on trust. If there is no trust, then there is no reason to stay on'
Trindade claimed she was the victim of 'aggression and rape' by the Paris Saint-Germain player in a hotel room in the French capital on May 15. She said the encounter started out consensual but quickly turned violent, leaving her with bruises and scrapes to her legs and buttocks, with Neymar refusing to stop.
She told police her tablet containing a seven-minute video, messages and photos she alleged incriminated the footballer, was stolen in a burglary at her apartment. But the authorities said they found no major signs of a break-in and only Ms. Trindade's fingerprints and those of her maid and friends around the flat.
Neymar has strongly denied raping her but admitted that what happened between them was consensual.
JAMB approves 160 as cut-off mark for 2019 admission
The 19th Policy Meeting on Admissions to Tertiary Institutions in Nigeria has approved 160 and above as the national minimum cutoff mark for admission into state and federal Universities for the year 2019.
The decision was taken at a meeting held at Bola Babalakin Auditorium, Gbongan, Osun State today Tuesday June 11th. It was also agreed that the minimum UTME score for admission into private Universities should be 140.
120 UTME score was approved for polytechnics while 110 score was approved as the least score for admission into private polytechnic.