What?Teenager caught having sex with a sheep in Enugu
15 year old Miracle Oluebube Nweke, a native of  Eziagu, Enugu state, was caught on Monday, Jan 18  having sex with a Sheep. A friend who caught him in the act raised an alarm leading to his arrest by a vigilante group.
Miracle said he knew that it was not normal but that he could not help himself and that anytime he had the urge, a strange voice would lead him to where he would get a sheep which he would loose and drag to an uncompleted building to have sex with it.
According to Authorityngr.com
"It gives me great pleasure whenever I have sex with a sheep, I have never had sex with human being  in my life except sheep, I haven't tried any other animal to know the difference, my experience with sheep is sweet".
He explained that on sighting any sheep, he would engage, first, in sexual fixa­tion otherwise called zoophil­ia before graduating to raping it otherwise called bestiality or sodomy.
"Whenever I get any sheep of my choice, I untie it from the spot where the owner has left it and take the sheep to a secluded uncompleted building and have sex with it".
"I don't do anything else with the sheep than that. I nor­mally make sure that no one is around watching while doing it because I know that the own­ers of the sheep may not like it.
He however blamed evil spirit for being responsible for his sexual depravity
"There is a spirit that normally tells me to go and look for sheep and whenever I hear the com­manding voice of the spirit, it becomes irresistible for me to take away my eyes from sheep. I will be so restless and confused until after I have car­ried out the instruction of the unseen spirit.
When asked if he regret his actions after now that he has been caught in the act, he answered in the affirmative but that he could not say categorically that he would not do it again. He also explained what he has been going through since the incident:
"The last time, our landla­dy accused me of stealing her money when she actually se­curely locked her doors and windows. How could I have en­tered her house? But I know she was just trying to eject my parents after the news got to her that I usu­ally sleep with sheep which she considered atrocious.
"I don't steal and I don't molest chil­dren. I am not a criminal," he said
Mr Uche, the own­er of the sheep told the vigilante operatives that he would not go home with the sheep again, he demanded that the teenager who defiled his sheep must buy it. He also argued that it would be misleading for an­yone to think that the sheep is still normal after its encounter with Miracle.
"The best thing is to sell this sheep and its small baby to Mir­acle so that he can do whatever he wants with it. I cannot take them home again after their ex­perience in his hand.
"I will only be deceiving my­self if I believe my sheep is still normal. If I take them home and they start biting people, what would I do?"
"Again, if the sheep later gives birth to a half man and half animal, what do you want me to tell the world?" Uche queried
The vigilante operative, Okeke, when asked on what becomes of the arrested boy, said that he would be released to his parents after they have made adequate payment for the sheep that was raped by their son, noting that the 15-year old boy would not be handed over to the police.
"You will agree with me that this is not a criminal case and I don't think it is necessary to start wasting our time and that of the police by taking this boy to the station.
"We will release him to his parents so that they can go and find spiritual solutions to his problems. This is more of a spiritual case than security matter"' he explained.
Miracle is a school dropout and the first of seven children of his parents. His father is a trader while his mother sells banana and groundnut in their neighbourhood.
Pray for Pope Francis Has He Undergoes Surgery : President Buhari
Roman Catholic church head, Pope Francis has undergone surgery hours after attending the traditional Sunday Angelus prayer in St. Peter's Square on Sunday, July 4.
President Muhammadu Buhari has sent a get-well message to the Head of the Catholic Church, Pope Francis, as he heads in for a scheduled surgery of the colon.
The president's Senior Special Assistant on Media and Publicity, Malam Garba Shehu, confirmed this in a statement in Abuja on Sunday.
Buhari called for prayers from Nigerians and the global community as the Pontiff goes in for this routine operation.
Twitter CEO, Jack Dorsey reveals special #EndSARS emoji after endorsing the movement
Twitter CEO,  Jack Dorsey has revealed special #EndSARS Emoji after endorsing the movement against police brutality and other unlawful crimes in Nigeria.
Jack tweeted his support for the #EndSARS protests and called for Bitcoin donations towards the movement two days ago.
Last night, Twitter experienced issues globally with large numbers of users unable to post tweets, access their timelines, or see notifications. After fixing these issues, Jack Dorsey revealed a special #EndSARS emoji, a fist with the colour of the Nigerian flag.
Nigerians have flooded his comment session to thank him for his support and the special #EndSARS emoji he created for the movement.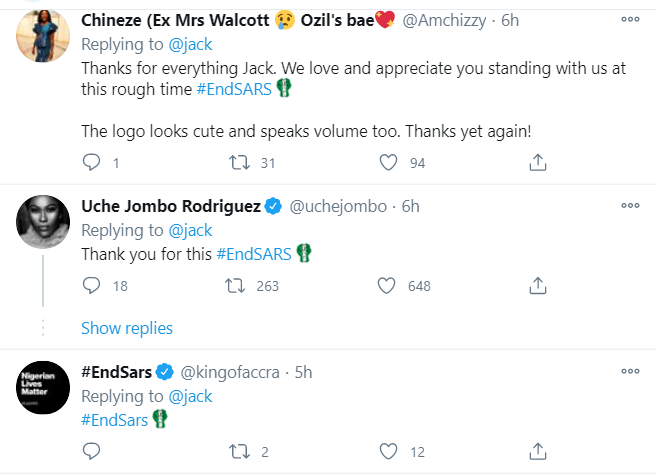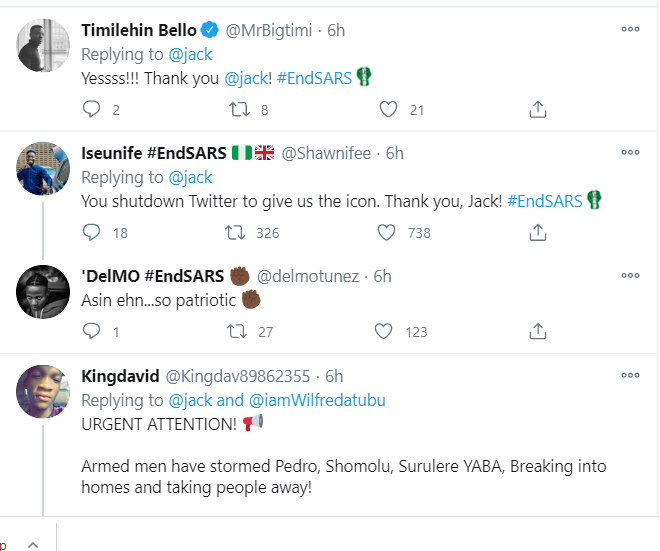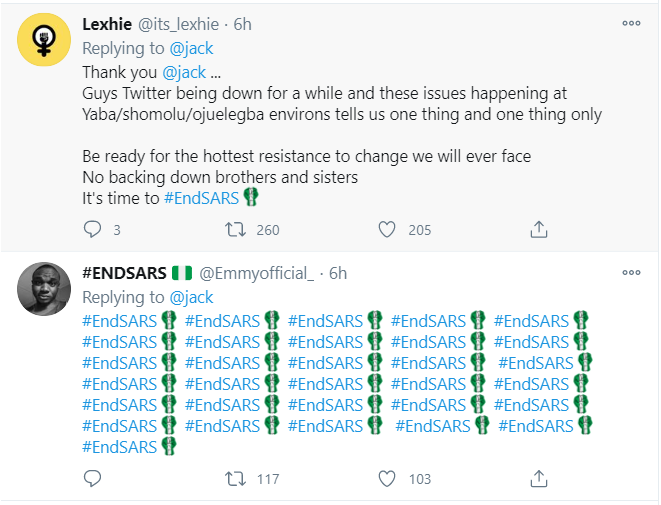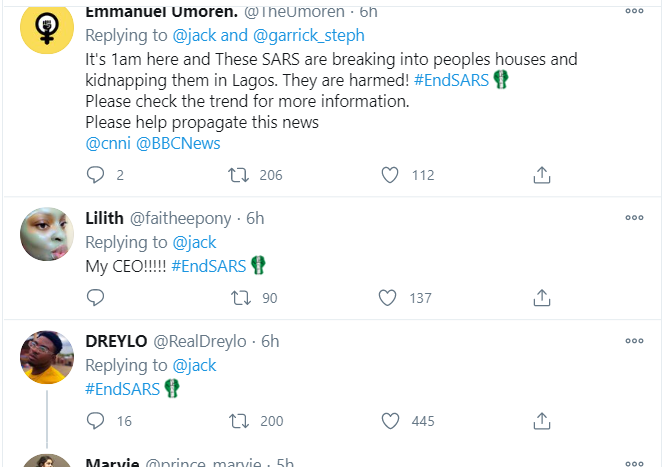 Brazilian footballer Neymar faces fresh police questioning over claim he raped a model in Paris hotel room
Brazilian footballer, Neymar, 26, will be questioned for the second time over claims he raped a model in a Paris Hotel room.
The Paris Saint-Germain star has reportedly agreed to fly into São Paulo in Brazil to meet with detectives over the alleged rape attack on 26-year-old model, Najila Trindade Mendes de Souza. 
Speaking to MailOnline, Dr. Juliana Lopes Bussacos, the officer in charge of the investigation, said: 'He will be treated like any other citizen. He has the same rights as any other man.
'I have interviewed many men in these situations and everyone is equal and they all have the right to tell their story and produce evidence to back it up.'
With detectives desperate to get to the bottom of what happened,  Dr. Juliana said she couldn't enter into details of the rape accuser's complaint due to confidentiality.
'There are so many questions and answers that need clarification. He says he did not rape her and she has said she has evidence.
The former Barcelona striker is expected to give his statement in the next 48 hours, and then officers will decide if there is a case and if it is necessary to bring them together.
This comes after it was revealed that Neymar could be cleared of the rape accusation levied against him within days over lack of more evidence from his accuser.
The Brazilian model has been informed by her lawyer that she faces seeing her case against the Paris Saint-Germain star dropped except there is more evidence. She also faces losing the second lawyer to represent her after he said he could not carry on if his professional 'trust' in her was compromised.
Trindade's attorney Danileo Garcia de Andrade said he still believed Ms. Trindade had a case, but he would step aside if there was a lack of evidence.
Mr. Daileo said he had given her a deadline to produce the video and photographs she claimed to have had which would help prove her allegations of rape against the Brazilian superstar. But if the evidence was not forthcoming, he said, he would drop the case next week.
Mr de Andrade told Brazil's UOL Esporte: 'If the police investigation of the supposed break-in where she lives shows there was no break-in, I am leaving the case.'
He added: 'The attorney-client relationship is based always on trust. If there is no trust, then there is no reason to stay on'
Trindade claimed she was the victim of 'aggression and rape' by the Paris Saint-Germain player in a hotel room in the French capital on May 15. She said the encounter started out consensual but quickly turned violent, leaving her with bruises and scrapes to her legs and buttocks, with Neymar refusing to stop.
She told police her tablet containing a seven-minute video, messages and photos she alleged incriminated the footballer, was stolen in a burglary at her apartment. But the authorities said they found no major signs of a break-in and only Ms. Trindade's fingerprints and those of her maid and friends around the flat.
Neymar has strongly denied raping her but admitted that what happened between them was consensual.