Singer Omawumi reveals her special ritual before going on stage
According to Omawumi,, her Strategy is her own special ritual and it has worked like magic for her over the years.
She said, "The rituals I perform before going on stage include prayers. I pray to God before every performance. It is a ritual I have carried out over the years and is working for me.
"I do not think entertainers should rely on anything, especially negative things before a performance because they could become dependent on such and the day those things are not available, it will affect their performance.
"People have indeed tried to cajole me into taking some substances before performing on stage but I politely turn such persons down."
Speaking further, the musician, who advocated for women to be saddled with more responsibilities in the society, encouraged young people to fully participate in the general elections through the exercising of their rights by voting for credible candidates.
According to her, it is the only way young people can have the Nigeria that they dream of.
Revealing that being a star hasn't changed that simple part of her, Omawumi said that to the surprise of many people, she still takes commercial motorcycles if the occasion demands that she does so.
"I still take Okada (commercial motorcycles) and Keke (commercial tricycles) if the occasion demands that I do so. That is how simple I am.
"Even though people may feel that as a celebrity I should not be doing that, I feel being a star mustn't stop me from living a normal life.
"I have never been one to be pressured by the fad. I do not easily conform to certain expectations, I live my life based on what I am convinced is the right thing to do at every point in time."
Nigeria Grammy Award Winner Wizkid , Jets to Mali
Wizkid jets to the Republic of Mali after releasing the music video of Essence.
This is coming hours after the singer released his long-anticipated music video,
Essence, that he made with a female colleague, Tems
Shocking Details: Davido is fighting to get his ex Davina, back over Chioma"
According to @cutie_julls, blog, Davido is still in love with his South African based ex whom he sneaks off to now and then while Chioma Rowland is in his Lekki apartment cooking for his friends.
Read the full text below …
"Davina and Davido were seriously into each other then. I am confirming to you that he was with this lady even the weekend before Chioma's Mega Assurance birthday that yr.
When the whole assurance thing went viral, Davina was broken and contacted David.
David codedly flew to SA a few days after and begged Davina for forgiveness and explain to Davina how important the whole Chioma relationship was important for him at the time in his life etc. David gave Davina very good money as compensation for betraying their love as Davina didn't want to stay in Chioma's shadows. Davina used some of the money given to her to buy herself a nice simple car and also used some to pursue a course in the optician.
Today, she works in one of the biggest eye hospitals in Sandton, SA. She is a Congolese born tho but she lives in SA. She also got invested some of her money in her makeup line.
Now Hunku wants his woman back but I'm reliably informed girl is seriously hooked and there's no chance for David.
Hmm, David wants her back cuz she's doing very well for herself from the money he gave her. Despite her humble beginnings, she is now her boss chic, and more.
Chioma is still cooking for David and his friends. She's living in Lekki "4 the safety of Ifeanyi" but she goes to Banana Island when it's time to cook on large scale for David and his 30b geng.
On days she's only cooking for David alone, he goes to their Lekki home to have his meals
Call it to hate but I repeat, the best gift u can give to urself as a woman is to empower urself in ur career, education, etc.
We all love Chioma and I pray she shines her eyes. A word to the wise
Most of the ppl hailing her do so to their advantage just to ve access to David.
I know what I'm saying. I see through them.
Ifeanyi is old enough and our beautiful Chioma can go back to school or get into employment. Start a business or something.
I pray all those business deals I've been hearing becomes a reality. All the best Chioma."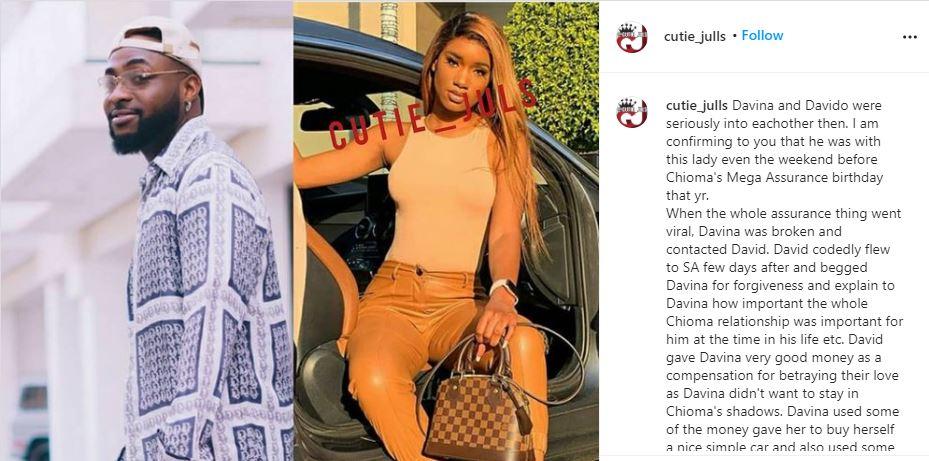 DJ Cuppy has filed a lawsuit against Davido's aide, Isreal
Dj Cuppy has dragged Davido's aide, Isreal DMW to court over claims of not paying singer, Zlatan Ibile after making a record together.
It would be recalled that some days ago, Isreal DMW made a strong accusation against the billionaire's daughter of not paying the Zanku master a penny after recording the hit single, Gelato, together.
In a recent tweet, DJ Cuppy stated affirmatively that all agreements of the contract on the song were met while adding that Isreal DMW will face the court for defamation.
"For the record… There have been no breaches of my contractual agreement regarding the song #Gelato as confirmed by lawyers… However, as @IsrealDMW publicly inaccurately declared I owe an artist money, I am suing him for libel and defamation! See you in court Isreal," she wrote.