Obama's executive action rollouts increasing in pace
President Obama never used the words "executive action" until nearly three years into his presidency. Now announcements of executive actions have become a routine, almost daily occurrence.
WASHINGTON — As President Obama visits the Florida Everglades on Wednesday to give a speech on climate change, the White House is announcing a package of eight different executive actions, implemented by seven government agencies, to "protect the people and places that climate change puts at risk."
The announcement contains no executive orders, sweeping directives, legislative proposals or bill signings.
Instead, the actions are smaller-bore staples of Obama's "pen-and-phone" strategy that shows no sign of letting up: a report on the value of parks to the environment, a proclamation declaring National Parks Week, and conservation efforts in Florida, Hawaii, Puget Sound and the Great Lakes.
"This is an example of how the administration can continue to advance what we consider to be and what the world considers to be a top priority, which is dealing with the impacts of climate change in a way that makes communities more resilient," said White House Press Secretary Josh Earnest.
But White House officials say such actions are also part of a broader political strategy to stay on offense and have the new Republican Congress respond to the president's agenda — and not the other way around.
"Since the election, the president has had a pretty explicit strategy," said Brian Deese, a senior Obama adviser. "And it has consisted of trying stay on offense, trying to push where he can to move the agenda through executive action. You're going to keep seeing the president in that posture going forward."
"Executive action" — a phrase Obama never uttered publicly in the first two and a half years of his presidency — has now become part of his daily lexicon.
The actions can take many forms, from formal executive orders and presidential memoranda to much more routine and bureaucratic changes. That makes any definitive count of lower-level executive actions difficult.
But by one measure, such policy rollouts are actually increasing in pace. The White House often announces executive actions with a fact sheet from the press office, and those spiked last year during what Obama called the "Year of Action." The White House issued 228 fact sheets in 2014, more than the first three years of his presidency combined.
This year, the White House has already issued three more fact sheets than last year at the same time.
The Obama strategy on executive actions closely parallels that of the Clinton White House. In Bill Clinton's last two years in office, chief of staff John Podesta launched what would become known as "Project Podesta." In an effort to flex presidential authority, Podesta canvassed executive agencies for actions Clinton could take without going to Congress.
Podesta came back to the Obama White House last year, and when he departed for Hillary Clinton's presidential campaign his responsibility for climate policy fell to Deese.
"One of the ways that the White House plays a role is to think forward and challenge the agencies to be proactive in saying, 'What more can we do? And what more can we do that's consistent with certain themes?' " Deese said.
This year, the major theme is "middle-class economics." The Obama White House has also used executive action to lower mortgage insurance premiums and regulate retirement accounts. And coming soon: new overtime regulations from the Department of Labor, which Obama ordered in a presidential memorandum last year.
The actions often don't originate in the White House. "Sometimes an agency has a particular initiative that they want to push that would benefit from getting a higher profile, or the president making a very concrete call to action," Deese said.
Executive action wasn't part of Obama's strategy when he first came into office.
"I sort of see it as flowing from the failure of the grand bargain negotiations in 2011," said Andrew Rudalevige, a presidency scholar at Bowdoin College in Brunswick, Maine. That's when Obama and House Speaker John Boehner, R-Ohio, tried to reach a permanent budget agreement but instead came up with a "Supercommittee" that failed to reach agreement, triggering across-the-board budget cuts.
"He gets shellacked in the midterm, and then sets up a position where he could actually cooperate — a triangulation strategy, channeling Bill Clinton," Rudalevige said. "Instead of channeling Bill Clinton, he started channeling Harry Truman taking on the 'Do Nothing' Congress."
In the fall of 2011, Obama went on a "We Can't Wait" road tour, meant to put pressure on Congress leading up to the 2012 elections. It was during that tour that Obama used the words "executive action" in public for the first time as president.
"I've told my administration to keep looking every single day for actions we can take without Congress, steps that can save consumers money, make government more efficient and responsive, and help heal the economy," Obama said in an October 2011 speech in Las Vegas. "And we're going to be announcing these executive actions on a regular basis."
In the 2014 congressional election cycle, that strategy was called the "Year of Action." It brought executive actions on climate, immigration and Cuba.
"I've got a pen, and I've got a phone. And that's all I need," he said in 2014. "Because with a pen, I can take executive actions."
But as the Obama presidency heads into its final furlong, White House officials say their focus is increasingly on getting all those executive actions implemented.
"We will continue to announce more exec actions, but the president is also holding us to account to execute on the executive orders we've already announced," said White House economic adviser Jeff Zients.
Twitter CEO, Jack Dorsey reveals special #EndSARS emoji after endorsing the movement
Twitter CEO,  Jack Dorsey has revealed special #EndSARS Emoji after endorsing the movement against police brutality and other unlawful crimes in Nigeria.
Jack tweeted his support for the #EndSARS protests and called for Bitcoin donations towards the movement two days ago.
Last night, Twitter experienced issues globally with large numbers of users unable to post tweets, access their timelines, or see notifications. After fixing these issues, Jack Dorsey revealed a special #EndSARS emoji, a fist with the colour of the Nigerian flag.
Nigerians have flooded his comment session to thank him for his support and the special #EndSARS emoji he created for the movement.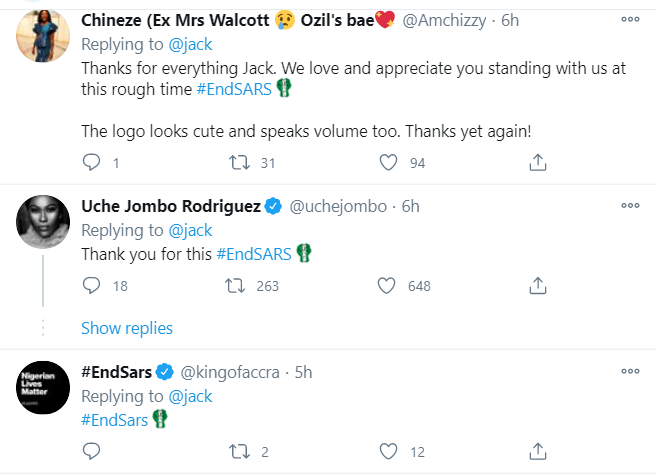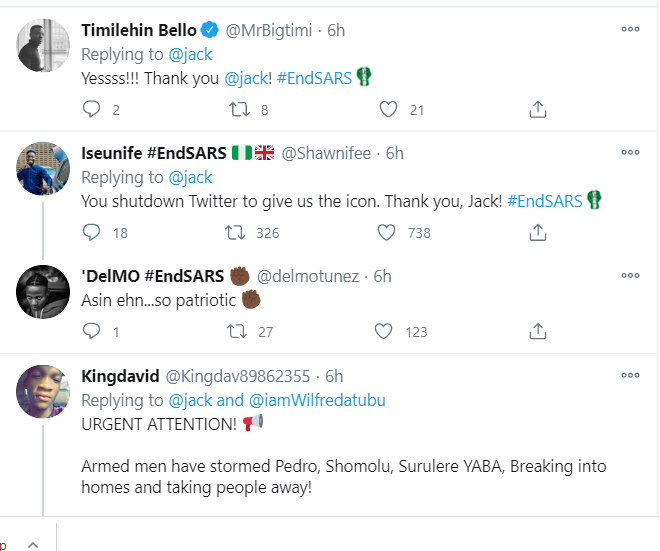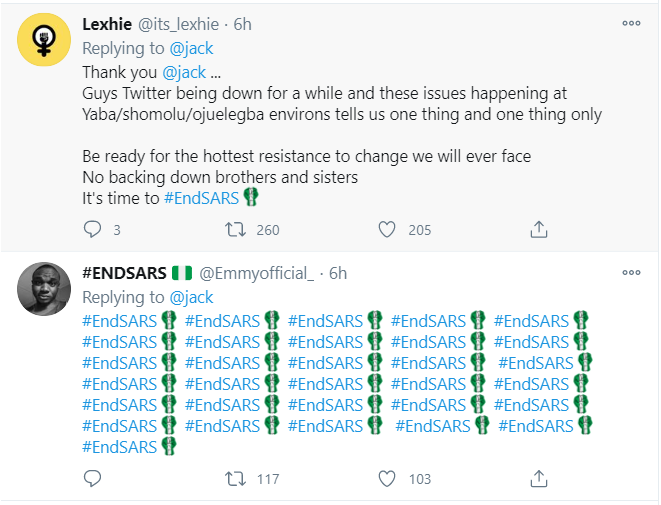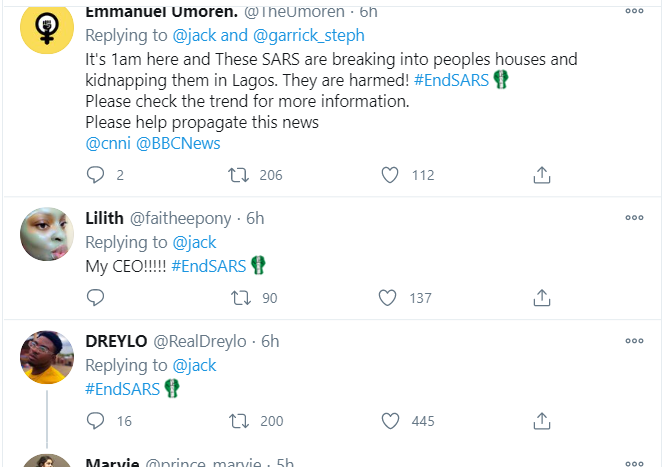 Brazilian footballer Neymar faces fresh police questioning over claim he raped a model in Paris hotel room
Brazilian footballer, Neymar, 26, will be questioned for the second time over claims he raped a model in a Paris Hotel room.
The Paris Saint-Germain star has reportedly agreed to fly into São Paulo in Brazil to meet with detectives over the alleged rape attack on 26-year-old model, Najila Trindade Mendes de Souza. 
Speaking to MailOnline, Dr. Juliana Lopes Bussacos, the officer in charge of the investigation, said: 'He will be treated like any other citizen. He has the same rights as any other man.
'I have interviewed many men in these situations and everyone is equal and they all have the right to tell their story and produce evidence to back it up.'
With detectives desperate to get to the bottom of what happened,  Dr. Juliana said she couldn't enter into details of the rape accuser's complaint due to confidentiality.
'There are so many questions and answers that need clarification. He says he did not rape her and she has said she has evidence.
The former Barcelona striker is expected to give his statement in the next 48 hours, and then officers will decide if there is a case and if it is necessary to bring them together.
This comes after it was revealed that Neymar could be cleared of the rape accusation levied against him within days over lack of more evidence from his accuser.
The Brazilian model has been informed by her lawyer that she faces seeing her case against the Paris Saint-Germain star dropped except there is more evidence. She also faces losing the second lawyer to represent her after he said he could not carry on if his professional 'trust' in her was compromised.
Trindade's attorney Danileo Garcia de Andrade said he still believed Ms. Trindade had a case, but he would step aside if there was a lack of evidence.
Mr. Daileo said he had given her a deadline to produce the video and photographs she claimed to have had which would help prove her allegations of rape against the Brazilian superstar. But if the evidence was not forthcoming, he said, he would drop the case next week.
Mr de Andrade told Brazil's UOL Esporte: 'If the police investigation of the supposed break-in where she lives shows there was no break-in, I am leaving the case.'
He added: 'The attorney-client relationship is based always on trust. If there is no trust, then there is no reason to stay on'
Trindade claimed she was the victim of 'aggression and rape' by the Paris Saint-Germain player in a hotel room in the French capital on May 15. She said the encounter started out consensual but quickly turned violent, leaving her with bruises and scrapes to her legs and buttocks, with Neymar refusing to stop.
She told police her tablet containing a seven-minute video, messages and photos she alleged incriminated the footballer, was stolen in a burglary at her apartment. But the authorities said they found no major signs of a break-in and only Ms. Trindade's fingerprints and those of her maid and friends around the flat.
Neymar has strongly denied raping her but admitted that what happened between them was consensual.
JAMB approves 160 as cut-off mark for 2019 admission
The 19th Policy Meeting on Admissions to Tertiary Institutions in Nigeria has approved 160 and above as the national minimum cutoff mark for admission into state and federal Universities for the year 2019.
The decision was taken at a meeting held at Bola Babalakin Auditorium, Gbongan, Osun State today Tuesday June 11th. It was also agreed that the minimum UTME score for admission into private Universities should be 140.
120 UTME score was approved for polytechnics while 110 score was approved as the least score for admission into private polytechnic.