No company has been licenced to run okada services – Lagos Government
Lagos State's Commissioner for Information and Strategy in the state, Gbenga Omotosho who disclosed this on 'Sunrise Daily', said what the government has been trying to do is regulate commercial motorcyclists so that their excesses can be curtailed.
He said;     "You are talking about registration; as far as I am concern, the government has not registered any company to come and be running Okada.
"In fact, what the government was trying to look at is how to regulate these people so that their excesses can be curtailed.
"But as far as I know, nobody has been licensed to go and start running Okada because it is unfortunate that … the rate at which people are dying; the rate at which people are being robbed on the roads; the police are worried,
Omotosho also disclosed that the Lagos State Government decided to enforce the ban after a robust assessment of the debate on the rate of accidents in the state.
He alleged that the Lagos State University Teaching Hospital (LASUTH) recorded about 104,000 accident cases involving the common Lagosians with broken arms and legs.
The Commissioner also made a clarification on the ban, stating that courier services operators are allowed to ply all routes because they don't constitute so much danger. Omotosho added;
"The guys who are doing courier services, for example, they don't carry passengers and they don't constitute so much danger.
So, those ones are allowed.
They have to be above 200cc and you have to have a box behind you that you are doing courier service and you don't have to carry passengers; you have to be well-kitted and wear your helmet."
Lagos state government shuts down all schools over #EndSARS protests
The Lagos State Government has ordered the closure of public and private schools in the state indefinitely.
This was announced in a press statement by the state's Head of Public Affairs, Ministry of Education, Kayode Abayomi, on Monday.
The statement was titled, 'Lagos directs students to stay at home'.
It quoted the Commissioner for Education, Mrs. Folasade Adefisayo, as saying that the schools were shut down over "tension generated by the 
#EndSARS
 protests."
The statement read in part, "The Lagos State Government has directed all pupils/students in public and private schools to stay at home following the tension generated by the anti-SARS protests.
"A new date of resumption for all classes will be announced as soon as possible."
Adefisayo added that "the safety of the pupils/students, parents and all staff working in schools is paramount at this critical period".
She however advised parents to "keep an eye on their wards and not allow them to be used as willing tools in the hands of those who might want to hijack the protests to unleash mayhem on the society".
The Commissioner also encouraged schools to "utilize other means of distance teaching and learning i.e radio, television and online media as they have been doing during and post the recent COVID-19 lockdown".
Siberian Husky Awaits Trial For Allegedly Murdering Neighbor Cat
A Siberian Husky in Denver was accused of killing a neighbor's cat and now sits in an animal shelter awaiting a trial.
Zuma, the 12-year-old dog who lives with Kevin and Valerie Kickham, reportedly wandered over to a neighbor's yard in Central Park early August and took the life of a seven-year-old Tabby cat, according to FOX 31 News.
"It was only this one moment in time that I lost track of Zuma and something did occur," Kevin confessed to the outlet with Valerie by his side.
Denver Animal Protection eventually picked Zuma up and has held him in their shelter since the alleged incident.
While Kevin and Valerie "feel bad" about the loss of the cat, they are very concerned for Zuma, whom they have sheltered since he was eight weeks old and call "son."
"He's very much our child," stated Valerie.
"I remember him taking part of his first Thanksgiving turkey," Kevin recalled fondly. "We fed him turkey in the bowl and next thing you know he actually jumped up and grabbed a piece of turkey for himself."
A spokesperson for the Denver Animal Protection told the outlet that a judge may exonerate Zuma. If found guilty, however, Zuma could be put to sleep or relocated "somewhere outside the city."
"It's not a scenario that's ideal," explained Kevin.
While they await the trial date set for mid-November, the Kickhams are allowed weekly visits to the shelter.
"Both of our last visits he wasn't excited," Kevin told the news source. "It's been very hard."
With the life expectancy of a Siberian Husky ranging from 12 to 15 years, the couple are fearful they may not have much more time together with Zuma.
"We know that it's not going to be much longer," Kevin added. "We've cherished every moment with him."
The outlet said they have reached out to the family of the feline victim, but there has been no response.
#EndSARS: If there's no change after one week, we will protest again – Naira Marley
Controversial Nigerian singer, Naira Marley has vowed to initiate a second phase of the #EndSars protest in the coming week if terms are not met.
This is coming after the incessant brutality and harassment of Nigerian youths by officers of the Special Anti-Robbery Squads, SARs.
The first phase of the protest started today, October 8th, led by celebrities like Runtown, Falz, and others within Lagos state.
Naira Marley who earlier backed out of the #EndSars protest applauded youths who supported the movement and has promised to lead a second phase.
The Tesumole crooner wrote in a tweet, "Respect to all the youths out there fighting for their rights and what's right. God bless y'all.
"After a week if there's no changes on this fsars issue as promised by nigeriapoliceforce then we will get back out there stronger. Stay safe and protest peacefully if u re protesting.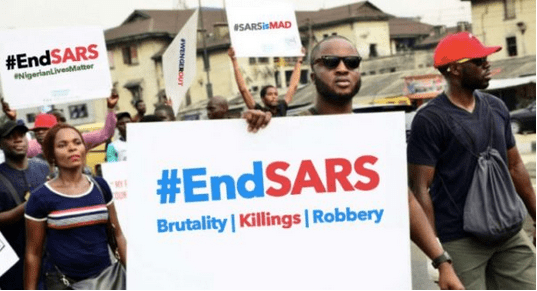 "They know My own crowd ya werey gan o #uncontrollably. I told y'all already 99% Marlians are not on twitter.
"Some of y'all will remain follower and never become a leader."