Nigerians deserve healthy President Amaechi

The Peoples Democratic Party has accused the Minister of Transportation, Rotimi Amaechi, and others, which it did not name, of allegedly exploiting the fragile health of President Muhammadu Buhari to spite Nigerians.
The party was responding to a claim by the former governor of Rivers State that even if Buhari contested from a sickbed in 2019, he would win in some core northern states.
and others in government "actually know that the President is sick" and that Buhari did not possess the mental ability to lead the country.
The National Chairman of the PDP, Prince Uche Secondus, who spoke to our correspondent, asked Nigerians to insist on a healthy president in 2019.
He said, "If Amaechi could say that the President would win on a sickbed, then he knows the health status of his principal. He knows that we have a sick leader who will not be able to give his maximum attention to the country.
"We don't need such a man at this critical time. We need a President who will be able to work 24 hours and read all memos, stand at meetings and debate with people and the parliament. We don't need a figurehead president that the likes of Amaechi are praying for.
"I know that people like him want a president they can deceive, who will not be on top of happenings in their ministries and in the country. They want a president who won't watch television and who will not read newspapers. If that is what they want, they will meet their Waterloo in 2019."
Secondus added that the battle ahead would be between what he called a desperate cabal and Nigerians who he said "will be desirous to get freed from the grip of the wicked."
The National Publicity Secretary of the R-APC, Kassim Afegbua, said Nigerians deserved  better than a President on a sickbed to provide leadership in the 21st century.
Afegbua said, "Unknown to Hon. Minister Amaechi, Nigerians do not want a man on sickbed, hence there is a general consensus that this present leadership should quit.
"The country is terminally ill as a result of bad and ineffective leadership. Nigerians have been prevailing on the President to sit down and offer leadership, but he has been racking his brain."
Meanwhile, the Sokoto State Governor,  Aminu Tambuwal, has said he is still  a member of the APC. The governor, who spoke through his Director-General, Media, Abubakar Shekara, stated this while reacting to claims by Amaechi.
Among others, Amaechi had said Tambuwal would defect from the APC, adding that Buhari would win Sokoto State without the governor in the APC.
Shekara said the governor would not take issue with the minister.
He stated, "My principal will right now, not take issue with anybody on who will win in what state, particularly Sokoto.
"Maybe, he would have reacted if the comment is centred on the candidate of another party and not the APC, which he is a bonafide member.  How do you expect him to be taking issue with a fellow party member on the fortune of his party?"
Shekara also seized the opportunity to denounce  speculations surrounding Tambuwal's planned defection from  the APC.
He added, "Tambuwal is still a member of the APC, and if there would be need for him to defect to another party, he would make his stand known at the appropriate time."
Amaechi could not be reached for comments as his mobile indicated that it was switched off when one our correspondents called him.
Pray for Pope Francis Has He Undergoes Surgery : President Buhari
Roman Catholic church head, Pope Francis has undergone surgery hours after attending the traditional Sunday Angelus prayer in St. Peter's Square on Sunday, July 4.
President Muhammadu Buhari has sent a get-well message to the Head of the Catholic Church, Pope Francis, as he heads in for a scheduled surgery of the colon.
The president's Senior Special Assistant on Media and Publicity, Malam Garba Shehu, confirmed this in a statement in Abuja on Sunday.
Buhari called for prayers from Nigerians and the global community as the Pontiff goes in for this routine operation.
Twitter CEO, Jack Dorsey reveals special #EndSARS emoji after endorsing the movement
Twitter CEO,  Jack Dorsey has revealed special #EndSARS Emoji after endorsing the movement against police brutality and other unlawful crimes in Nigeria.
Jack tweeted his support for the #EndSARS protests and called for Bitcoin donations towards the movement two days ago.
Last night, Twitter experienced issues globally with large numbers of users unable to post tweets, access their timelines, or see notifications. After fixing these issues, Jack Dorsey revealed a special #EndSARS emoji, a fist with the colour of the Nigerian flag.
Nigerians have flooded his comment session to thank him for his support and the special #EndSARS emoji he created for the movement.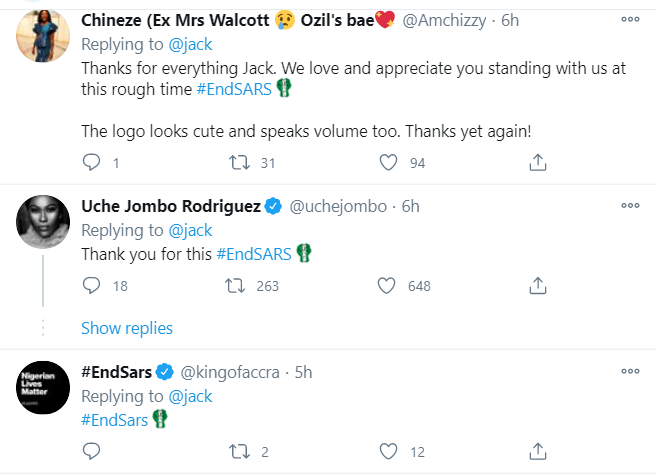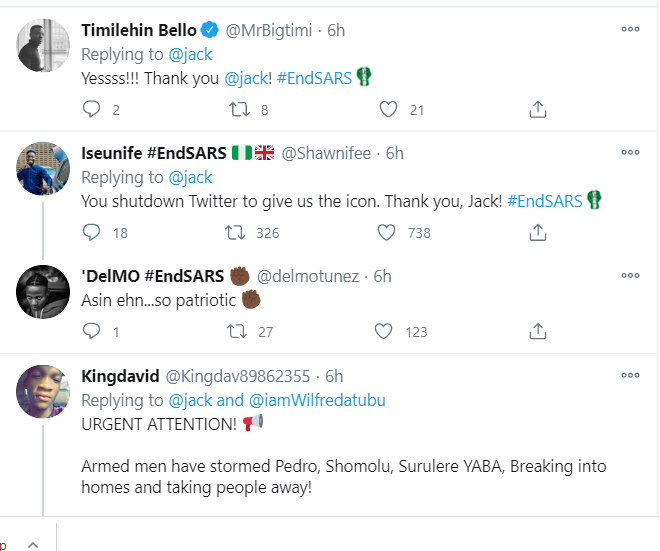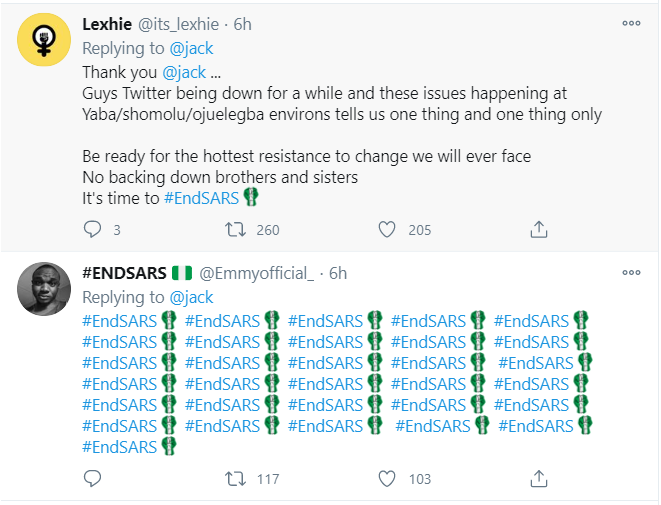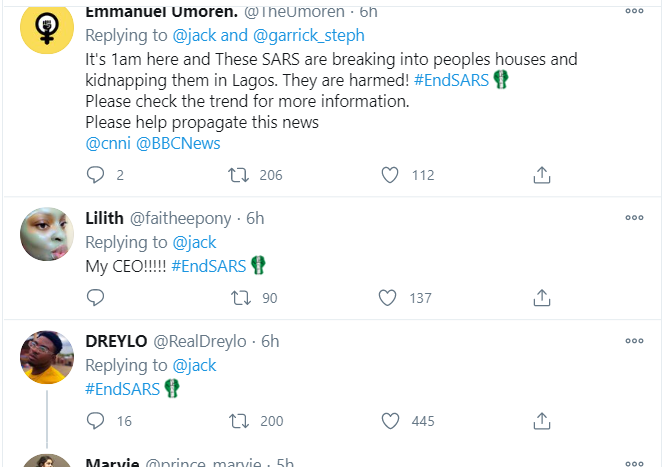 Brazilian footballer Neymar faces fresh police questioning over claim he raped a model in Paris hotel room
Brazilian footballer, Neymar, 26, will be questioned for the second time over claims he raped a model in a Paris Hotel room.
The Paris Saint-Germain star has reportedly agreed to fly into São Paulo in Brazil to meet with detectives over the alleged rape attack on 26-year-old model, Najila Trindade Mendes de Souza. 
Speaking to MailOnline, Dr. Juliana Lopes Bussacos, the officer in charge of the investigation, said: 'He will be treated like any other citizen. He has the same rights as any other man.
'I have interviewed many men in these situations and everyone is equal and they all have the right to tell their story and produce evidence to back it up.'
With detectives desperate to get to the bottom of what happened,  Dr. Juliana said she couldn't enter into details of the rape accuser's complaint due to confidentiality.
'There are so many questions and answers that need clarification. He says he did not rape her and she has said she has evidence.
The former Barcelona striker is expected to give his statement in the next 48 hours, and then officers will decide if there is a case and if it is necessary to bring them together.
This comes after it was revealed that Neymar could be cleared of the rape accusation levied against him within days over lack of more evidence from his accuser.
The Brazilian model has been informed by her lawyer that she faces seeing her case against the Paris Saint-Germain star dropped except there is more evidence. She also faces losing the second lawyer to represent her after he said he could not carry on if his professional 'trust' in her was compromised.
Trindade's attorney Danileo Garcia de Andrade said he still believed Ms. Trindade had a case, but he would step aside if there was a lack of evidence.
Mr. Daileo said he had given her a deadline to produce the video and photographs she claimed to have had which would help prove her allegations of rape against the Brazilian superstar. But if the evidence was not forthcoming, he said, he would drop the case next week.
Mr de Andrade told Brazil's UOL Esporte: 'If the police investigation of the supposed break-in where she lives shows there was no break-in, I am leaving the case.'
He added: 'The attorney-client relationship is based always on trust. If there is no trust, then there is no reason to stay on'
Trindade claimed she was the victim of 'aggression and rape' by the Paris Saint-Germain player in a hotel room in the French capital on May 15. She said the encounter started out consensual but quickly turned violent, leaving her with bruises and scrapes to her legs and buttocks, with Neymar refusing to stop.
She told police her tablet containing a seven-minute video, messages and photos she alleged incriminated the footballer, was stolen in a burglary at her apartment. But the authorities said they found no major signs of a break-in and only Ms. Trindade's fingerprints and those of her maid and friends around the flat.
Neymar has strongly denied raping her but admitted that what happened between them was consensual.