Newborn Found Buried Alive Amid Rubble Near Bike Path in California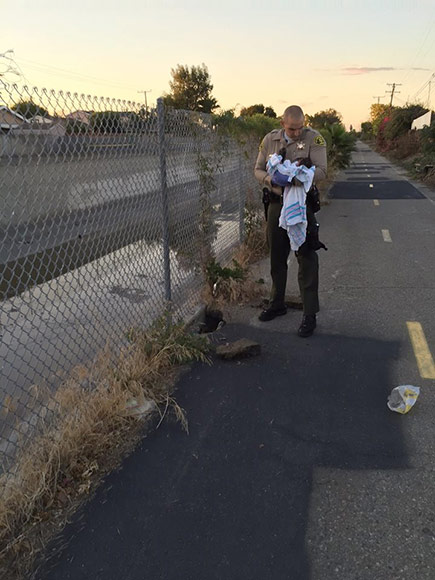 LOS ANGELES COUNTY SHERIFF'S DEPARTMENT
The Los Angeles County Sheriff's Department is trying to determine the identity and parents of a newborn girl found buried alive on Friday under pieces of asphalt and debris alongside a walking path in Compton, California.
Angelica Blount told told CBS Los Angeles that she was walking with her sister, Evangeline McCrary. "She told me, 'Can you hear the baby crying?' " Blount told the network. "And I said, 'I don't know; it might be a cat.' And my sister said, 'No, it's a baby crying.' "
Cops heard a muffled cry when they arrived, and soon located the newborn girl,a sheriff's department statement said.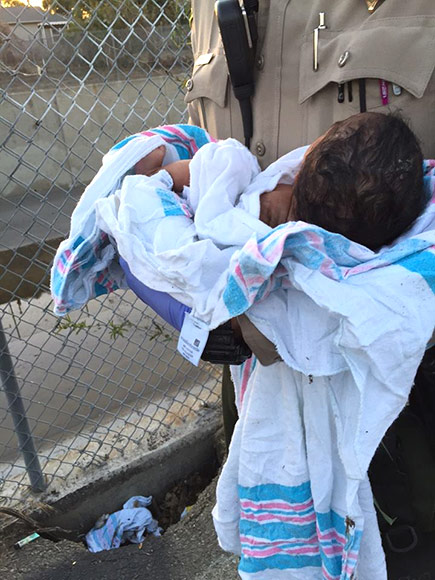 LOS ANGELES COUNTY SHERIFF'S DEPARTMENT
According to the statement, the baby was wrapped in a blanket and cold to the touch. She received treatment at the scene by the Compton Fire Department and was then transported to the hospital where she was listed in stable condition as of Saturday.
She is believed to have been born within 36 to 48 hours of Saturday.
Parents wishing to surrender their baby can safely do so, no questions asked, at any hospital or fire station in Los Angeles County.
Breaking News:Yoruba Freedom Fighter, Sunday Igboho Arrested in Cotonou
Yoruba freedom fighter, Sunday Adeyemo, popularly known as Sunday Igboho, has been arrested in Cotonou, Benin Republic by security operatives in the West African country.
Igboho was arrested Monday night after fleeing Nigeria to evade arrest by Nigeria's secret police.
A source privy to his departure from Nigeria said he had perfected plans to secretly escape from Nigeria through Cotonou and was heading to Germany.
He was, however, nabbed by security operatives in the neighboring country.
Speaking with SaharaReporters, a source privy to the incident, said, "Sunday Igboho has been arrested in Cotonou. He was arrested about an hour ago.
"He was supposed to travel to Germany through Cotonou this night. He wanted to leave Africa through Cotonou. He was arrested by security operatives in Cotonou.
"They are planning to bring him back to Nigeria."
Recall that the Department of State Services had declared Igboho wanted after its operatives carried out a bloody midnight raid on his residence in the Soka area of Ibadan, Oyo State.
Popular Nigerian Singer, Sound Sultan dies at 44
Singer, Olanrewaju Fasasi aka Sound Sultan, has died. A statement released by his family says he died on July 11 after a long battle with throat cancer.
The singer is survived by his wife and three children.
The statement reads;
"It is with a heavy heart that we announce the passing of Multi-talented veteran singer, rapper, songwriter, Onlanrewaju Fasasi a.k.a Sound Sultan.
#EndSARS: Court strikes out suit against Sam Adeyemi, Davido, Falz, BurnaBoy, Aisha Yesufu and others
Justice Bello Jawu of a High Court sitting in Abuja has struck out a suit filed by one Kenechukwu Okeke, a human rights activist, against Davido, Aisha Yesufu, Pastor Sam Adeyemi, and 47 other celebrities and activists over their activities during the October 2020 #EndSARS protests.
The judge in a ruling delivered on Friday, July 2, also restrained the Nigeria Police Force and Okeke from taking any steps to prosecute the individuals for their role played during the #EndSARS protest.
Okeke had in November 2020 filed criminal proceedings before a magistrate court in Abuja against the 50 persons over claims they promoted the October 2020 #EndSARS protests.
In the suit, he alleged that the defendants acted in a manner "with intent to assist in the promotion of an unlawful assembly under the guise or composition of #EndSARS