Lawyer accuses police of extorting over N50 million, other valuables from billionaire kidnapper, Evans
The lawyer representing billionaire kidnapper, Chukwudumeme Onwuamadike aka Evans, Olukoya Ogungbeje, has accused officers of the Inspector General of Police's Intelligence Response Team of extorting money and valuables worth over N50 million from his client.
According to Premiumtimes, Ogungbeje in a petition filed with the Police Service Commission on Friday, October 13th, also accused the officers of sexually molesting Evans' girlfriend, Amaka Offor.
The petition was also copied to the National Assembly, the Inspector General of Police, the National Human Rights Commission, and Amnesty International.
Ogungbeje accused the police officers of forcefully collecting millions of naira as well as valuables and properties from his client. Part of the petition reads
"For the avoidance of doubt, it is our secured brief that in the course of investigating our client while being detained in the custody of the Inspector General of Police Intelligence Response Team (IRT) on the allegation of kidnapping, the following under-listed items were forcefully and corruptly extorted from our client
1. The sum of N50, 000,000 (Fifty Million Naira) cash.
2. Another sum of N5,000,000 (Five Million Naira) sent by our client's wife as pressured by the above policemen.
3. Twenty-five (25) Mack Trucks forcefully taken but not listed as exhibits in the ongoing criminal trial of our client.
4. Brigade wristwatch worth One Hundred and Seventeen (117) Thousand U.S Dollars.
5. Pendant cross worth Seventy (70) Thousand U.S Dollars.
6. Necklace worth Twenty-Five (25) Thousand U.S Dollars.
7. Virtu Phone worth Thirty (30) Thousand U.S Dollars.
8. Virtu Signature Phone worth Seventeen (17) Thousand U.S Dollars.
9. Ten (10) Thousand U.S Dollars cash extorted by ASP Phillip Rieninwa.
10. Five (5) Pieces of Saphono Rucci Diamond Rings worth One Hundred (100) Thousand U.S Dollars.
11. Lexus 470 Jeep.
12. Grand Cherokee Jeep.
13. L 400 Mitsubishi Bus.
14. Toyota Highlander (Gold Colour).
15. Eighty-Five (85) Inches Samsung Television set worth 6.5 Million Naira amongst others.
Continuing, the lawyer wrote, "Our client also confided in us that one Amaka Offor his girlfriend was sexually molested and abused by the above policemen of the Inspector General of Police Intelligence Response Team (IRT)".
Evan's lawyer urged the Police Service Commission to conduct an investigation into the allegations and invoke appropriate sanctions including dismissal against the culpable police officers.
"Sir, you would agree with us that these allegations are too weighty to be ignored by any right-thinking Nigerian. There is no gainsaying the fact that it calls for prompt investigation, inquiry and appropriate sanctions. We are using this medium as our own way of galvanizing institutional sanity, cleansing and reform in the Nigeria Police Force as an institution. As we speak, the brother in law and other relations of our client are still being detained and tortured by the Inspector General of Police Intelligence Response Team (IRT) without being arraigned before a Court of law," the petition added
Pray for Pope Francis Has He Undergoes Surgery : President Buhari
Roman Catholic church head, Pope Francis has undergone surgery hours after attending the traditional Sunday Angelus prayer in St. Peter's Square on Sunday, July 4.
President Muhammadu Buhari has sent a get-well message to the Head of the Catholic Church, Pope Francis, as he heads in for a scheduled surgery of the colon.
The president's Senior Special Assistant on Media and Publicity, Malam Garba Shehu, confirmed this in a statement in Abuja on Sunday.
Buhari called for prayers from Nigerians and the global community as the Pontiff goes in for this routine operation.
Twitter CEO, Jack Dorsey reveals special #EndSARS emoji after endorsing the movement
Twitter CEO,  Jack Dorsey has revealed special #EndSARS Emoji after endorsing the movement against police brutality and other unlawful crimes in Nigeria.
Jack tweeted his support for the #EndSARS protests and called for Bitcoin donations towards the movement two days ago.
Last night, Twitter experienced issues globally with large numbers of users unable to post tweets, access their timelines, or see notifications. After fixing these issues, Jack Dorsey revealed a special #EndSARS emoji, a fist with the colour of the Nigerian flag.
Nigerians have flooded his comment session to thank him for his support and the special #EndSARS emoji he created for the movement.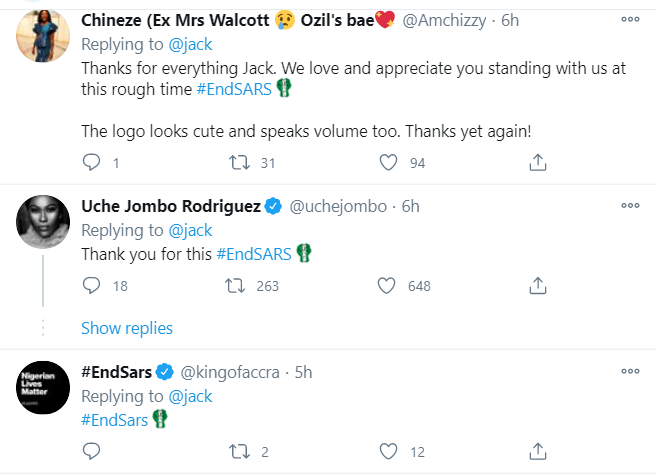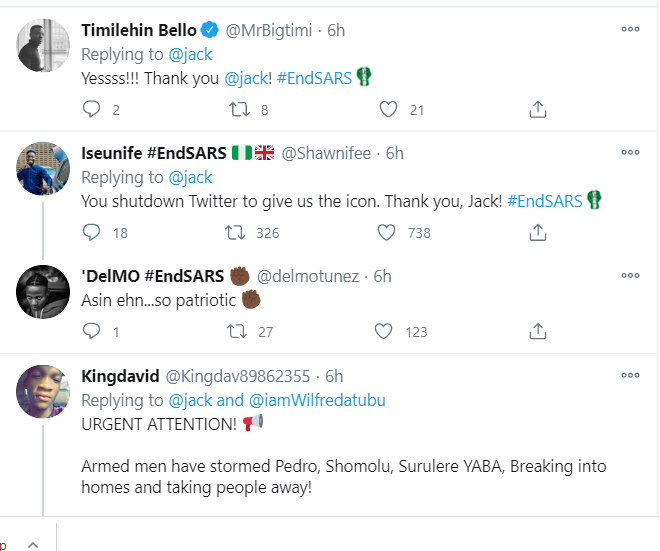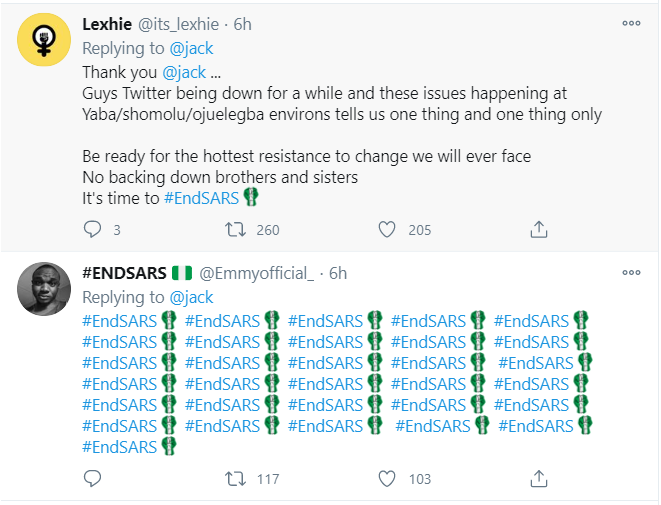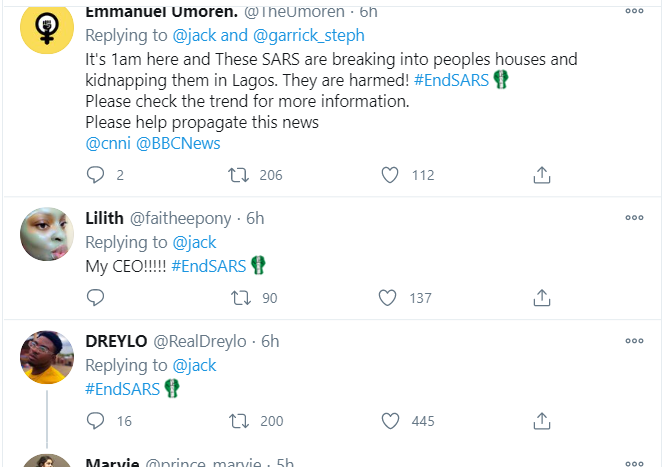 Brazilian footballer Neymar faces fresh police questioning over claim he raped a model in Paris hotel room
Brazilian footballer, Neymar, 26, will be questioned for the second time over claims he raped a model in a Paris Hotel room.
The Paris Saint-Germain star has reportedly agreed to fly into São Paulo in Brazil to meet with detectives over the alleged rape attack on 26-year-old model, Najila Trindade Mendes de Souza. 
Speaking to MailOnline, Dr. Juliana Lopes Bussacos, the officer in charge of the investigation, said: 'He will be treated like any other citizen. He has the same rights as any other man.
'I have interviewed many men in these situations and everyone is equal and they all have the right to tell their story and produce evidence to back it up.'
With detectives desperate to get to the bottom of what happened,  Dr. Juliana said she couldn't enter into details of the rape accuser's complaint due to confidentiality.
'There are so many questions and answers that need clarification. He says he did not rape her and she has said she has evidence.
The former Barcelona striker is expected to give his statement in the next 48 hours, and then officers will decide if there is a case and if it is necessary to bring them together.
This comes after it was revealed that Neymar could be cleared of the rape accusation levied against him within days over lack of more evidence from his accuser.
The Brazilian model has been informed by her lawyer that she faces seeing her case against the Paris Saint-Germain star dropped except there is more evidence. She also faces losing the second lawyer to represent her after he said he could not carry on if his professional 'trust' in her was compromised.
Trindade's attorney Danileo Garcia de Andrade said he still believed Ms. Trindade had a case, but he would step aside if there was a lack of evidence.
Mr. Daileo said he had given her a deadline to produce the video and photographs she claimed to have had which would help prove her allegations of rape against the Brazilian superstar. But if the evidence was not forthcoming, he said, he would drop the case next week.
Mr de Andrade told Brazil's UOL Esporte: 'If the police investigation of the supposed break-in where she lives shows there was no break-in, I am leaving the case.'
He added: 'The attorney-client relationship is based always on trust. If there is no trust, then there is no reason to stay on'
Trindade claimed she was the victim of 'aggression and rape' by the Paris Saint-Germain player in a hotel room in the French capital on May 15. She said the encounter started out consensual but quickly turned violent, leaving her with bruises and scrapes to her legs and buttocks, with Neymar refusing to stop.
She told police her tablet containing a seven-minute video, messages and photos she alleged incriminated the footballer, was stolen in a burglary at her apartment. But the authorities said they found no major signs of a break-in and only Ms. Trindade's fingerprints and those of her maid and friends around the flat.
Neymar has strongly denied raping her but admitted that what happened between them was consensual.