Late Obafemi Awolowo Owed His Achievements To HID – Atiku
Former vice-president, Atiku Abubakar, 

on Wednesday

 November 18, disclosed that the achievements of former premier of the Western Region, Late Obafemi Awolowo, was due to the support accorded him by his late wife, Hannah Idowu Dideolu Awolowo.
Atiku believed that the late sage, Obafemi Awolowo, would not have survived his challenging moments and political tribulations without the counsel, support, patience and perseverance of late HID Awolowo.
The ex-vice president said this during the presentation of a book in honour of the late matriarch and icon of Ogun state, titled 'In the Radiance of the sage: The Life and Times of HID Awolowo'.
The book launch, which attracted many dignitaries from all sectors of life was held at the Ikenne Remo, country home of the Awolowos in Ogun state.
It has long been known that Chief Awolowo owed a large portion of his success to his beloved wife of 50 years.
He said: "Of course Chief Awolowo's life was not only about successes and triumphs. He had his low and very challenging moments in life and politics – suffering state-imposed restrictions on his physical movement, exile in Lekki Island and imprisonment – all arising from political crises in the Western Region and attempts by his political rivals to seize those opportunities to weaken or destroy 'Awo' politically.
"He could not have done all that he did and could not have achieved all that he achieved and perhaps could not have survived those difficult political challenges, without the counsel, support, patience, prodding, and perseverance of his beloved wife, the late HID.
"But she was more than a loyal and supportive housewife. She courageously became a leader in her own right and held Chief Awolowo's political family together during his incarceration.
"The courage, grace, tenacity and fortitude with which the late HID Awolowo held forte during Chief Awolowo's imprisonment, and after he passed away, affirm not only what her husband said about her, but that she was a true leader. 
"She showed that she was a leader of people, including her family, and the South west civic and political community."
The Awolowo home remained 'a mecca' for political and civic leaders not only from the South west but also from across the country.
Commenting on the book, Atiku said: "It discusses many key moments in her life and, perhaps more significantly, the key roles she played in the life of one of the most extraordinary leaders this country has been privileged to have her husband of 50 years, the late HID, and in the politics of the South west."
Pray for Pope Francis Has He Undergoes Surgery : President Buhari
Roman Catholic church head, Pope Francis has undergone surgery hours after attending the traditional Sunday Angelus prayer in St. Peter's Square on Sunday, July 4.
President Muhammadu Buhari has sent a get-well message to the Head of the Catholic Church, Pope Francis, as he heads in for a scheduled surgery of the colon.
The president's Senior Special Assistant on Media and Publicity, Malam Garba Shehu, confirmed this in a statement in Abuja on Sunday.
Buhari called for prayers from Nigerians and the global community as the Pontiff goes in for this routine operation.
Twitter CEO, Jack Dorsey reveals special #EndSARS emoji after endorsing the movement
Twitter CEO,  Jack Dorsey has revealed special #EndSARS Emoji after endorsing the movement against police brutality and other unlawful crimes in Nigeria.
Jack tweeted his support for the #EndSARS protests and called for Bitcoin donations towards the movement two days ago.
Last night, Twitter experienced issues globally with large numbers of users unable to post tweets, access their timelines, or see notifications. After fixing these issues, Jack Dorsey revealed a special #EndSARS emoji, a fist with the colour of the Nigerian flag.
Nigerians have flooded his comment session to thank him for his support and the special #EndSARS emoji he created for the movement.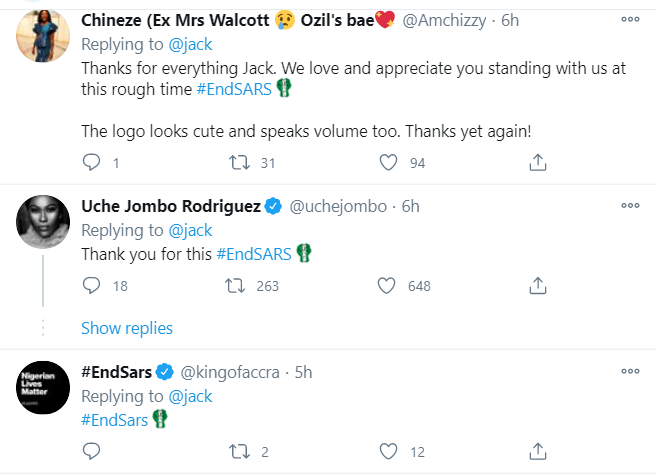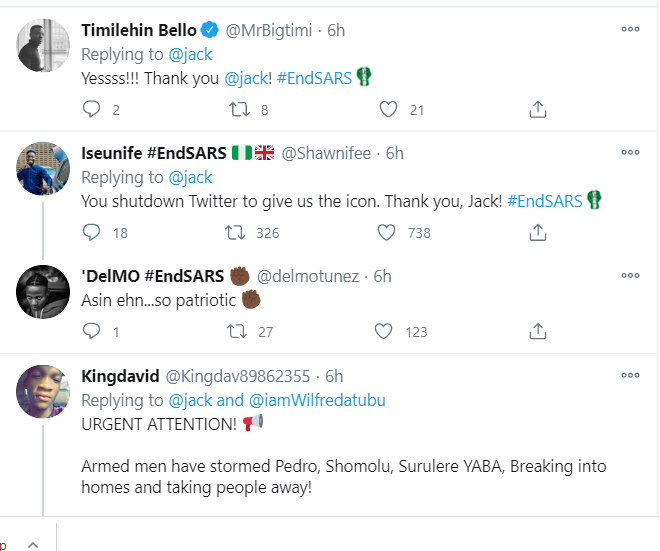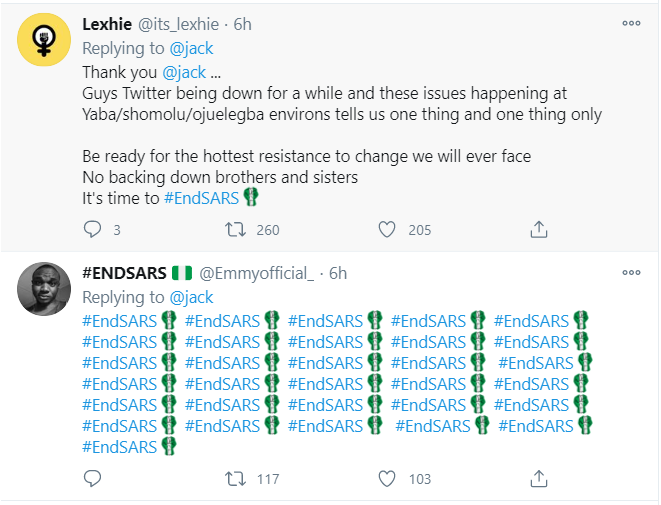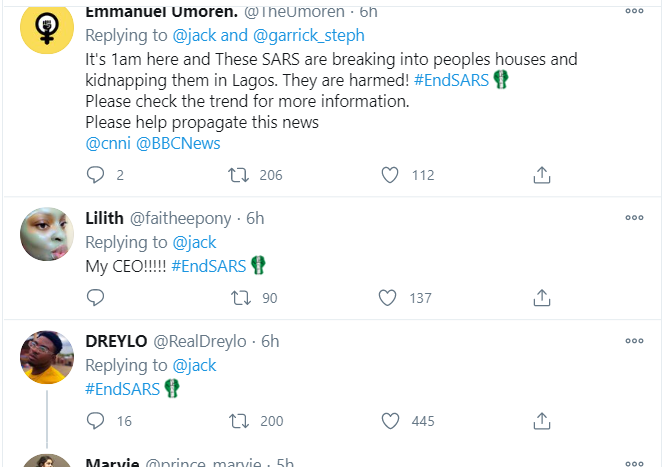 Brazilian footballer Neymar faces fresh police questioning over claim he raped a model in Paris hotel room
Brazilian footballer, Neymar, 26, will be questioned for the second time over claims he raped a model in a Paris Hotel room.
The Paris Saint-Germain star has reportedly agreed to fly into São Paulo in Brazil to meet with detectives over the alleged rape attack on 26-year-old model, Najila Trindade Mendes de Souza. 
Speaking to MailOnline, Dr. Juliana Lopes Bussacos, the officer in charge of the investigation, said: 'He will be treated like any other citizen. He has the same rights as any other man.
'I have interviewed many men in these situations and everyone is equal and they all have the right to tell their story and produce evidence to back it up.'
With detectives desperate to get to the bottom of what happened,  Dr. Juliana said she couldn't enter into details of the rape accuser's complaint due to confidentiality.
'There are so many questions and answers that need clarification. He says he did not rape her and she has said she has evidence.
The former Barcelona striker is expected to give his statement in the next 48 hours, and then officers will decide if there is a case and if it is necessary to bring them together.
This comes after it was revealed that Neymar could be cleared of the rape accusation levied against him within days over lack of more evidence from his accuser.
The Brazilian model has been informed by her lawyer that she faces seeing her case against the Paris Saint-Germain star dropped except there is more evidence. She also faces losing the second lawyer to represent her after he said he could not carry on if his professional 'trust' in her was compromised.
Trindade's attorney Danileo Garcia de Andrade said he still believed Ms. Trindade had a case, but he would step aside if there was a lack of evidence.
Mr. Daileo said he had given her a deadline to produce the video and photographs she claimed to have had which would help prove her allegations of rape against the Brazilian superstar. But if the evidence was not forthcoming, he said, he would drop the case next week.
Mr de Andrade told Brazil's UOL Esporte: 'If the police investigation of the supposed break-in where she lives shows there was no break-in, I am leaving the case.'
He added: 'The attorney-client relationship is based always on trust. If there is no trust, then there is no reason to stay on'
Trindade claimed she was the victim of 'aggression and rape' by the Paris Saint-Germain player in a hotel room in the French capital on May 15. She said the encounter started out consensual but quickly turned violent, leaving her with bruises and scrapes to her legs and buttocks, with Neymar refusing to stop.
She told police her tablet containing a seven-minute video, messages and photos she alleged incriminated the footballer, was stolen in a burglary at her apartment. But the authorities said they found no major signs of a break-in and only Ms. Trindade's fingerprints and those of her maid and friends around the flat.
Neymar has strongly denied raping her but admitted that what happened between them was consensual.