Humans may have split from chimps 4 MILLION years later than thought: Sex lives of great apes reveal clues.
Humans may have split from chimps 4 MILLION years later than thought: Sex lives of great apes reveal clues about when we last shared a common ancestor
Estimates for humans and chimp split varies from three to 13 million years 
New technique looked at how the molecular 'clocks' in our DNA differ
Chimps go through puberty earlier and have shorter generation times
It suggests our species shared a common ancestor 6.6 million years ago.
They are our closest living relatives in the animal kingdom but it seems we may have split from chimpanzees along our own evolutionary paths more recently than some estimates claim.
New research has analysed the timing of puberty and sex lives of chimpanzees to calculate an accurate estimate for when our species and the apes last shared a common ancestor.
The findings suggest our respective evolutionary lineages went their separate ways around six to seven million years ago, much more recently than the 10 million years that is often cited.
Chimpanzees (pictured) share 98.8 per cent of our DNA and can appear remarkably human-like in their behaviour. Now a new study has provided a new estimate for when these apes last shared a common ancestor with humans by looking at when the animals go through puberty and other aspects of their sex lives
This timing falls firmly within estimates made using the fossil record, although other studies have also proposed the split occurring anytime between three and 13 million years ago.
In the new research, geneticists at Columbia University, in New York, looked at the 'molecular clock' that is used by researchers to estimate when species last shared a common ancestor.
LAST COMMON ANCESTOR OF APES
Scientists last year revealed the fossilised remains of a species of small ape that may have been the last common ancestor to humans, chimpanzees and gibbons.
Named Pliobates cataloniae, the species existed around 14 million years ago, before the evolutionary split between 'large apes' and 'lesser apes'.
The discovery fills a gap in the fossil record, and suggests that root of the entire ape family tree evolved from a far smaller creature than previously believed.
Living hominoids are a group of primates that includes the small-bodied apes, such as gibbons and siamangs. Collectively, they are known as Hylobatidae.
Hominoids also include the larger-bodied great apes, such as orangutans, gorillas and chimpanzees. Along with humans, they belong to the family Hominidae.
Pliobates cataloniae was found to have features of both groups, suggesting it was one of our last common ancestors.
Pliobates cataloniae is thought to be the last common ancestor of all apes. An illustration of the fossils is shown left and a reconstruction right
This looks for minor changes – or mutations – in the DNA that build up over time.
Guy Amster and Guy Sella who led the Columbia University study, realised traditionally this technique has failed to account for differences in the timing of life events in the species.
Chimpanzees undergo puberty at around the age of seven and a half, while humans typically start changing at the age of 13 years old.
The time between generations in chimps is also lower.
Together, this means the rate at which mutations occur in the DNA is faster in chimpanzees than in humans, meaning estimates using the molecular clock in the past have been inaccurate.
Writing in the journal Proceedings of the National Academy of Sciences, Mr Amster and Dr Sella said their estimate could be further refined by looking at other impacts on the mutation rate because DNA is passed down through the generations – also known as the germ line.
They said: 'Importantly, it revises split times for the human-chimpanzee split downwards from around 10 million years ago to as low as 6.6 million years ago.
'Our mutational model will surely be refined as we learn more about germ-line mutations.
'For example, molecular evolutionary patterns suggest that rates of certain types of mutations may track some combination of absolute time and number of cell divisions.
'If so, maternal age could affect the accrual of these mutations.
'In addition, there is still uncertainty about the number of cell divisions in the male germ line during spermatogenesis.'
Currently there is no fossil that has been identified as the last common ancestor between chimpanzees and humans, so scientists have been forced to estimate it using later and earlier fossils.
Some of the earliest studies estimated our species may have split as long at 25 million years ago.
Young chimpanzees (pictured) go through puberty at the age of seven and a half years old while humans go through this change to sexual maturity at around the age of 13 years old. This difference may account for why our 'molecular clocks' are different and has lead researchers to revise the date of when our species split
But the publication of the human genome revealed that we share 98.8 per cent of our DNA with these apes.
Scientists have since analysed proteins and DNA in our two species in the hope of narrowing down the time when we shared a common ancestor.
A growing consensus has put the date between five and ten million years ago.
But the new study has shown it is possible to narrow down the timeline of our evolution by looking at how often mutations commonly occur within individual species.
Males, for example, experience greater numbers of mutations in the DNA of their sperm as they get older, so the older a species is when it reproduces after reaching maturity, the more changes occur.
The research has said that chimpanzees (stock picture) and humans last shared a common ancestor around 6.6 million years ago. As there is no definitive fossil from when this split occurred, researchers have had to rely upon comparing the rates at which mutations occur in DNA to estimate when we went our separate ways
Speaking to Ars Technica, other researchers not involved in the research described the technique in the paper as 'thoughtful' and said it could add to more sophisticated estimates of split times.
Mr Amster and Mr Sella added it could also help to provide new estimates for the splits between other mammals and could reveal new details in our evolutionary – or phylogenetic – history.
They said: 'We show that accounting for the effects of sex-specific life histories on mutation rates along the hominid phylogeny largely bridges this apparent gap and leads to more accurate split time estimates.
'Doing so can also explain other intriguing phylogenetic patterns in hominid and mammalian evolution.'
By RICHARD GRAY FOR MAILONLINE
Pray for Pope Francis Has He Undergoes Surgery : President Buhari
Roman Catholic church head, Pope Francis has undergone surgery hours after attending the traditional Sunday Angelus prayer in St. Peter's Square on Sunday, July 4.
President Muhammadu Buhari has sent a get-well message to the Head of the Catholic Church, Pope Francis, as he heads in for a scheduled surgery of the colon.
The president's Senior Special Assistant on Media and Publicity, Malam Garba Shehu, confirmed this in a statement in Abuja on Sunday.
Buhari called for prayers from Nigerians and the global community as the Pontiff goes in for this routine operation.
Twitter CEO, Jack Dorsey reveals special #EndSARS emoji after endorsing the movement
Twitter CEO,  Jack Dorsey has revealed special #EndSARS Emoji after endorsing the movement against police brutality and other unlawful crimes in Nigeria.
Jack tweeted his support for the #EndSARS protests and called for Bitcoin donations towards the movement two days ago.
Last night, Twitter experienced issues globally with large numbers of users unable to post tweets, access their timelines, or see notifications. After fixing these issues, Jack Dorsey revealed a special #EndSARS emoji, a fist with the colour of the Nigerian flag.
Nigerians have flooded his comment session to thank him for his support and the special #EndSARS emoji he created for the movement.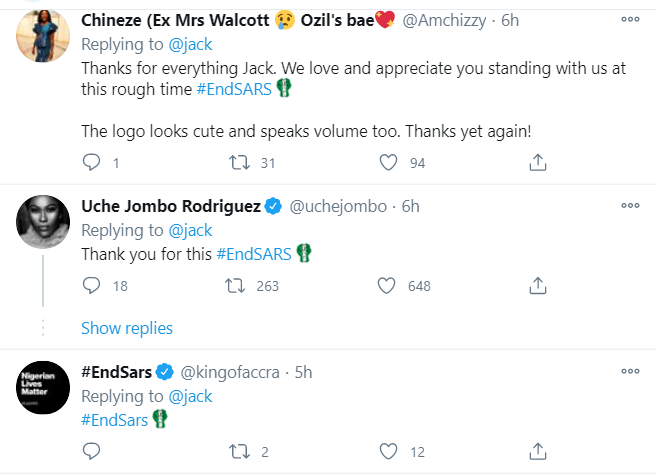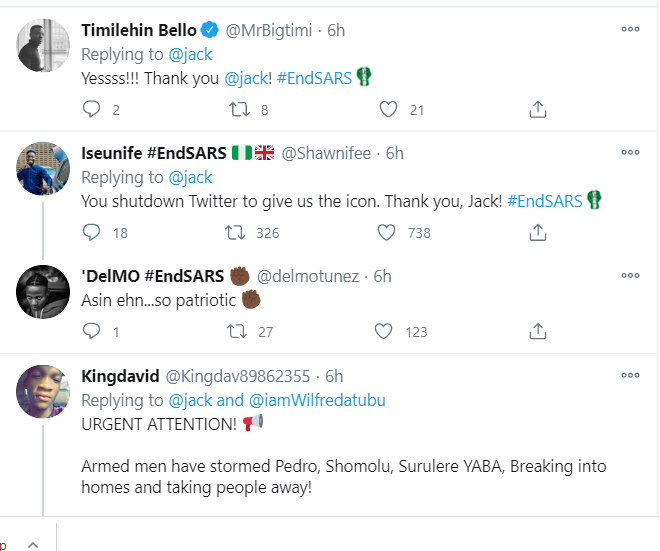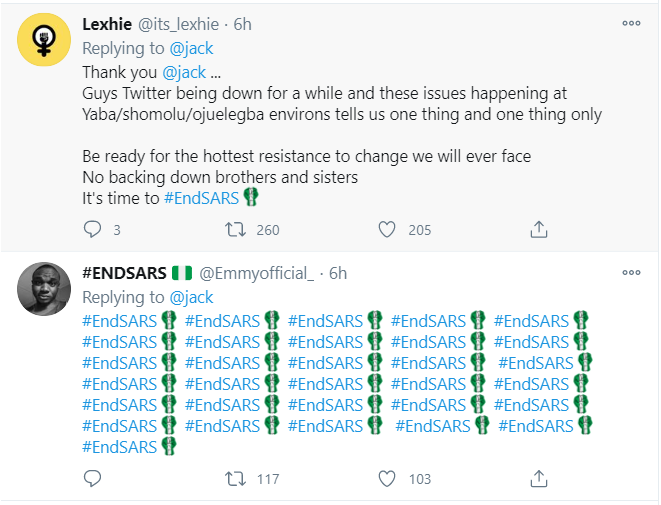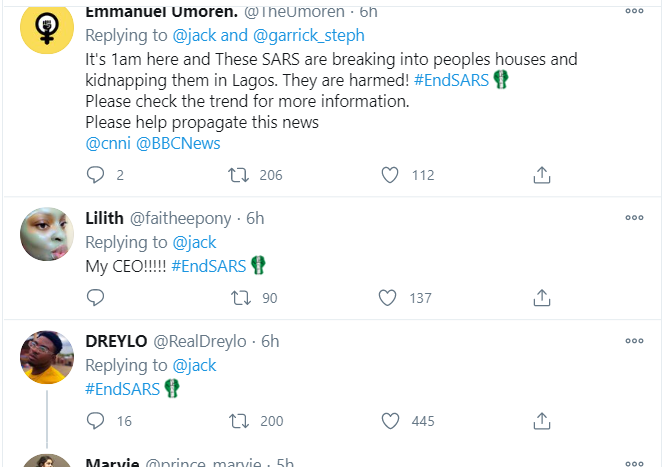 Brazilian footballer Neymar faces fresh police questioning over claim he raped a model in Paris hotel room
Brazilian footballer, Neymar, 26, will be questioned for the second time over claims he raped a model in a Paris Hotel room.
The Paris Saint-Germain star has reportedly agreed to fly into São Paulo in Brazil to meet with detectives over the alleged rape attack on 26-year-old model, Najila Trindade Mendes de Souza. 
Speaking to MailOnline, Dr. Juliana Lopes Bussacos, the officer in charge of the investigation, said: 'He will be treated like any other citizen. He has the same rights as any other man.
'I have interviewed many men in these situations and everyone is equal and they all have the right to tell their story and produce evidence to back it up.'
With detectives desperate to get to the bottom of what happened,  Dr. Juliana said she couldn't enter into details of the rape accuser's complaint due to confidentiality.
'There are so many questions and answers that need clarification. He says he did not rape her and she has said she has evidence.
The former Barcelona striker is expected to give his statement in the next 48 hours, and then officers will decide if there is a case and if it is necessary to bring them together.
This comes after it was revealed that Neymar could be cleared of the rape accusation levied against him within days over lack of more evidence from his accuser.
The Brazilian model has been informed by her lawyer that she faces seeing her case against the Paris Saint-Germain star dropped except there is more evidence. She also faces losing the second lawyer to represent her after he said he could not carry on if his professional 'trust' in her was compromised.
Trindade's attorney Danileo Garcia de Andrade said he still believed Ms. Trindade had a case, but he would step aside if there was a lack of evidence.
Mr. Daileo said he had given her a deadline to produce the video and photographs she claimed to have had which would help prove her allegations of rape against the Brazilian superstar. But if the evidence was not forthcoming, he said, he would drop the case next week.
Mr de Andrade told Brazil's UOL Esporte: 'If the police investigation of the supposed break-in where she lives shows there was no break-in, I am leaving the case.'
He added: 'The attorney-client relationship is based always on trust. If there is no trust, then there is no reason to stay on'
Trindade claimed she was the victim of 'aggression and rape' by the Paris Saint-Germain player in a hotel room in the French capital on May 15. She said the encounter started out consensual but quickly turned violent, leaving her with bruises and scrapes to her legs and buttocks, with Neymar refusing to stop.
She told police her tablet containing a seven-minute video, messages and photos she alleged incriminated the footballer, was stolen in a burglary at her apartment. But the authorities said they found no major signs of a break-in and only Ms. Trindade's fingerprints and those of her maid and friends around the flat.
Neymar has strongly denied raping her but admitted that what happened between them was consensual.