Do You Men are 50% more likely to die from cancer than women,
Globally, 4.6 million men die of cancer every year – 126 per 100,000
Each year 3.5 million women die of cancer – 82 in every 100,000
The disparity between female and male death rates is highest in Central and Eastern Europe, in East Africa women are more likely to die than men
In the UK, men are 30 per cent more likely to die of cancer than women
Men are 50 per cent more likely to die from cancer than women, according to new global statistics.
Data published by Cancer Research UK shows more than 4.6 million men die from the disease every year across the globe – the equivalent of 126 men in every 100,000.
This compares to about 3.5 million women who die from the disease each year – this represents 82 women per 100,000.
Men are outliving women in more than 100 areas of England for the first time since records began as they get fit and stop smoking
Central and Eastern Europe are the regions where men have the highest death rate compared to women.
In East Africa women are more likely to die of cancer than men are.
In the UK, there is also a stark difference, previously reported, which shows men are 30 per cent more likely to die of cancer than women.
There are 126.05 cancer deaths per 100,000 men in the UK each year, compared to 97.28 per 100,000 women.
This is one of the lowest differences seen in Europe but still represents a sizeable inequality.
The four biggest cancer killers worldwide are of the lung, liver, stomach and bowel.
Together, they cause almost half of all cancer deaths worldwide.
The figures, compiled by the International Agency for Research on Cancer, also show more than 14 million people around the world are diagnosed with cancer every year.
Men are almost a quarter more likely to be diagnosed with the disease than women.
Nick Ormiston-Smith, head of statistics at Cancer Research UK, said: 'The contrast in cancer death rates between the sexes may be down to more men being diagnosed with types of cancers that are harder to treat, such as cancers of the bladder, liver, lung and oesophagus.
'Cancer is estimated to account for around 16 per cent of all deaths worldwide.
'Age is the biggest risk factor for most cancers and, as global life expectancy increases, we'll see more people being diagnosed with the disease.
'But lifestyle also plays an important role.
'Worldwide, tobacco consumption has been responsible for an estimated 100 million deaths in the last century and, if current trends continue, it will kill a billion in the 21st century.
'Smoking is by far the most important preventable cause of cancer in the world.'
Dr Harpal Kumar, chief executive of Cancer Research UK, said: 'Global research efforts have dramatically improved survival and are giving more people than ever the best possible chance of beating the disease.
'But we know there's still a lot more to do if we're going to bring forward the day when all cancers are cured.'
Pray for Pope Francis Has He Undergoes Surgery : President Buhari
Roman Catholic church head, Pope Francis has undergone surgery hours after attending the traditional Sunday Angelus prayer in St. Peter's Square on Sunday, July 4.
President Muhammadu Buhari has sent a get-well message to the Head of the Catholic Church, Pope Francis, as he heads in for a scheduled surgery of the colon.
The president's Senior Special Assistant on Media and Publicity, Malam Garba Shehu, confirmed this in a statement in Abuja on Sunday.
Buhari called for prayers from Nigerians and the global community as the Pontiff goes in for this routine operation.
Twitter CEO, Jack Dorsey reveals special #EndSARS emoji after endorsing the movement
Twitter CEO,  Jack Dorsey has revealed special #EndSARS Emoji after endorsing the movement against police brutality and other unlawful crimes in Nigeria.
Jack tweeted his support for the #EndSARS protests and called for Bitcoin donations towards the movement two days ago.
Last night, Twitter experienced issues globally with large numbers of users unable to post tweets, access their timelines, or see notifications. After fixing these issues, Jack Dorsey revealed a special #EndSARS emoji, a fist with the colour of the Nigerian flag.
Nigerians have flooded his comment session to thank him for his support and the special #EndSARS emoji he created for the movement.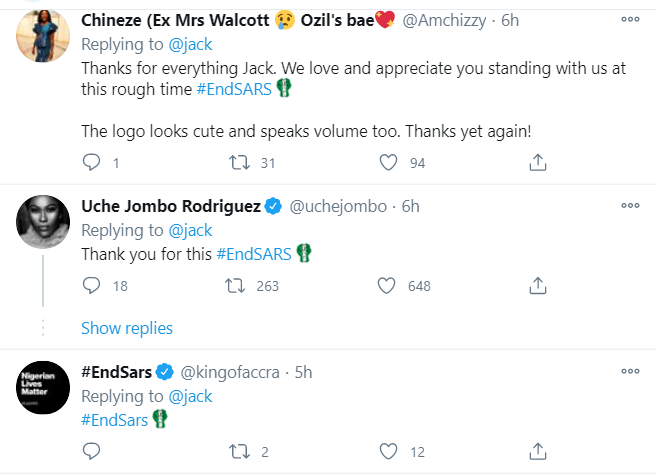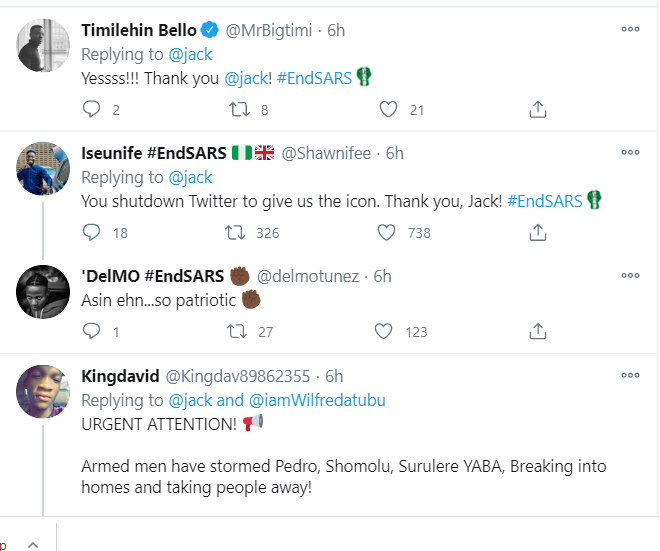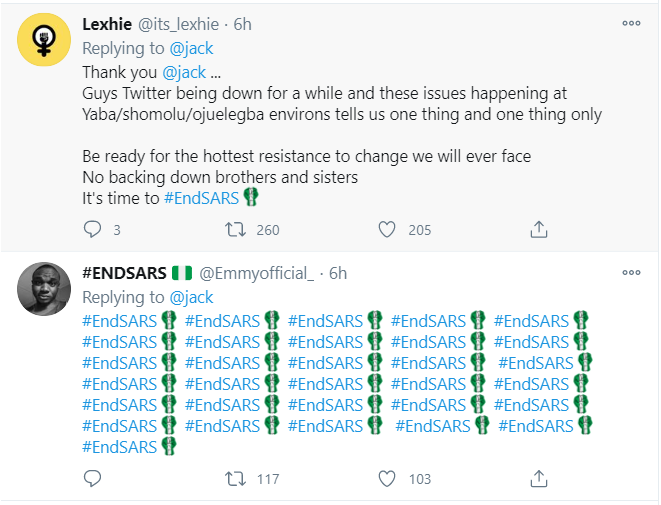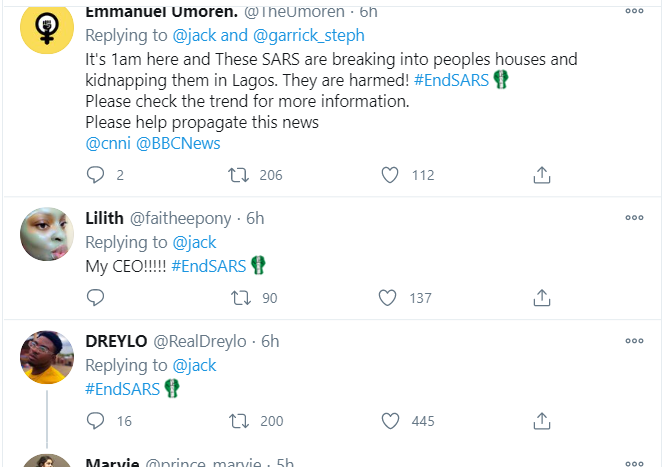 Brazilian footballer Neymar faces fresh police questioning over claim he raped a model in Paris hotel room
Brazilian footballer, Neymar, 26, will be questioned for the second time over claims he raped a model in a Paris Hotel room.
The Paris Saint-Germain star has reportedly agreed to fly into São Paulo in Brazil to meet with detectives over the alleged rape attack on 26-year-old model, Najila Trindade Mendes de Souza. 
Speaking to MailOnline, Dr. Juliana Lopes Bussacos, the officer in charge of the investigation, said: 'He will be treated like any other citizen. He has the same rights as any other man.
'I have interviewed many men in these situations and everyone is equal and they all have the right to tell their story and produce evidence to back it up.'
With detectives desperate to get to the bottom of what happened,  Dr. Juliana said she couldn't enter into details of the rape accuser's complaint due to confidentiality.
'There are so many questions and answers that need clarification. He says he did not rape her and she has said she has evidence.
The former Barcelona striker is expected to give his statement in the next 48 hours, and then officers will decide if there is a case and if it is necessary to bring them together.
This comes after it was revealed that Neymar could be cleared of the rape accusation levied against him within days over lack of more evidence from his accuser.
The Brazilian model has been informed by her lawyer that she faces seeing her case against the Paris Saint-Germain star dropped except there is more evidence. She also faces losing the second lawyer to represent her after he said he could not carry on if his professional 'trust' in her was compromised.
Trindade's attorney Danileo Garcia de Andrade said he still believed Ms. Trindade had a case, but he would step aside if there was a lack of evidence.
Mr. Daileo said he had given her a deadline to produce the video and photographs she claimed to have had which would help prove her allegations of rape against the Brazilian superstar. But if the evidence was not forthcoming, he said, he would drop the case next week.
Mr de Andrade told Brazil's UOL Esporte: 'If the police investigation of the supposed break-in where she lives shows there was no break-in, I am leaving the case.'
He added: 'The attorney-client relationship is based always on trust. If there is no trust, then there is no reason to stay on'
Trindade claimed she was the victim of 'aggression and rape' by the Paris Saint-Germain player in a hotel room in the French capital on May 15. She said the encounter started out consensual but quickly turned violent, leaving her with bruises and scrapes to her legs and buttocks, with Neymar refusing to stop.
She told police her tablet containing a seven-minute video, messages and photos she alleged incriminated the footballer, was stolen in a burglary at her apartment. But the authorities said they found no major signs of a break-in and only Ms. Trindade's fingerprints and those of her maid and friends around the flat.
Neymar has strongly denied raping her but admitted that what happened between them was consensual.