Six takeaways from the fifth Republican debate
The fifth Republican debate Tuesday night in Las Vegas was heavy on foreign policy and national security, spotlighting the approaches of GOP candidates to fighting the Islamic State and protecting the homeland. Here are six takeaways:
Ted Cruz, who is gaining in national polls and taken the lead in Iowa, was, for the first time, a primary target throughout the debate.
That included his Senate vote to end the National Security Agency's bulk records collection program and his opposition to toppling Middle Eastern dictators. Marco Rubio hit Cruz repeatedly, saying his vote against the phone metadata program means the nation lost a "valuable tool."
The Florida senator circled back for another swipe against Cruz's vote against the Defense Authorization Act. "You can't carpet bomb ISIS if you don't have planes and bombs to attack them with," said Rubio. Cruz has said he'd bomb ISIS until the sand glows.
In the undercard debate, Sen. Lindsey Graham delivered one of the night's most memorable lines in attacking Cruz for opposing ground troops in Iraq and Syria. "Getting in bed with Iran and Russia to save Assad is inconceivable," said Graham. "Princess Buttercup would not like this," he said, referring to a character in The Princess Bride, a favorite Cruz movie.
Trump takes a pass
Somewhat surprisingly, Donald Trump wasn't among Cruz's antagonists.
Just days before the debate, Trump accused Cruz of acting like a "maniac" in the Senate. "I've gotten to know him over the last three or four days," Trump said in walking back his criticism. "He's just fine, don't worry about it," said Trump.
He also soothed Republicans concerned about a potential third-party run, which could hurt the party's eventual nominee. Trump said he'd abide by a pledge to support the eventual nominee.
The testiest and most personal exchanges were between Donald Trump and Jeb Bush, who at one point repeatedly interrupted Trump.
"You're not going to be able to insult your way to the presidency," Bush shot at Trump. Leadership is not about "attacking and disparaging," he said, referring to Trump's proposal to ban all non-citizen Muslims from the U.S. "He's a chaos candidate and he'd be a chaos president," said Bush.
Bush's repeated attacks worked Trump into red-faced irritation as he raised his voice in anger.
Trump revived a personal attack about Bush being low energy. "I know you're trying to build up your energy, Jeb, but it's not working very well," said Trump.
Asked why he'd make an effective leader, Bush took another indirect shot at Trump. "I know what I don't know," he said. "I won't get my information from the shows."
Rubio answers for immigration stance
Rubio was pressed on his previous support for a bipartisan Senate bill creating a path to legalization for undocumented immigrants. Rubio said he doesn't support any legalization until the U.S. beefs up border security and implements other measures such as e-verify for employers.
Yet the moderators pinned him down, and Rubio ultimately said he is open to allowing people to apply for a green card, "but that's down the road."
While Paul joined the criticism, Cruz pounced, claiming to have led the fight against Rubio's "amnesty" bill. When pressed, Cruz drew a sharp contrast, ruling out a path to citizenship.
Trump's proposed ban on all non-citizen Muslims was a major topic. He defended his controversial plan, which his opponents largely agreed was unconstitutional and unworkable.
Trump bemoaned people coming to this country with ISIS flags on their cell phones. "They're not coming to this country," he said. If they come, "they're leaving, they're going."
Rubio and Cruz were measured in their criticism. "Everyone understands why Donald has suggested what he has," said Cruz, faulting President Obama's policies. "There are millions of peaceful" Muslims all around the world, said Cruz, and U.S. policy should focus on countries like Iraq and Syria.
Other candidates were more blunt in their denunciation, including Bush and Graham.
"ISIL would be dancing in the streets, they just don't believe in dancing," said Graham in the undercard debate, seeking to appeal directly to U.S. allies in the Middle East such as Jordan. "He does not represent us" and has "made us all less safe," said Graham of Trump.
There was a sharp divide in the field over the approach to ground troops in Syria and Iraq.
In support of a more robust U.S. presence were Kasich, Bush, Rubio and Christie, who argued that Arab allies will not join the fight in large numbers unless the U.S. leads. On the other side of the issue were Paul, Cruz and Trump, who argued that U.S. wars in the Middle East have destabilized the entire region and made the U.S. less secure.
"We have to go massively like we did in the first Gulf War," said Kasich. That stands in contrast to Cruz, who said the Sunni Arab fighters the U.S. seeks aren't materializing.
"It's like a purple unicorn. These moderate rebels end up being Jihadists," said Cruz.
The U.S. has "done a tremendous disservice" to the Middle East and humanity with wars that have cost the U.S. over $5 trillion, said Trump. "We can't be fighting everybody at the same time."
Pray for Pope Francis Has He Undergoes Surgery : President Buhari
Roman Catholic church head, Pope Francis has undergone surgery hours after attending the traditional Sunday Angelus prayer in St. Peter's Square on Sunday, July 4.
President Muhammadu Buhari has sent a get-well message to the Head of the Catholic Church, Pope Francis, as he heads in for a scheduled surgery of the colon.
The president's Senior Special Assistant on Media and Publicity, Malam Garba Shehu, confirmed this in a statement in Abuja on Sunday.
Buhari called for prayers from Nigerians and the global community as the Pontiff goes in for this routine operation.
Twitter CEO, Jack Dorsey reveals special #EndSARS emoji after endorsing the movement
Twitter CEO,  Jack Dorsey has revealed special #EndSARS Emoji after endorsing the movement against police brutality and other unlawful crimes in Nigeria.
Jack tweeted his support for the #EndSARS protests and called for Bitcoin donations towards the movement two days ago.
Last night, Twitter experienced issues globally with large numbers of users unable to post tweets, access their timelines, or see notifications. After fixing these issues, Jack Dorsey revealed a special #EndSARS emoji, a fist with the colour of the Nigerian flag.
Nigerians have flooded his comment session to thank him for his support and the special #EndSARS emoji he created for the movement.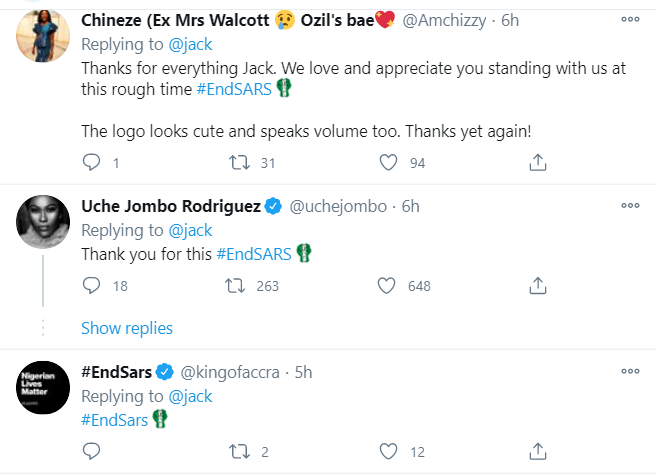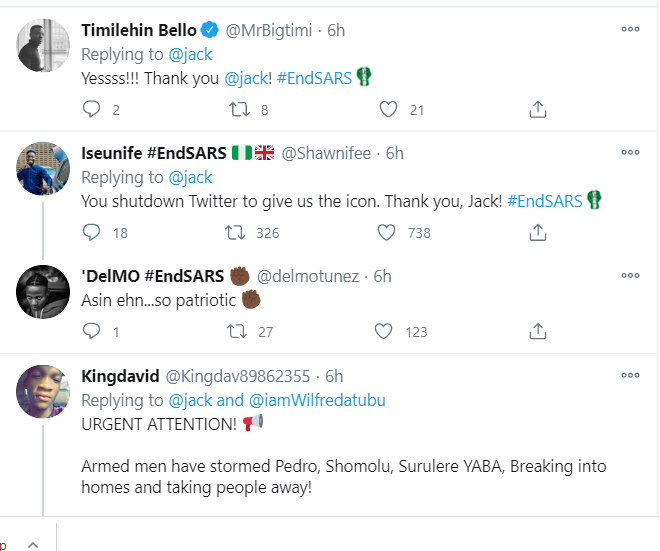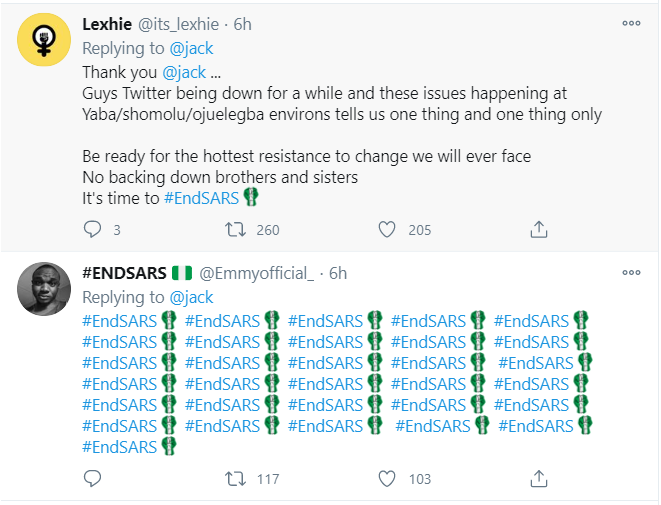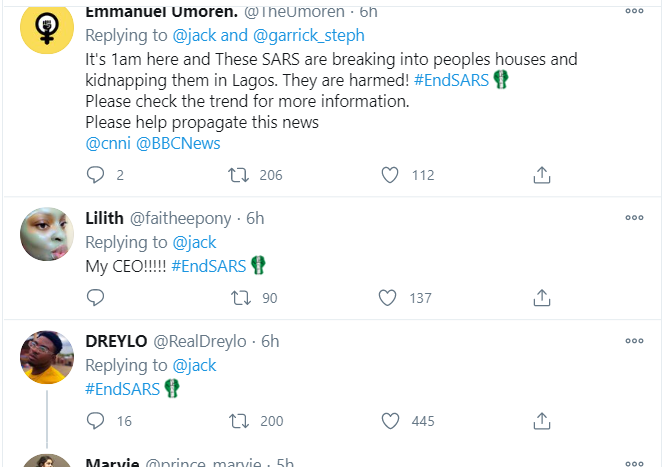 Brazilian footballer Neymar faces fresh police questioning over claim he raped a model in Paris hotel room
Brazilian footballer, Neymar, 26, will be questioned for the second time over claims he raped a model in a Paris Hotel room.
The Paris Saint-Germain star has reportedly agreed to fly into São Paulo in Brazil to meet with detectives over the alleged rape attack on 26-year-old model, Najila Trindade Mendes de Souza. 
Speaking to MailOnline, Dr. Juliana Lopes Bussacos, the officer in charge of the investigation, said: 'He will be treated like any other citizen. He has the same rights as any other man.
'I have interviewed many men in these situations and everyone is equal and they all have the right to tell their story and produce evidence to back it up.'
With detectives desperate to get to the bottom of what happened,  Dr. Juliana said she couldn't enter into details of the rape accuser's complaint due to confidentiality.
'There are so many questions and answers that need clarification. He says he did not rape her and she has said she has evidence.
The former Barcelona striker is expected to give his statement in the next 48 hours, and then officers will decide if there is a case and if it is necessary to bring them together.
This comes after it was revealed that Neymar could be cleared of the rape accusation levied against him within days over lack of more evidence from his accuser.
The Brazilian model has been informed by her lawyer that she faces seeing her case against the Paris Saint-Germain star dropped except there is more evidence. She also faces losing the second lawyer to represent her after he said he could not carry on if his professional 'trust' in her was compromised.
Trindade's attorney Danileo Garcia de Andrade said he still believed Ms. Trindade had a case, but he would step aside if there was a lack of evidence.
Mr. Daileo said he had given her a deadline to produce the video and photographs she claimed to have had which would help prove her allegations of rape against the Brazilian superstar. But if the evidence was not forthcoming, he said, he would drop the case next week.
Mr de Andrade told Brazil's UOL Esporte: 'If the police investigation of the supposed break-in where she lives shows there was no break-in, I am leaving the case.'
He added: 'The attorney-client relationship is based always on trust. If there is no trust, then there is no reason to stay on'
Trindade claimed she was the victim of 'aggression and rape' by the Paris Saint-Germain player in a hotel room in the French capital on May 15. She said the encounter started out consensual but quickly turned violent, leaving her with bruises and scrapes to her legs and buttocks, with Neymar refusing to stop.
She told police her tablet containing a seven-minute video, messages and photos she alleged incriminated the footballer, was stolen in a burglary at her apartment. But the authorities said they found no major signs of a break-in and only Ms. Trindade's fingerprints and those of her maid and friends around the flat.
Neymar has strongly denied raping her but admitted that what happened between them was consensual.