El-Zakzaky's Followers List 5 Conditions For Peace.
Leaders of Shia Islamic Movement of Nigeria have listed five conditions for possible truce and presented a catalogue of demands to the federal government.
Leadership reports that the main condition was the immediate release of their leader, Sheikh Ibrahim El-Zakzaky.
Briefing journalists in Abuja, Abdulmumin Giwa, the group's media forum secretary, and Abdulrahman Abubakar, the leader of the movement in Yola, insisted that the killing of Shi'ites by Nigerian army in Zaria, Kaduna state, was unprovoked.
The embattled group's leaders said that they had incurred human and material losses as a result of the clamp down on them by the soldiers.
"We want the army to hand over our leader, Sheikh El-Zakzaky, to us immediately for medical care. We ask the military to release all our arrested members. We ask for the army to stop molestation of our members; all corpses of our brothers and sisters killed by the army should be released for proper Islamic burial. We want full compensation for the lives lost as well as our properties destroyed, and we want a full-scale investigation and prosecution of culprits involved in the killing of our members," they said.
Giwa lamented that since the Saturday incident, members of their sect have continued to suffer more deaths. According to him, on Tuesday, December 15, men of the Nigerian Police Mobile Force attacked their members and killed four.
"We had no premeditated plan to attack the chief of army staff as claimed by the army.
"On that fateful day when we were getting set to celebrate the Maulud of our holy prophet at the Husseiniyya prayer ground, the Nigerian army came and stationed a detachment of soldiers there and the military presence created tension amongst our members. Even when the COAS came to pass, there was no incident at all. But two hours later, soldiers came back and began to open fire on our members. More than 300 people were killed there," he said.
Recalling the raid on El-Zakzaky's residence by the Nigerian army, Giwa expressed assurance that the death toll was four times more than what was recorded at Husseiniyya. He further claimed that most of the dead bodies were evacuated and taken to unknown places by the army.
The two spokesmen revealed that El-Zakzaky had called some of the members shortly before soldiers arrested him. He told them that he had sustained bullet injuries in his eyes and in his right shoulder.
"He informed his only surviving son that he was bleeding profusely and that the corpses of his three sons: Hamad (18), Ali (16) and Humeid (13) were lying dead in front of him at the time the soldiers were shooting into his home," Abubakar said.
Denying the allegation that the sect members were armed during the clash with soldiers, Giwa stressed that their group had been known as one of the most peaceful religious bodies in the country.
"We have never been associated with any form of violence in many years of our existence. In fact, we have been rated as the highest donor to the blood bank in Nigeria," he noted.
Meanwhile, the Nigerian Senate is set to commence investigation into the recent killings of Shiites in Zaria. The investigation panel has senators drawn from the ad-hoc committees on Defence, Judiciary and National Security and Intelligence to unravel circumstances behind the incidence.
Pray for Pope Francis Has He Undergoes Surgery : President Buhari
Roman Catholic church head, Pope Francis has undergone surgery hours after attending the traditional Sunday Angelus prayer in St. Peter's Square on Sunday, July 4.
President Muhammadu Buhari has sent a get-well message to the Head of the Catholic Church, Pope Francis, as he heads in for a scheduled surgery of the colon.
The president's Senior Special Assistant on Media and Publicity, Malam Garba Shehu, confirmed this in a statement in Abuja on Sunday.
Buhari called for prayers from Nigerians and the global community as the Pontiff goes in for this routine operation.
Twitter CEO, Jack Dorsey reveals special #EndSARS emoji after endorsing the movement
Twitter CEO,  Jack Dorsey has revealed special #EndSARS Emoji after endorsing the movement against police brutality and other unlawful crimes in Nigeria.
Jack tweeted his support for the #EndSARS protests and called for Bitcoin donations towards the movement two days ago.
Last night, Twitter experienced issues globally with large numbers of users unable to post tweets, access their timelines, or see notifications. After fixing these issues, Jack Dorsey revealed a special #EndSARS emoji, a fist with the colour of the Nigerian flag.
Nigerians have flooded his comment session to thank him for his support and the special #EndSARS emoji he created for the movement.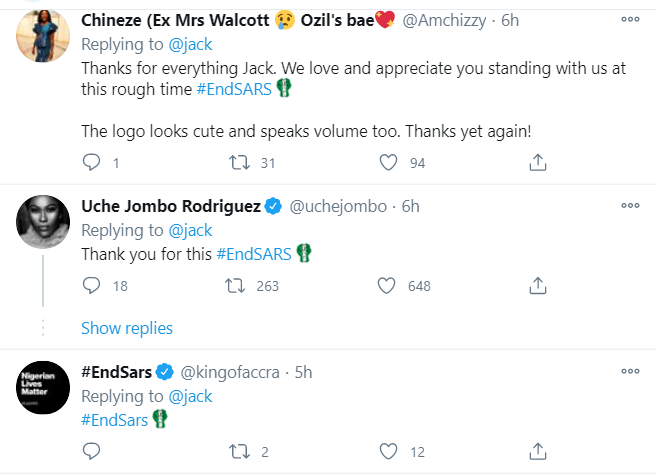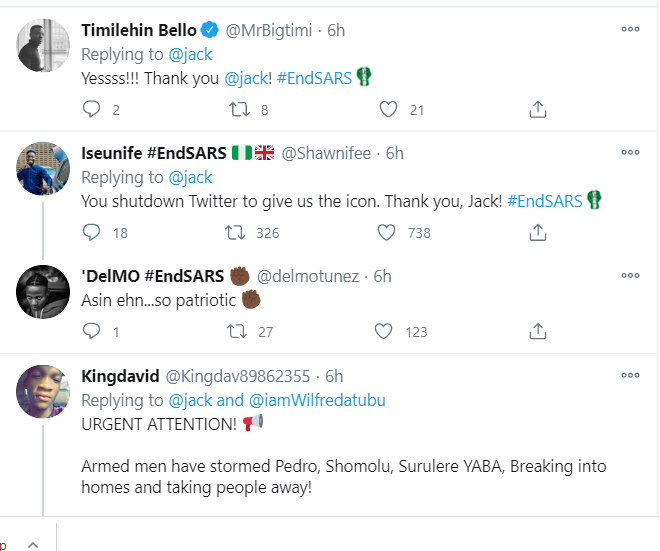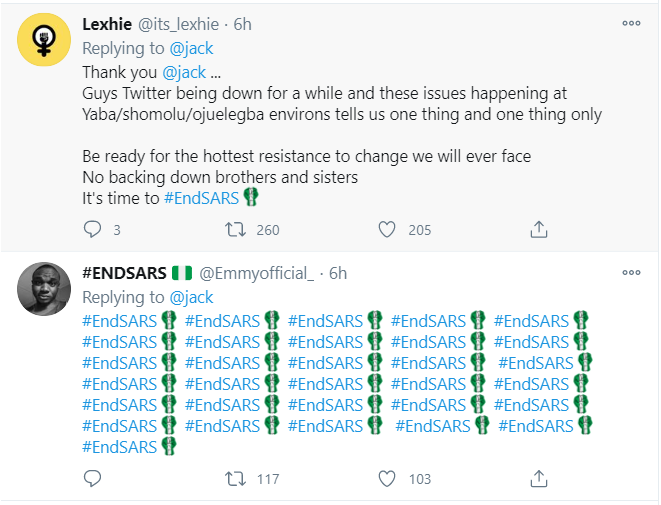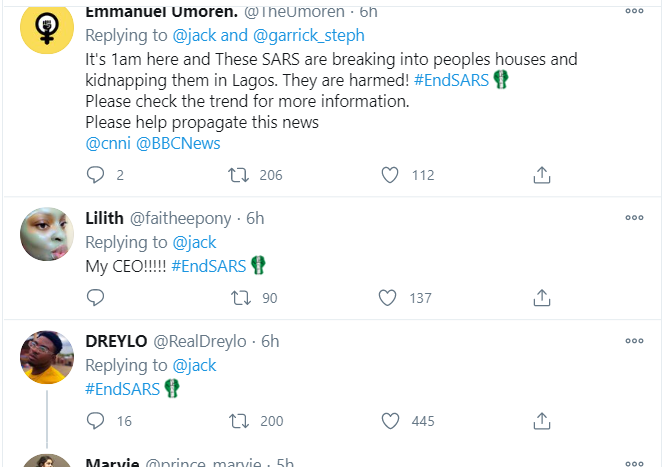 Brazilian footballer Neymar faces fresh police questioning over claim he raped a model in Paris hotel room
Brazilian footballer, Neymar, 26, will be questioned for the second time over claims he raped a model in a Paris Hotel room.
The Paris Saint-Germain star has reportedly agreed to fly into São Paulo in Brazil to meet with detectives over the alleged rape attack on 26-year-old model, Najila Trindade Mendes de Souza. 
Speaking to MailOnline, Dr. Juliana Lopes Bussacos, the officer in charge of the investigation, said: 'He will be treated like any other citizen. He has the same rights as any other man.
'I have interviewed many men in these situations and everyone is equal and they all have the right to tell their story and produce evidence to back it up.'
With detectives desperate to get to the bottom of what happened,  Dr. Juliana said she couldn't enter into details of the rape accuser's complaint due to confidentiality.
'There are so many questions and answers that need clarification. He says he did not rape her and she has said she has evidence.
The former Barcelona striker is expected to give his statement in the next 48 hours, and then officers will decide if there is a case and if it is necessary to bring them together.
This comes after it was revealed that Neymar could be cleared of the rape accusation levied against him within days over lack of more evidence from his accuser.
The Brazilian model has been informed by her lawyer that she faces seeing her case against the Paris Saint-Germain star dropped except there is more evidence. She also faces losing the second lawyer to represent her after he said he could not carry on if his professional 'trust' in her was compromised.
Trindade's attorney Danileo Garcia de Andrade said he still believed Ms. Trindade had a case, but he would step aside if there was a lack of evidence.
Mr. Daileo said he had given her a deadline to produce the video and photographs she claimed to have had which would help prove her allegations of rape against the Brazilian superstar. But if the evidence was not forthcoming, he said, he would drop the case next week.
Mr de Andrade told Brazil's UOL Esporte: 'If the police investigation of the supposed break-in where she lives shows there was no break-in, I am leaving the case.'
He added: 'The attorney-client relationship is based always on trust. If there is no trust, then there is no reason to stay on'
Trindade claimed she was the victim of 'aggression and rape' by the Paris Saint-Germain player in a hotel room in the French capital on May 15. She said the encounter started out consensual but quickly turned violent, leaving her with bruises and scrapes to her legs and buttocks, with Neymar refusing to stop.
She told police her tablet containing a seven-minute video, messages and photos she alleged incriminated the footballer, was stolen in a burglary at her apartment. But the authorities said they found no major signs of a break-in and only Ms. Trindade's fingerprints and those of her maid and friends around the flat.
Neymar has strongly denied raping her but admitted that what happened between them was consensual.