Gynecologic cancers: Ways to reduce your risk.
This year more than 98,000 women in the U.S. will be diagnosed with a gynecological cancer– and about 30,000 will die from the disease. Despite this threat, few Americans know the signs and symptoms to look out for and what preventive measures to take. The most common forms are cervical, uterine, vaginal, vulvar and ovarian cancer.
Dr. Manny Alvarez, senior managing health editor of FoxNews.com, recently sat down with gynecologic oncologist, Dr. Sharyn Lewin from the Holy Name Medical Center to raise awareness on the causes and symptoms of these diseases.
Lewin has dedicated her entire career to help improve screenings, treatments, prevention and overall quality of care for women across the nation. All women are at some risk for gynecological cancers, regardless of age or ethnicity. While there is no cure for these types of cancers, prevention and early detection can lead to more effective treatment.
"The bottom line is, that yearly visit to the OB-GYN [obstetrician-gynecologist] is so important, Lewin told FoxNews.com. "One thing we found in a national survey that was sponsored by Genentech and the Foundation for Women's Cancer, is that less than half of women actually see the importance of an annual visit to the OB-GYN and this is such an important preventative appointment."
Most adolescents start to see an OB-GYN around thirteen years old. An annual exam with your OB-GYN should include screening tests, exams, and discussions on health topics and immunizations relevant to your age and risk factors.
Each gynecologic cancer is different and has its own set of risk factors.  For cervical cancer, almost all cases are caused by the human papillomavirus (HPV), so having the sexually transmitted infection can increase your risk.
"If women had their regular Pap smears and were even vaccinated against the HPV vaccine, the human papillomavirus vaccine, cervical cancer could really be eradicated in the United States, because we do see there are early changes in the cervix that can definitely be caught and detected and treated way before they become a cancer," Lewin said.
The Pap smear, or test, looks for abnormal cell changes in the cervix. According to the Centers for Disease Control and Prevention (CDC), the Pap test is recommended for women between the ages of 21 and 65. For women over age 30, an HPV test can also be used to check for specific HPV types that are linked to cervical cancer.
Another important area in prevention is maintaining a healthy weight and staying physically active.
"Obesity is a big risk factor when it comes to ovarian cancer and uterine cancer, so staying within an ideal body weight is very important," Lewin said, adding that genetics, like having the BRCA mutation or the BRCA gene is another crucial risk factor for ovarian cancer.  Studies estimate that 39 percent of women who inherit a BRCA1 mutation will develop ovarian cancer by age 70.
Some early gynecologic cancers may not cause symptoms until the cancer is in advanced stages, which is why knowing the signs and symptoms can play one of the biggest roles in prevention, Lewin said.
Symptoms of cervical cancer:
-Abnormal vaginal bleeding
-Pelvic pain or pain during intercourse
-Unusual discharge from the vagina
-Back pain, bone pain or fractures
"Early cervical cancer doesn't have any symptoms, which is why the Pap smear is so important because we can actually detect it through the Pap smear and treat it before any symptoms develop," Lewin said.
Symptoms of ovarian cancer:
-Abdominal or pelvic pain
-Feeling full quickly
-Pain with urination
-Bloating
"It's called the silent killer because we don't have a good screening test yet and symptoms are often detected pretty late," she added.
Symptoms of uterine cancer:
-Abnormal bleeding and bleeding after menopause
-Pelvic pain
-Weight loss
"Uterine cancer, which is the most common cancer that we see, usually presents with bleeding after menopause– so any bleeding after menopause or abnormal discharge even if it's just for a day or two really needs to be evaluated with a biopsy," Lewin said.
Symptoms of vaginal and vulvar cancer:
-Persistent itching, burning or bleeding on the vulva
– Abnormal vaginal discharge or bleeding
-Discoloration of the skin on the vulva; redder or whiter, rash or warts
"Vaginal and vulvar cancers are not very common and most of them are related to HPV, which is why the vaccine is so important," Lewin said.
Rates of some gynecologic cancers have decreased over the years. Particularly, a lot of progress has been made in cervical cancer, Lewin said.
The American Cancer Society reported that over the last 30 years, the death rate for cervical cancer patients has gone down by more than 50 percent— an achievement many experts say is a testament to the increased use of the Pap test and the HPV vaccine.
Pray for Pope Francis Has He Undergoes Surgery : President Buhari
Roman Catholic church head, Pope Francis has undergone surgery hours after attending the traditional Sunday Angelus prayer in St. Peter's Square on Sunday, July 4.
President Muhammadu Buhari has sent a get-well message to the Head of the Catholic Church, Pope Francis, as he heads in for a scheduled surgery of the colon.
The president's Senior Special Assistant on Media and Publicity, Malam Garba Shehu, confirmed this in a statement in Abuja on Sunday.
Buhari called for prayers from Nigerians and the global community as the Pontiff goes in for this routine operation.
Twitter CEO, Jack Dorsey reveals special #EndSARS emoji after endorsing the movement
Twitter CEO,  Jack Dorsey has revealed special #EndSARS Emoji after endorsing the movement against police brutality and other unlawful crimes in Nigeria.
Jack tweeted his support for the #EndSARS protests and called for Bitcoin donations towards the movement two days ago.
Last night, Twitter experienced issues globally with large numbers of users unable to post tweets, access their timelines, or see notifications. After fixing these issues, Jack Dorsey revealed a special #EndSARS emoji, a fist with the colour of the Nigerian flag.
Nigerians have flooded his comment session to thank him for his support and the special #EndSARS emoji he created for the movement.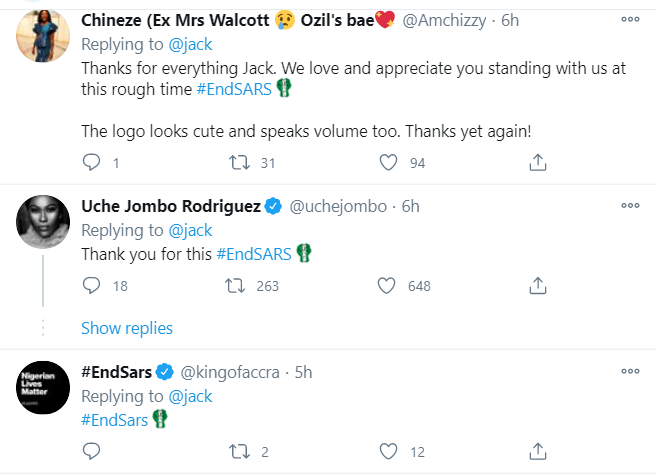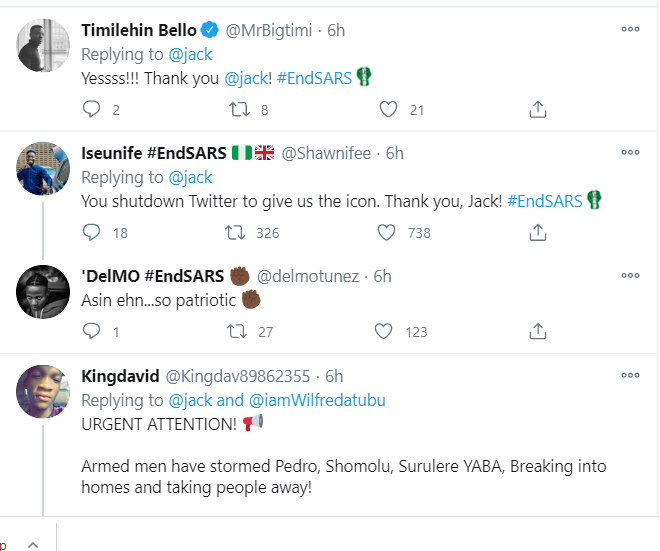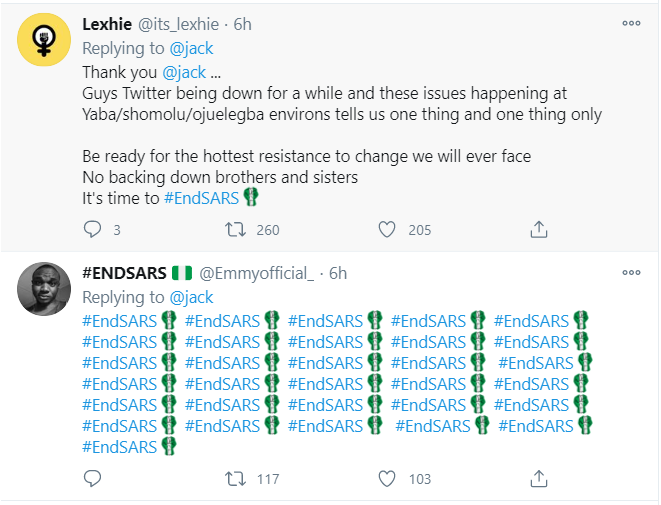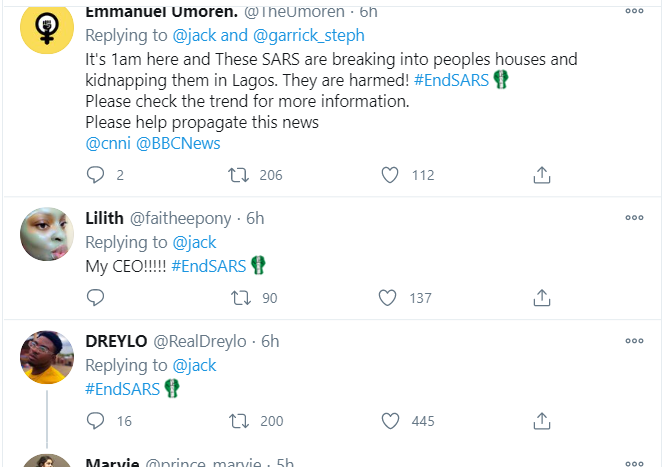 Brazilian footballer Neymar faces fresh police questioning over claim he raped a model in Paris hotel room
Brazilian footballer, Neymar, 26, will be questioned for the second time over claims he raped a model in a Paris Hotel room.
The Paris Saint-Germain star has reportedly agreed to fly into São Paulo in Brazil to meet with detectives over the alleged rape attack on 26-year-old model, Najila Trindade Mendes de Souza. 
Speaking to MailOnline, Dr. Juliana Lopes Bussacos, the officer in charge of the investigation, said: 'He will be treated like any other citizen. He has the same rights as any other man.
'I have interviewed many men in these situations and everyone is equal and they all have the right to tell their story and produce evidence to back it up.'
With detectives desperate to get to the bottom of what happened,  Dr. Juliana said she couldn't enter into details of the rape accuser's complaint due to confidentiality.
'There are so many questions and answers that need clarification. He says he did not rape her and she has said she has evidence.
The former Barcelona striker is expected to give his statement in the next 48 hours, and then officers will decide if there is a case and if it is necessary to bring them together.
This comes after it was revealed that Neymar could be cleared of the rape accusation levied against him within days over lack of more evidence from his accuser.
The Brazilian model has been informed by her lawyer that she faces seeing her case against the Paris Saint-Germain star dropped except there is more evidence. She also faces losing the second lawyer to represent her after he said he could not carry on if his professional 'trust' in her was compromised.
Trindade's attorney Danileo Garcia de Andrade said he still believed Ms. Trindade had a case, but he would step aside if there was a lack of evidence.
Mr. Daileo said he had given her a deadline to produce the video and photographs she claimed to have had which would help prove her allegations of rape against the Brazilian superstar. But if the evidence was not forthcoming, he said, he would drop the case next week.
Mr de Andrade told Brazil's UOL Esporte: 'If the police investigation of the supposed break-in where she lives shows there was no break-in, I am leaving the case.'
He added: 'The attorney-client relationship is based always on trust. If there is no trust, then there is no reason to stay on'
Trindade claimed she was the victim of 'aggression and rape' by the Paris Saint-Germain player in a hotel room in the French capital on May 15. She said the encounter started out consensual but quickly turned violent, leaving her with bruises and scrapes to her legs and buttocks, with Neymar refusing to stop.
She told police her tablet containing a seven-minute video, messages and photos she alleged incriminated the footballer, was stolen in a burglary at her apartment. But the authorities said they found no major signs of a break-in and only Ms. Trindade's fingerprints and those of her maid and friends around the flat.
Neymar has strongly denied raping her but admitted that what happened between them was consensual.