EFCC arrests Nigerian musician, Naira Marley
The Economic and Financial Crimes Commission (EFCC) has arrested Nigerian musician, Naira Marley, real name Afeez Fashola.
The fast-rising singer is currently being questioned at the EFFC office in Lagos.
Although the reason behind his arrest is yet to be made public, it might be in connection with his statements on social media which glorifies internet fraudsters, popularly called Yahoo boys.
The EFCC spokesperson could not be reached early on Friday, but a top source at the agency confirmed the arrest to PREMIUM TIMES.
Perhaps coincidentally, Naira Marley released the official video of his hit track, 'Am I A Yahoo Boy' featuring Zlatan on Thursday
Naira Marley during a recent Instagram live session, urged Nigerians to pray for internet fraudsters (Yahoo boys) saying they are the reason money circulates to the common man.
He said: "All you guys, all the money in your pockets, all the money you spend, you think it's the government that is making the money go round?"
The video has since stirred reactions from Nigerians who described Marley as a disgrace and bad example to young Nigerians.
Nigeria Grammy Award Winner Wizkid , Jets to Mali
Wizkid jets to the Republic of Mali after releasing the music video of Essence.
This is coming hours after the singer released his long-anticipated music video,
Essence, that he made with a female colleague, Tems
Shocking Details: Davido is fighting to get his ex Davina, back over Chioma"
According to @cutie_julls, blog, Davido is still in love with his South African based ex whom he sneaks off to now and then while Chioma Rowland is in his Lekki apartment cooking for his friends.
Read the full text below …
"Davina and Davido were seriously into each other then. I am confirming to you that he was with this lady even the weekend before Chioma's Mega Assurance birthday that yr.
When the whole assurance thing went viral, Davina was broken and contacted David.
David codedly flew to SA a few days after and begged Davina for forgiveness and explain to Davina how important the whole Chioma relationship was important for him at the time in his life etc. David gave Davina very good money as compensation for betraying their love as Davina didn't want to stay in Chioma's shadows. Davina used some of the money given to her to buy herself a nice simple car and also used some to pursue a course in the optician.
Today, she works in one of the biggest eye hospitals in Sandton, SA. She is a Congolese born tho but she lives in SA. She also got invested some of her money in her makeup line.
Now Hunku wants his woman back but I'm reliably informed girl is seriously hooked and there's no chance for David.
Hmm, David wants her back cuz she's doing very well for herself from the money he gave her. Despite her humble beginnings, she is now her boss chic, and more.
Chioma is still cooking for David and his friends. She's living in Lekki "4 the safety of Ifeanyi" but she goes to Banana Island when it's time to cook on large scale for David and his 30b geng.
On days she's only cooking for David alone, he goes to their Lekki home to have his meals
Call it to hate but I repeat, the best gift u can give to urself as a woman is to empower urself in ur career, education, etc.
We all love Chioma and I pray she shines her eyes. A word to the wise
Most of the ppl hailing her do so to their advantage just to ve access to David.
I know what I'm saying. I see through them.
Ifeanyi is old enough and our beautiful Chioma can go back to school or get into employment. Start a business or something.
I pray all those business deals I've been hearing becomes a reality. All the best Chioma."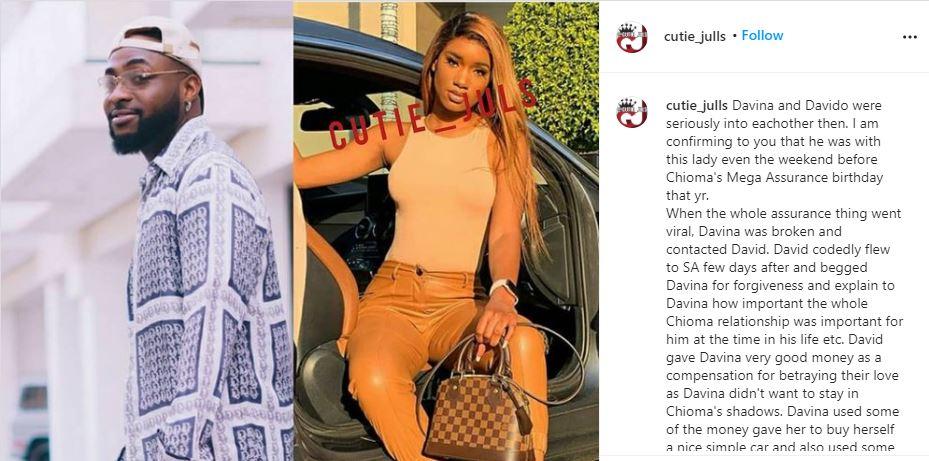 DJ Cuppy has filed a lawsuit against Davido's aide, Isreal
Dj Cuppy has dragged Davido's aide, Isreal DMW to court over claims of not paying singer, Zlatan Ibile after making a record together.
It would be recalled that some days ago, Isreal DMW made a strong accusation against the billionaire's daughter of not paying the Zanku master a penny after recording the hit single, Gelato, together.
In a recent tweet, DJ Cuppy stated affirmatively that all agreements of the contract on the song were met while adding that Isreal DMW will face the court for defamation.
"For the record… There have been no breaches of my contractual agreement regarding the song #Gelato as confirmed by lawyers… However, as @IsrealDMW publicly inaccurately declared I owe an artist money, I am suing him for libel and defamation! See you in court Isreal," she wrote.