CSOs Call For Justice In Case of Police Officer Rape Of Four-Year Old Girl In Plateau State
Two civil society organizations, the Christian Foundation for Social Justice and Equity (CFSJE) and the United Action for Democracy (UAD), have condemned in the strongest terms what they called the unethical, unprofessional, criminal, callous and inhuman behaviour of some officers of the Special Task Force (STF) in Plateau State.
In a joint statement today, the groups said that a Police Officer attached to Sector 7 of the STF in Barkin Ladi Local Government Area of the state wickedly raped a four year old minor, and that the Commandant has confirmed the incident as well as the transfer of the suspect to the Police Headquarters in Jos for prosecution.
"The victim was subsequently rushed to the General Hospital, Barkin Ladi to stop the severe bleeding and given general treatments," the statement said.  "The unholy act of this Police Officer has no doubt exposed the innocent kid and family to serious psychological trauma and Sexual Transmitted Diseases (STDs) including but not limited to the deadly Human Immuno-Defiency Virus and Acquired Immuno Deficiency Syndrome (HIV/AIDS)."
CFSJE and UAD said that in a separate development, a group of well-armed STF officers stormed Anguwa Rukuba area of Jos metropolis and caused panic via their irrational and unreasonable shootings, and assaulted some residents in the search for revenge for an earlier assault on a girlfriend of one of their colleague.
"As human rights and pro-democracy organisations, we are gravely concerned about the safety of young girls and women in the state as a result of so many sexual harassments by security agents who have unlimited and unrestricted access to weapons that can be used to threaten the lives of innocent young girls and women whenever they repel their advances," the statement said.
The groups described as appalling, reports of security agents mobilised to the state on a peace keeping mission but who are now contributing to the conflicts, as angry youths in expressing their grievances blocked the road to protest the dastardly behaviour of the security agents.
They warned that they will follow the rape case to a logical conclusion, as many cases against security agents over the years have been swept under the carpet, urging the police in Plateau State to make sure that the culprit is prosecuted so as to secure justice for the innocent girl, her family, womanhood and humanity.
"We also urge the Commander of the Special Task Force, Plateau State to thoroughly investigate the incident at the Anguwa Rukuba area of the state on Saturday, March 22, 2014 and decisively punish officers responsible for the illegal operation that led to unrest in the area," they said.
The groups also drew attention to the sporadic gunmen attacks on distinct villages in various parts of the state, including Rantya in Low Cost Area of Jos South Local Government Area that was attacked by some alleged Fulani herdsmen last Saturday while the peace keepers are busied committing atrocities elsewhere.
They reminded the STF that there remains a lot to do to stop those attacks, including reviewing their strategies to deal with emerging trends of castle rustling in the state which most often has been the root cause of many attacks on innocent villagers.
Pray for Pope Francis Has He Undergoes Surgery : President Buhari
Roman Catholic church head, Pope Francis has undergone surgery hours after attending the traditional Sunday Angelus prayer in St. Peter's Square on Sunday, July 4.
President Muhammadu Buhari has sent a get-well message to the Head of the Catholic Church, Pope Francis, as he heads in for a scheduled surgery of the colon.
The president's Senior Special Assistant on Media and Publicity, Malam Garba Shehu, confirmed this in a statement in Abuja on Sunday.
Buhari called for prayers from Nigerians and the global community as the Pontiff goes in for this routine operation.
Twitter CEO, Jack Dorsey reveals special #EndSARS emoji after endorsing the movement
Twitter CEO,  Jack Dorsey has revealed special #EndSARS Emoji after endorsing the movement against police brutality and other unlawful crimes in Nigeria.
Jack tweeted his support for the #EndSARS protests and called for Bitcoin donations towards the movement two days ago.
Last night, Twitter experienced issues globally with large numbers of users unable to post tweets, access their timelines, or see notifications. After fixing these issues, Jack Dorsey revealed a special #EndSARS emoji, a fist with the colour of the Nigerian flag.
Nigerians have flooded his comment session to thank him for his support and the special #EndSARS emoji he created for the movement.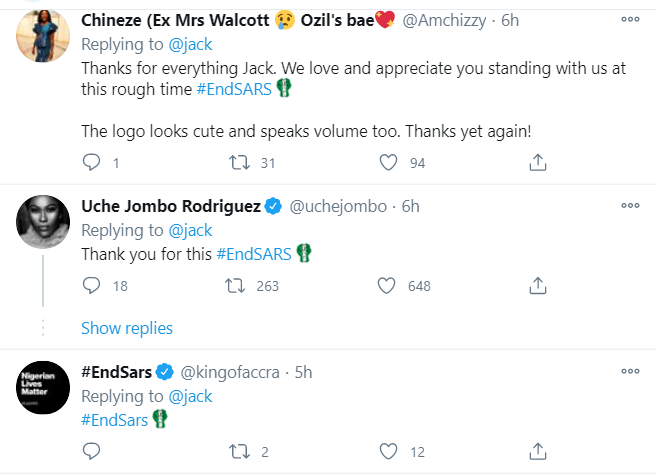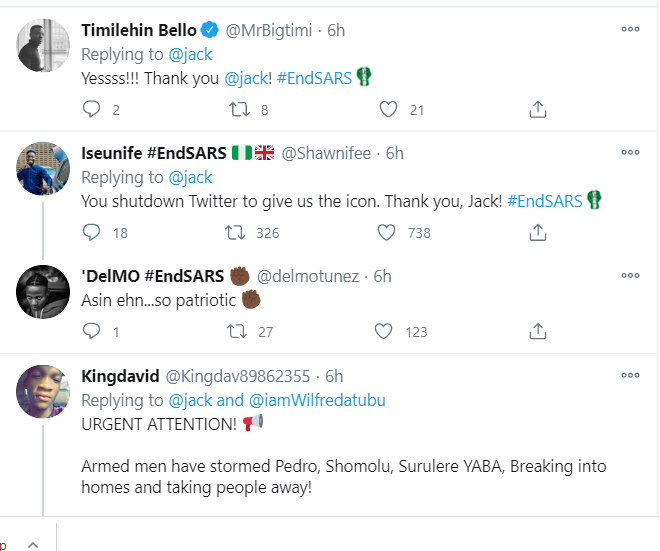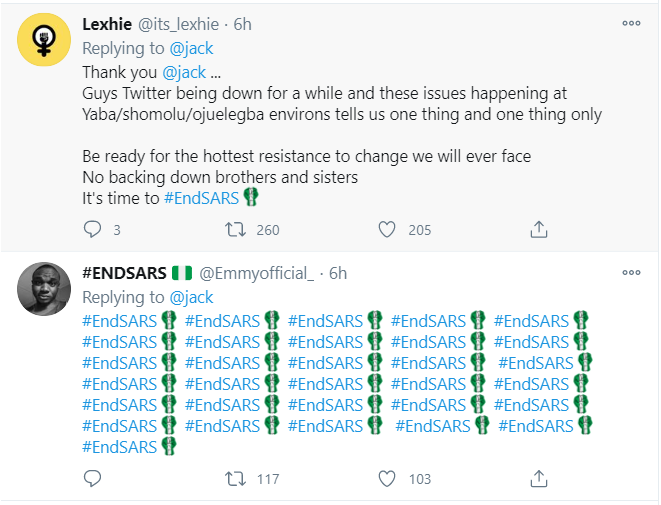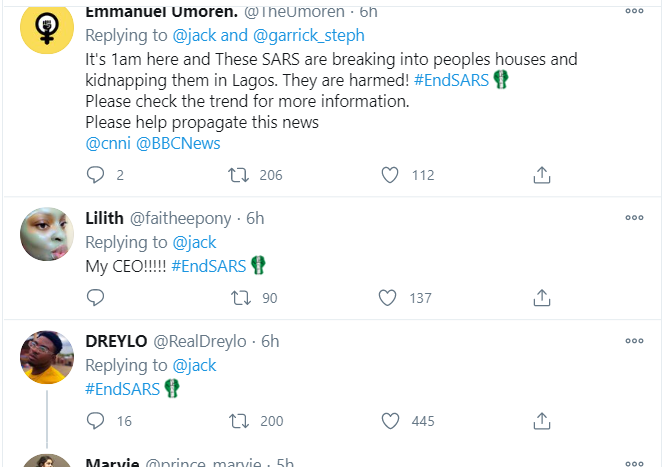 Brazilian footballer Neymar faces fresh police questioning over claim he raped a model in Paris hotel room
Brazilian footballer, Neymar, 26, will be questioned for the second time over claims he raped a model in a Paris Hotel room.
The Paris Saint-Germain star has reportedly agreed to fly into São Paulo in Brazil to meet with detectives over the alleged rape attack on 26-year-old model, Najila Trindade Mendes de Souza. 
Speaking to MailOnline, Dr. Juliana Lopes Bussacos, the officer in charge of the investigation, said: 'He will be treated like any other citizen. He has the same rights as any other man.
'I have interviewed many men in these situations and everyone is equal and they all have the right to tell their story and produce evidence to back it up.'
With detectives desperate to get to the bottom of what happened,  Dr. Juliana said she couldn't enter into details of the rape accuser's complaint due to confidentiality.
'There are so many questions and answers that need clarification. He says he did not rape her and she has said she has evidence.
The former Barcelona striker is expected to give his statement in the next 48 hours, and then officers will decide if there is a case and if it is necessary to bring them together.
This comes after it was revealed that Neymar could be cleared of the rape accusation levied against him within days over lack of more evidence from his accuser.
The Brazilian model has been informed by her lawyer that she faces seeing her case against the Paris Saint-Germain star dropped except there is more evidence. She also faces losing the second lawyer to represent her after he said he could not carry on if his professional 'trust' in her was compromised.
Trindade's attorney Danileo Garcia de Andrade said he still believed Ms. Trindade had a case, but he would step aside if there was a lack of evidence.
Mr. Daileo said he had given her a deadline to produce the video and photographs she claimed to have had which would help prove her allegations of rape against the Brazilian superstar. But if the evidence was not forthcoming, he said, he would drop the case next week.
Mr de Andrade told Brazil's UOL Esporte: 'If the police investigation of the supposed break-in where she lives shows there was no break-in, I am leaving the case.'
He added: 'The attorney-client relationship is based always on trust. If there is no trust, then there is no reason to stay on'
Trindade claimed she was the victim of 'aggression and rape' by the Paris Saint-Germain player in a hotel room in the French capital on May 15. She said the encounter started out consensual but quickly turned violent, leaving her with bruises and scrapes to her legs and buttocks, with Neymar refusing to stop.
She told police her tablet containing a seven-minute video, messages and photos she alleged incriminated the footballer, was stolen in a burglary at her apartment. But the authorities said they found no major signs of a break-in and only Ms. Trindade's fingerprints and those of her maid and friends around the flat.
Neymar has strongly denied raping her but admitted that what happened between them was consensual.