China sends troops to Djibouti, establishes first overseas military base
China has dispatched troops to Djibouti in advance of formally establishing the country's first overseas military base.
Two Chinese Navy warships left the port of Zhanjiang on Tuesday, taking an undisclosed number of military personnel on the journey across the Indian Ocean.
An editorial Wednesday in the state-run Global Times stressed the importance of the new Djibouti facility — in the strategically located Horn of Africa — to the Chinese military.
"Certainly this is the People's Liberation Army's first overseas base and we will base troops there. It's not a commercial resupply point… This base can support Chinese Navy to go farther, so it means a lot," said the paper.
The Global Times said the main role of the base would be to support Chinese warships operating in the region in anti-piracy and humanitarian operations.
"It's not about seeking to control the world," said the editorial.
Chinese People's Liberation Army-Navy troops march in Djibouti's independence day parade on June 27, marking 40 years since the end of French rule in the Horn of Africa country.
Chinese People's Liberation Army-Navy troops march in Djibouti's independence day parade on June 27, marking 40 years since the end of French rule in the Horn of Africa country.
Chinese military presence
At a regular press briefing Wednesday, Chinese Foreign Ministry spokesman Geng Shuang described the base as part of ongoing efforts to help bring peace and security to the region.
"China has been deploying naval ships to waters off Somalia in the Gulf of Aden to conduct escorting missions since 2008," said Geng.
"The completion and operation of the base will help China better fulfill its international obligations in conducting escorting missions and humanitarian assistance … It will also help promote economic and social development in Djibouti."
China has expanded its military ties across Africa in recent years. According to a report by the European Council on Foreign Relations (ECFR), cooperation with Africa on peace and security is now an "explicit part of Beijing's foreign policy."
In 2015 Chinese President Xi Jinping committed 8,000 troops to the UN peacekeeping standby force — one fifth of the 40,000 total troops committed by 50 nations — China also pledged $100 million to the African Union standby force and $1 billion to establish the UN Peace and Development Trust Fund.
More than 2,500 Chinese combat-ready soldiers and police officers are now deployed in blue-helmet missions across the African continent, with the largest deployments in South Sudan (1,051), Liberia (666), and Mali (402), according to the ECFR.
"Blue-helmet deployments give the PLA a chance to build up field experience abroad — and to help secure Chinese economic interests in places such as South Sudan," said the ECFR report.
Africa is home to an estimated one million Chinese nationals, with many employed in infrastructure projects backed by the Chinese government.
"China's involvement in African security is a product of a wider transformation of China's national defense policy.
It is taking on a global outlook … and incorporating new concepts such as the protection of overseas interests and open seas protection," said the ECFR report.
Twitter CEO, Jack Dorsey reveals special #EndSARS emoji after endorsing the movement
Twitter CEO,  Jack Dorsey has revealed special #EndSARS Emoji after endorsing the movement against police brutality and other unlawful crimes in Nigeria.
Jack tweeted his support for the #EndSARS protests and called for Bitcoin donations towards the movement two days ago.
Last night, Twitter experienced issues globally with large numbers of users unable to post tweets, access their timelines, or see notifications. After fixing these issues, Jack Dorsey revealed a special #EndSARS emoji, a fist with the colour of the Nigerian flag.
Nigerians have flooded his comment session to thank him for his support and the special #EndSARS emoji he created for the movement.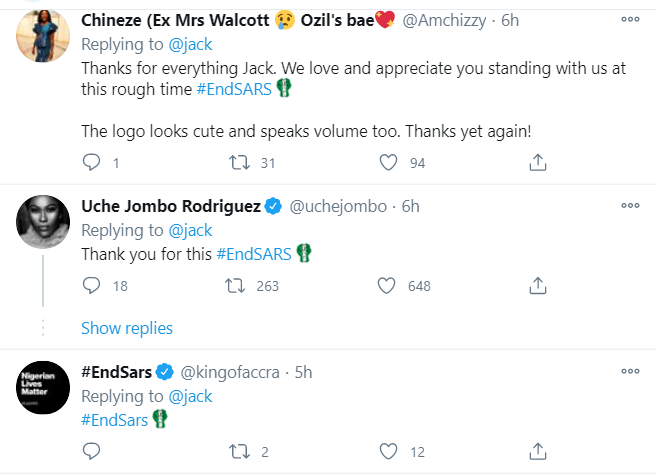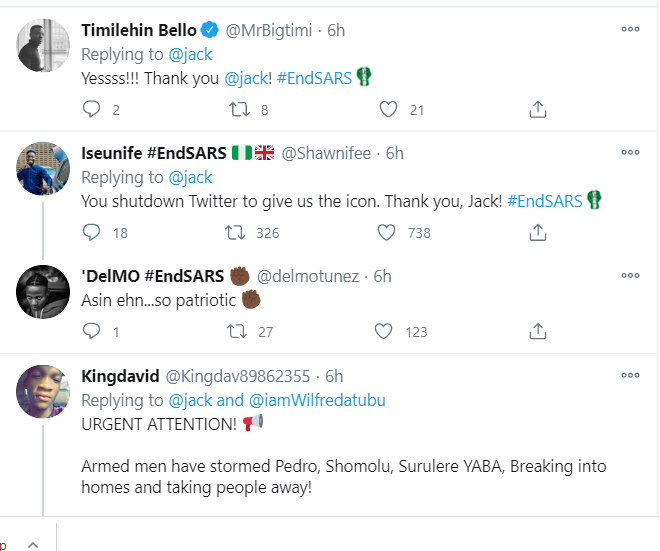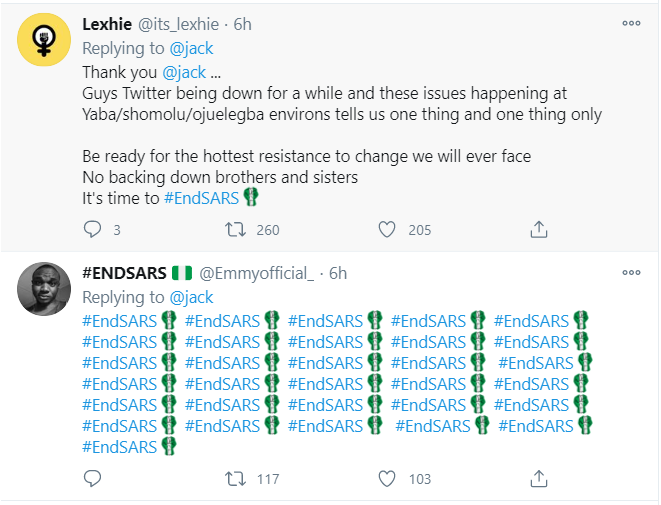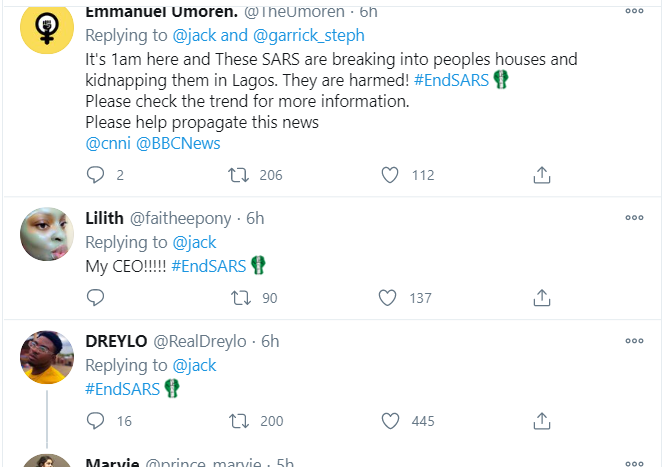 Brazilian footballer Neymar faces fresh police questioning over claim he raped a model in Paris hotel room
Brazilian footballer, Neymar, 26, will be questioned for the second time over claims he raped a model in a Paris Hotel room.
The Paris Saint-Germain star has reportedly agreed to fly into São Paulo in Brazil to meet with detectives over the alleged rape attack on 26-year-old model, Najila Trindade Mendes de Souza. 
Speaking to MailOnline, Dr. Juliana Lopes Bussacos, the officer in charge of the investigation, said: 'He will be treated like any other citizen. He has the same rights as any other man.
'I have interviewed many men in these situations and everyone is equal and they all have the right to tell their story and produce evidence to back it up.'
With detectives desperate to get to the bottom of what happened,  Dr. Juliana said she couldn't enter into details of the rape accuser's complaint due to confidentiality.
'There are so many questions and answers that need clarification. He says he did not rape her and she has said she has evidence.
The former Barcelona striker is expected to give his statement in the next 48 hours, and then officers will decide if there is a case and if it is necessary to bring them together.
This comes after it was revealed that Neymar could be cleared of the rape accusation levied against him within days over lack of more evidence from his accuser.
The Brazilian model has been informed by her lawyer that she faces seeing her case against the Paris Saint-Germain star dropped except there is more evidence. She also faces losing the second lawyer to represent her after he said he could not carry on if his professional 'trust' in her was compromised.
Trindade's attorney Danileo Garcia de Andrade said he still believed Ms. Trindade had a case, but he would step aside if there was a lack of evidence.
Mr. Daileo said he had given her a deadline to produce the video and photographs she claimed to have had which would help prove her allegations of rape against the Brazilian superstar. But if the evidence was not forthcoming, he said, he would drop the case next week.
Mr de Andrade told Brazil's UOL Esporte: 'If the police investigation of the supposed break-in where she lives shows there was no break-in, I am leaving the case.'
He added: 'The attorney-client relationship is based always on trust. If there is no trust, then there is no reason to stay on'
Trindade claimed she was the victim of 'aggression and rape' by the Paris Saint-Germain player in a hotel room in the French capital on May 15. She said the encounter started out consensual but quickly turned violent, leaving her with bruises and scrapes to her legs and buttocks, with Neymar refusing to stop.
She told police her tablet containing a seven-minute video, messages and photos she alleged incriminated the footballer, was stolen in a burglary at her apartment. But the authorities said they found no major signs of a break-in and only Ms. Trindade's fingerprints and those of her maid and friends around the flat.
Neymar has strongly denied raping her but admitted that what happened between them was consensual.
JAMB approves 160 as cut-off mark for 2019 admission
The 19th Policy Meeting on Admissions to Tertiary Institutions in Nigeria has approved 160 and above as the national minimum cutoff mark for admission into state and federal Universities for the year 2019.
The decision was taken at a meeting held at Bola Babalakin Auditorium, Gbongan, Osun State today Tuesday June 11th. It was also agreed that the minimum UTME score for admission into private Universities should be 140.
120 UTME score was approved for polytechnics while 110 score was approved as the least score for admission into private polytechnic.