China reportedly issues new warning over North Korean nuclear production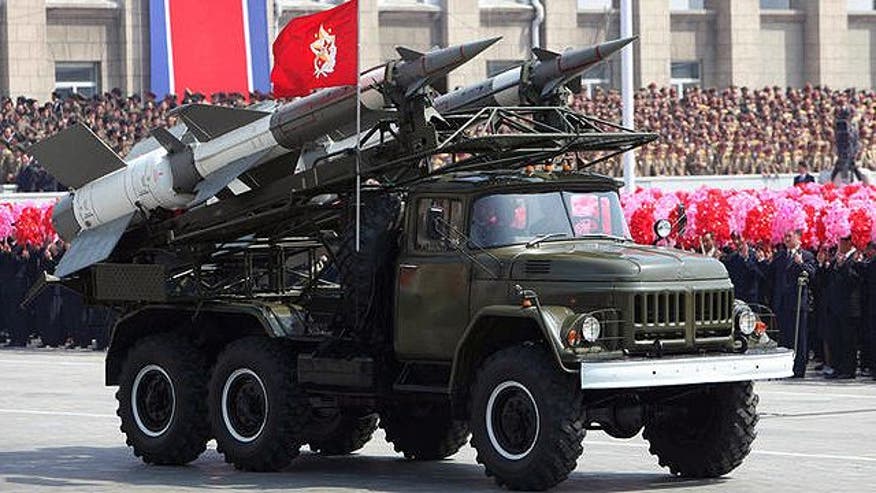 Chinese nuclear experts reportedly warned the U.S. earlier this year that North Korea's nuclear arsenal is larger than previously estimated, creating a heightened security threat to the U.S. and its East Asian allies.
The Wall Street Journal reported late Wednesday that by Beijing's estimate, North Korea may already have manufactured 20 nuclear warheads and is capable of producing enough weapons-grade uranium to double that amount by next year. U.S. experts have previously estimated that North Korea has between 10 and 16 nuclear weapons.
The Chinese estimates were presented to U.S. nuclear specialists at a closed-door meeting at the China Institute of International Studies in Beijing this past February. The Journal reported that Chinese military representatives and experts on the North's nuclear program were at the meeting.
Siegfried Hecker, a Stanford University professor and former head of the Los Alamos National Laboratory who attended the February meeting, told the Journal that estimates about North Korea's nuclear program involved a sizable amount of guesswork. He estimated that North Korea currently could have no more than 12 weapons, and as many as 20 in 2016.
"I'm concerned that by 20, they actually have a nuclear arsenal," Hecker said. "The more they believe they have a fully functional nuclear arsenal and deterrent, the more difficult it's going to be to walk them back from that."
Washington has not had high-level talks with Pyongyang since 2012, when North Korea conducted a banned nuclear missile test. In the intervening time, the U.S. has relied on China to use its economic leverage to put pressure on the impoverished nation's missile program while the Obama administration works toward a nuclear deal with Iran.
However, the Journal reports that relations between China and North Korea have deteriorated since the death of dictator Kim Jong Il in 2011 and the ascension of Xi Jinping to China's leadership the following year.
The Journal report comes a day after the U.S. envoy to the long-stalled six-nation talks said that North Korea should learn from the emerging nuclear deal with Iran that Washington is willing to engage its adversaries if it has a "credible" negotiating partner.
"The entire international community is looking for this type of policy shift in Pyongyang, and that policy shift would be positively responded to," Sydney Seiler told a Washington think tank Tuesday.
But Seiler said there was no sign in two years that Pyongyang is willing to denuclearize, adding that the country would need to halt its nuclear program and missile launches while any talks are underway.
Breaking News : Oil tanker explodes in Lagos .
A tanker explosion has occurred at Toyota bus-stop inwards Mile 2, along Oshodi-Apapa expressway.
The tanker was fully loaded with fuel at the time it exploded.
Fire service arrived at the scene to put out the fire.
The Federal Fire Service giving an update on Twitter moments later, the Federal Fire Service said, "Update: The tanker fire situation at Toyota Bus stop, along Oshodi Apapa Expressway, Lagos State has been brought under control."
Lagos state government shuts down all schools over #EndSARS protests
The Lagos State Government has ordered the closure of public and private schools in the state indefinitely.
This was announced in a press statement by the state's Head of Public Affairs, Ministry of Education, Kayode Abayomi, on Monday.
The statement was titled, 'Lagos directs students to stay at home'.
It quoted the Commissioner for Education, Mrs. Folasade Adefisayo, as saying that the schools were shut down over "tension generated by the 
#EndSARS
 protests."
The statement read in part, "The Lagos State Government has directed all pupils/students in public and private schools to stay at home following the tension generated by the anti-SARS protests.
"A new date of resumption for all classes will be announced as soon as possible."
Adefisayo added that "the safety of the pupils/students, parents and all staff working in schools is paramount at this critical period".
She however advised parents to "keep an eye on their wards and not allow them to be used as willing tools in the hands of those who might want to hijack the protests to unleash mayhem on the society".
The Commissioner also encouraged schools to "utilize other means of distance teaching and learning i.e radio, television and online media as they have been doing during and post the recent COVID-19 lockdown".
Siberian Husky Awaits Trial For Allegedly Murdering Neighbor Cat
A Siberian Husky in Denver was accused of killing a neighbor's cat and now sits in an animal shelter awaiting a trial.
Zuma, the 12-year-old dog who lives with Kevin and Valerie Kickham, reportedly wandered over to a neighbor's yard in Central Park early August and took the life of a seven-year-old Tabby cat, according to FOX 31 News.
"It was only this one moment in time that I lost track of Zuma and something did occur," Kevin confessed to the outlet with Valerie by his side.
Denver Animal Protection eventually picked Zuma up and has held him in their shelter since the alleged incident.
While Kevin and Valerie "feel bad" about the loss of the cat, they are very concerned for Zuma, whom they have sheltered since he was eight weeks old and call "son."
"He's very much our child," stated Valerie.
"I remember him taking part of his first Thanksgiving turkey," Kevin recalled fondly. "We fed him turkey in the bowl and next thing you know he actually jumped up and grabbed a piece of turkey for himself."
A spokesperson for the Denver Animal Protection told the outlet that a judge may exonerate Zuma. If found guilty, however, Zuma could be put to sleep or relocated "somewhere outside the city."
"It's not a scenario that's ideal," explained Kevin.
While they await the trial date set for mid-November, the Kickhams are allowed weekly visits to the shelter.
"Both of our last visits he wasn't excited," Kevin told the news source. "It's been very hard."
With the life expectancy of a Siberian Husky ranging from 12 to 15 years, the couple are fearful they may not have much more time together with Zuma.
"We know that it's not going to be much longer," Kevin added. "We've cherished every moment with him."
The outlet said they have reached out to the family of the feline victim, but there has been no response.