Changing the way you look at Yourself
Day by day, the majority of us have a painful war with ourselves. It is a constant fight that includes constant criticism, pressure, anger, sadness and endless cruel comparisons. It is an everyday struggle that gets in the way and keeps you from seeing yourself for who you really are and achieving your true purposes in life. Where did this war begin and why?
The answer to that question can be answered in a well-known and very often used word: Self-Esteem. What exactly does self-esteem mean? Self-Esteem is the way you look at and feel about yourself. The word "esteem" itself, means to value something or someone, thinking and believing that that something or someone is of great importance. If you are always fighting with yourself and feeding yourself thoughts that make you feel less valuable or not as important or attractive as other people, then you are suffering from Low Self-Esteem. Unfortunately, most people suffer from this, but the good news is, you can kick low self-esteem out of your life, inviting and living a high self-esteem instead.
Living a life of great confidence can be challenging, but can be done. You might have even tried giving your self-esteem a boost, but were later disappointed to see that it did not quite work out the way you imagined. If this is true, do not run away just yet! This behavior is very common. Like every other person, you have probably adapted and grown to believe that feeling insecure and feeling that you are not good enough is normal and impossible to beat; therefore you just accept it and set an subconscious rule that you need to and deserve to feel badly and poorly when you look at yourself. This is where you need to take a few steps back. The thing about low self-esteem is, that is cannot be cured in one day, or even soon for that matter. The first thing you need to stop doing is giving yourself and everything around you unrealistic deadlines.
Accomplishing high self-esteem will not happen in an instant. It requires hard work and constant reassurance. When working on achieving high self-esteem, know that it can never and will never be achieved as long as you keep negative ingredients involved, such as giving up. This is one of the biggest reasons you look at yourself in such a valueless manner. Yes, it will be hard to get rid of, especially because "giving up" is partnered with another negative ingredient named "laziness". The truth is, you do wish to change the way you look at and feel about yourself, but you have grown to become too lazy to do anything about it. Why? For the factual reason that you find it easier to stay in the place and position that you are already in. It does not matter if it is an extremely negative position or place. What does matter and needs to be realized is that you have chosen to stay in negativity for so long, that you have become so comfortable with the fact that you do not like yourself. You may not have noticed, as most of the other low self-esteemed don't, that you now crave and need to feel sorry for yourself and subconsciously enjoy victimizing yourself and grabbing negative attention from others. This is exactly why terminating low self-esteem is difficult. You handed over all of your power and strength to it, allowing it to dictate your being and the way you handle life.
Pray for Pope Francis Has He Undergoes Surgery : President Buhari
Roman Catholic church head, Pope Francis has undergone surgery hours after attending the traditional Sunday Angelus prayer in St. Peter's Square on Sunday, July 4.
President Muhammadu Buhari has sent a get-well message to the Head of the Catholic Church, Pope Francis, as he heads in for a scheduled surgery of the colon.
The president's Senior Special Assistant on Media and Publicity, Malam Garba Shehu, confirmed this in a statement in Abuja on Sunday.
Buhari called for prayers from Nigerians and the global community as the Pontiff goes in for this routine operation.
Twitter CEO, Jack Dorsey reveals special #EndSARS emoji after endorsing the movement
Twitter CEO,  Jack Dorsey has revealed special #EndSARS Emoji after endorsing the movement against police brutality and other unlawful crimes in Nigeria.
Jack tweeted his support for the #EndSARS protests and called for Bitcoin donations towards the movement two days ago.
Last night, Twitter experienced issues globally with large numbers of users unable to post tweets, access their timelines, or see notifications. After fixing these issues, Jack Dorsey revealed a special #EndSARS emoji, a fist with the colour of the Nigerian flag.
Nigerians have flooded his comment session to thank him for his support and the special #EndSARS emoji he created for the movement.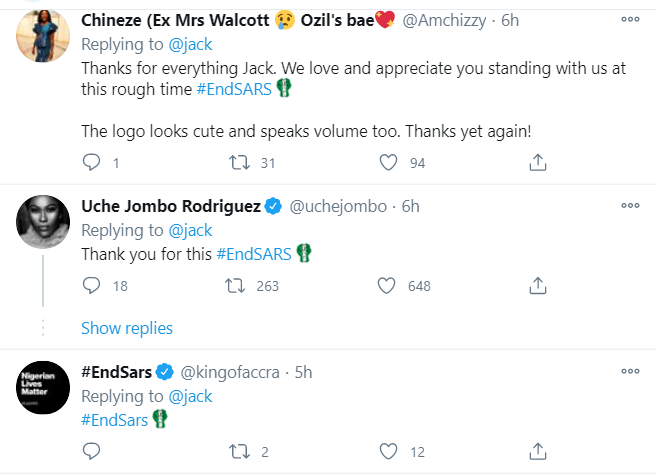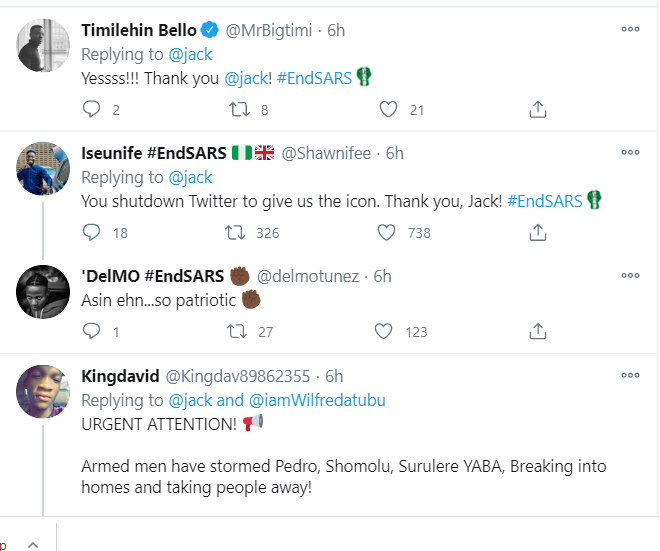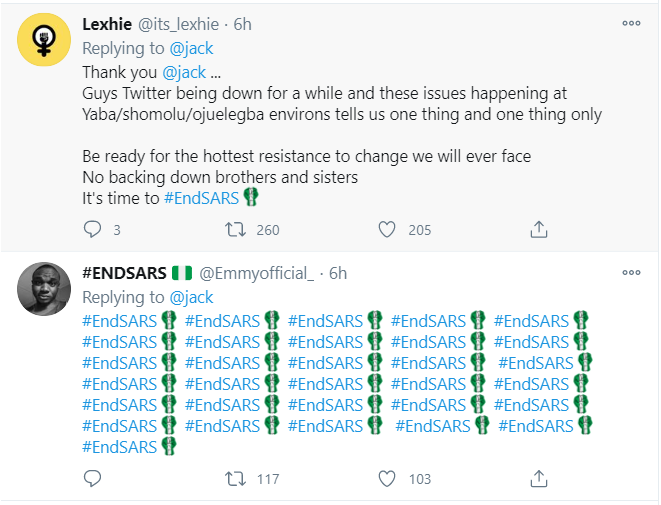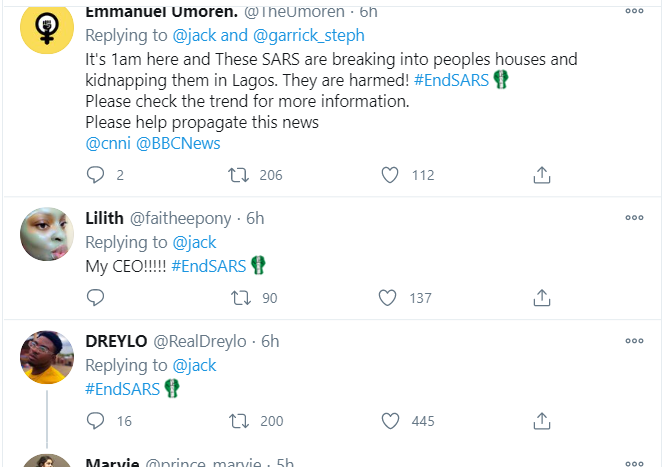 Brazilian footballer Neymar faces fresh police questioning over claim he raped a model in Paris hotel room
Brazilian footballer, Neymar, 26, will be questioned for the second time over claims he raped a model in a Paris Hotel room.
The Paris Saint-Germain star has reportedly agreed to fly into São Paulo in Brazil to meet with detectives over the alleged rape attack on 26-year-old model, Najila Trindade Mendes de Souza. 
Speaking to MailOnline, Dr. Juliana Lopes Bussacos, the officer in charge of the investigation, said: 'He will be treated like any other citizen. He has the same rights as any other man.
'I have interviewed many men in these situations and everyone is equal and they all have the right to tell their story and produce evidence to back it up.'
With detectives desperate to get to the bottom of what happened,  Dr. Juliana said she couldn't enter into details of the rape accuser's complaint due to confidentiality.
'There are so many questions and answers that need clarification. He says he did not rape her and she has said she has evidence.
The former Barcelona striker is expected to give his statement in the next 48 hours, and then officers will decide if there is a case and if it is necessary to bring them together.
This comes after it was revealed that Neymar could be cleared of the rape accusation levied against him within days over lack of more evidence from his accuser.
The Brazilian model has been informed by her lawyer that she faces seeing her case against the Paris Saint-Germain star dropped except there is more evidence. She also faces losing the second lawyer to represent her after he said he could not carry on if his professional 'trust' in her was compromised.
Trindade's attorney Danileo Garcia de Andrade said he still believed Ms. Trindade had a case, but he would step aside if there was a lack of evidence.
Mr. Daileo said he had given her a deadline to produce the video and photographs she claimed to have had which would help prove her allegations of rape against the Brazilian superstar. But if the evidence was not forthcoming, he said, he would drop the case next week.
Mr de Andrade told Brazil's UOL Esporte: 'If the police investigation of the supposed break-in where she lives shows there was no break-in, I am leaving the case.'
He added: 'The attorney-client relationship is based always on trust. If there is no trust, then there is no reason to stay on'
Trindade claimed she was the victim of 'aggression and rape' by the Paris Saint-Germain player in a hotel room in the French capital on May 15. She said the encounter started out consensual but quickly turned violent, leaving her with bruises and scrapes to her legs and buttocks, with Neymar refusing to stop.
She told police her tablet containing a seven-minute video, messages and photos she alleged incriminated the footballer, was stolen in a burglary at her apartment. But the authorities said they found no major signs of a break-in and only Ms. Trindade's fingerprints and those of her maid and friends around the flat.
Neymar has strongly denied raping her but admitted that what happened between them was consensual.