Cardi B Turns Herself in to Police Over Strip Club Fight.
Cardi B will surrender to police Monday (Oct. 1) to answer to charges stemming from a fight at a strip club she was allegedly involved in two months ago.
TMZ is reporting that Cardi will be charged for allegedly sicking her posse on two bartenders at Angels Strip Club in Queens, New York City back in August.
The two bartenders, Jade and Baddie G, say Cardi had been beefing with Jade because Cardi thought she had slept with her husband Offset.
Cardi, who was at the strip club because Migos was performing, confronted Jade and Baddie G, and allegedly told her crew to attack them with bottlesand chairs. Both women were badly injured and required medical care after the assault.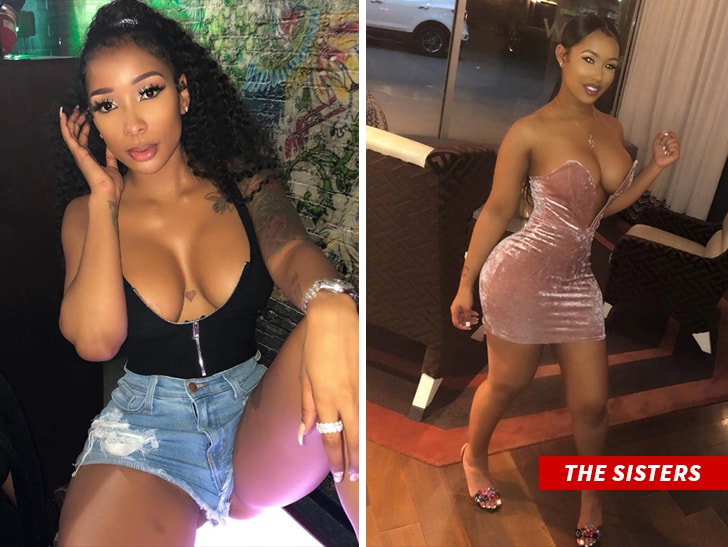 Sources close to Cardi tell TMZ that the attack against the women, who are sisters (pictured above), was not premeditated.
It was "spontaneous" and was triggered after someone tossed a drink. The women say Cardi never personally laid a hand on them, however, she did reportedly yell, "I'm blood I'll f**k you bitches up!"
Once Cardi surrenders to police, she will be charged with at least two misdemeanors: reckless endangerment and disorderly conduct.
She won't be arrested though; she'll just receive a summons to appear in court on the charges, according to TMZ.
Strong Warning: Married Pastors should stop liking pictures of ladies in sexy bikinis on social media- Erica Campbell.
American gospel singer, Erica Campbell warns all the married preachers and pastors to stop liking pictures of ladies in sexy bikinis on social media.
Without stating her reasons, Erica went on to say that even if the 'caption is deep and spiritual', the men of God shouldn't 'double tap.'
BBN: Lockdown Housemate, Nengi Gifted Lucy Money To Expand Her Business.
Bigbrother naija : lockdown house mate Nengi , gifted her fellow house mate Lucy Edet six digit figure to support her business , lucy has a grill business, she always talk about when she was in the show .
Recall  Nengi celebrated her birthday on Friday, January 1. The Lockdown star clocked 23 and she took to her official Instagram page to celebrate her big day.
Nengi was gifted with a Range Rover SUV by her fans on her birthday.
Lucy announced this on her Instagram story as she expressed shock over Nengi's level of generosity.
"I'm screaming… @nengiofficial sent me 6 digit figure to support my business.
After you na you. #lucination just go drop kisses for my girl"
See post below;
Singer, LAX Acquires Two Luxurious Cars The Same Day [brand new Benz and Prado].
Nigerian singer, Damilola Afolabi A.K.A LAX    buys himself  two  luxurious cars, a brand new Mercedes Benz and a Prado same day.
The Ginger crooner disclosed this after he shared on his Instagram page, a video showing moment two brand new luxury cars got delivered to his apartment in Lagos.
In the caption that accompanied his post, an excited LAX appreciated his car dealer for delivering both cars to his residence.