Cameron: Bombing ISIL will make Britain safer
l
British Prime Minister David Cameron publicly set out his case Thursday for the United Kingdom joining U.S.-led coalition airstrikes against the Islamic State in Syria, saying that to do so would "make us safer."
Cameron told British parliamentarians that the country was already being targeted by the Islamic State, also known as ISIL or ISIS, and that it was imperative that they "take action" now. He also said that Britain owed it to the United States and France.
"These are our closest allies and they want our help," he said, addressing the House of Commons.
He said that British security forces had foiled seven attacks in the last year planned or inspired by ISIL and that airstrikes would not consequently increase the threat to the country from extremists.
He was trying to convince reluctant lawmakers that there was a strong case for military action in Syria. The Royal Air Force is already bombing ISIL targets in Iraq, but Britain's Parliament voted against strikes against Syrian President Bashar Assad's forces in 2013 when allegations surfaced that is was using chemical weapons against opposition forces.
Cameron said Thursday he would only hold a vote this time if he was certain that he could win it. He answered 103 questions from parliamentarians and stressed that airstrikes alone would not be able to defeat the militant group but also ruled out British ground forces.
"We have to think about the danger of being counter-productive and I think there is good evidence from history that the presence of Western ground troops could itself (lead to radicalization)," the prime minister said. "That is why we are charting such a careful path and saying we support action from the air, support for (any) troops on the ground, but we don't propose the application of British ground troops."
Jeremy Corbyn, the leader of Britain's left-leaning opposition Labour Party, nevertheless cautioned that the airstrikes could have "unintended consequences" that might lead to a larger military campaign, including ground troops, and questioned whether Britain's contribution to the bombing campaign by the U.S. and France would make any difference.
Cameron said they would make a difference and that the airstrikes would eventually enable Britain to help rebuild Syria. "This is about learning the lessons of Iraq," the prime minister said. "We are not in the business of dismantling the Syrian state or its institutions."
The speech came as authorities in Belgium said they conducted a raid Thursday connected to the Paris attacks that killed 130 people on Nov. 13. No arrests were made. ISIL has claimed responsibility for the massacre in the French capital.
There was a scare in Brussels after a suspicious white powder was discovered in an envelope in a mosque in the city. Police said it was not anthrax and there appears to be no danger.
French President Francois Hollande meanwhile traveled to Moscow on Thursday as he continues to try to bolster support for military action against ISIL. He met withPresident Obama in Washington on Tuesday.
But the French president's trip to Russia has been made more difficult after a Russian fighter plane was shot down this week by Turkey near its border with Syria. Turkey is a member of NATO that has sided with the West in its belief that peace in Syria can only be achieved once President Assad is removed from power. Russia backs Assad.
After Hollande appealed to Germany to help fight ISIL, the country said Thursday it would send fighter jets to Syria for reconnaissance flights
Twitter CEO, Jack Dorsey reveals special #EndSARS emoji after endorsing the movement
Twitter CEO,  Jack Dorsey has revealed special #EndSARS Emoji after endorsing the movement against police brutality and other unlawful crimes in Nigeria.
Jack tweeted his support for the #EndSARS protests and called for Bitcoin donations towards the movement two days ago.
Last night, Twitter experienced issues globally with large numbers of users unable to post tweets, access their timelines, or see notifications. After fixing these issues, Jack Dorsey revealed a special #EndSARS emoji, a fist with the colour of the Nigerian flag.
Nigerians have flooded his comment session to thank him for his support and the special #EndSARS emoji he created for the movement.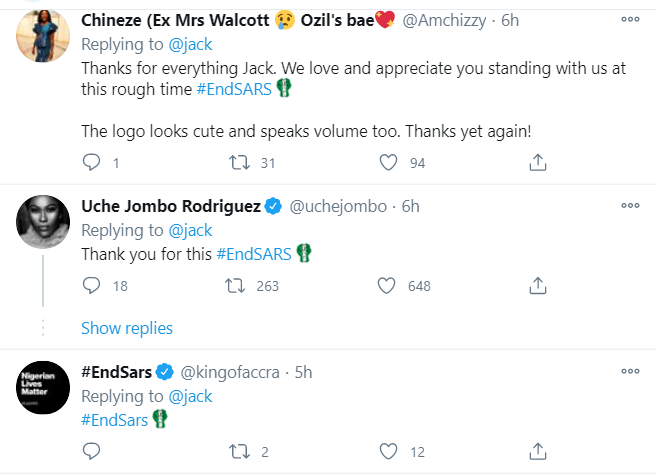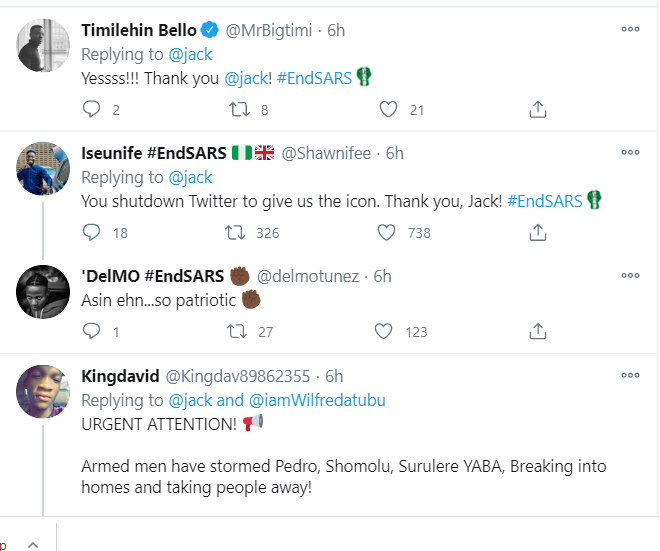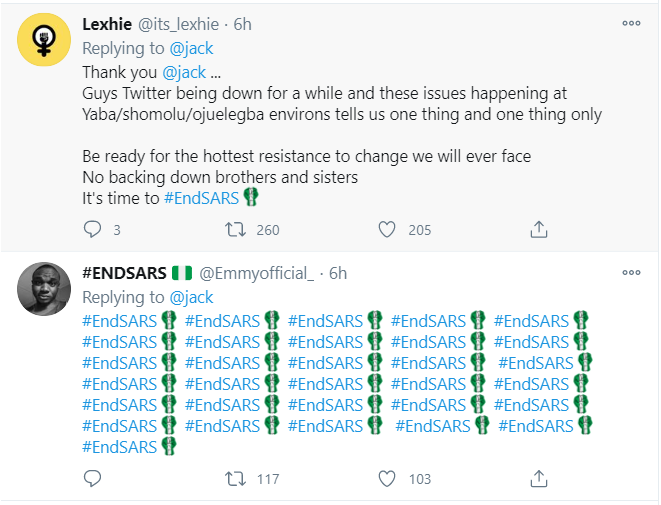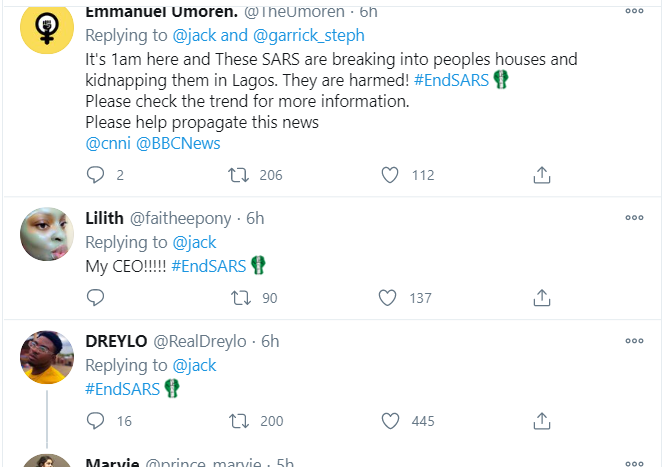 Brazilian footballer Neymar faces fresh police questioning over claim he raped a model in Paris hotel room
Brazilian footballer, Neymar, 26, will be questioned for the second time over claims he raped a model in a Paris Hotel room.
The Paris Saint-Germain star has reportedly agreed to fly into São Paulo in Brazil to meet with detectives over the alleged rape attack on 26-year-old model, Najila Trindade Mendes de Souza. 
Speaking to MailOnline, Dr. Juliana Lopes Bussacos, the officer in charge of the investigation, said: 'He will be treated like any other citizen. He has the same rights as any other man.
'I have interviewed many men in these situations and everyone is equal and they all have the right to tell their story and produce evidence to back it up.'
With detectives desperate to get to the bottom of what happened,  Dr. Juliana said she couldn't enter into details of the rape accuser's complaint due to confidentiality.
'There are so many questions and answers that need clarification. He says he did not rape her and she has said she has evidence.
The former Barcelona striker is expected to give his statement in the next 48 hours, and then officers will decide if there is a case and if it is necessary to bring them together.
This comes after it was revealed that Neymar could be cleared of the rape accusation levied against him within days over lack of more evidence from his accuser.
The Brazilian model has been informed by her lawyer that she faces seeing her case against the Paris Saint-Germain star dropped except there is more evidence. She also faces losing the second lawyer to represent her after he said he could not carry on if his professional 'trust' in her was compromised.
Trindade's attorney Danileo Garcia de Andrade said he still believed Ms. Trindade had a case, but he would step aside if there was a lack of evidence.
Mr. Daileo said he had given her a deadline to produce the video and photographs she claimed to have had which would help prove her allegations of rape against the Brazilian superstar. But if the evidence was not forthcoming, he said, he would drop the case next week.
Mr de Andrade told Brazil's UOL Esporte: 'If the police investigation of the supposed break-in where she lives shows there was no break-in, I am leaving the case.'
He added: 'The attorney-client relationship is based always on trust. If there is no trust, then there is no reason to stay on'
Trindade claimed she was the victim of 'aggression and rape' by the Paris Saint-Germain player in a hotel room in the French capital on May 15. She said the encounter started out consensual but quickly turned violent, leaving her with bruises and scrapes to her legs and buttocks, with Neymar refusing to stop.
She told police her tablet containing a seven-minute video, messages and photos she alleged incriminated the footballer, was stolen in a burglary at her apartment. But the authorities said they found no major signs of a break-in and only Ms. Trindade's fingerprints and those of her maid and friends around the flat.
Neymar has strongly denied raping her but admitted that what happened between them was consensual.
JAMB approves 160 as cut-off mark for 2019 admission
The 19th Policy Meeting on Admissions to Tertiary Institutions in Nigeria has approved 160 and above as the national minimum cutoff mark for admission into state and federal Universities for the year 2019.
The decision was taken at a meeting held at Bola Babalakin Auditorium, Gbongan, Osun State today Tuesday June 11th. It was also agreed that the minimum UTME score for admission into private Universities should be 140.
120 UTME score was approved for polytechnics while 110 score was approved as the least score for admission into private polytechnic.