At Last, Andrew Checks Out from India at 66
Enebeli Elebuwa
Long before Nollywood was established, Enebeli Elebuwa had become a household name, especially after he acted the role of Andrew in a short TV campaign against brain drain in the late 1980s. His signature lingo was "Andrew, I'm checking out", spoken with a certain phonetic flourish, with a canvass bag he threw on his shoulder with a sweeping swagger.
And after battling for over two years with a series of afflictions, Elebuwa finally checked out of planet earth Wednesday, from the Indian boarding gate. The 66-year old veteran actor died at the Asian Institute of Medical Sciences (AIMS), New Delhi, India after he lost the battle to overcome stroke.
Before his demise, his latter years had been characterised by pain and unpleasant experiences. About four years ago, he was said to have been attacked by an irate motorist somewhere in Aguda, Surulere, Lagos, an incident that left him seriously injured and with a serious eye problem. He never fully recovered from the trauma of that attack, as he soon began experiencing varied health challenges. Subsequently, the gallant actor was hit with stroke in 2011, which got him bedridden.
He was initially admitted at St. Nicholas Hospital, Lagos, before he was later moved to Topaz Hospital, Surulere, but his condition hardly got better. Eventually, when the situation began to get out of hand, his doctor advised him to seek better treatment abroad. But there was no money. His colleague in Nollywood, Stella Damasus was said to have offered to fund his treatment in an Abuja hospital. But still, his condition improved very little.
It was at this point that the Delta State Government intervened and sponsored his treatment in an Indian hospital. Elebuwa was a Kwale man from Obiaruku town, Delta State.
But as it seems, death was determined to seize the veteran actor, whose career spanned over four decades. Sadly, he was said to have actually spoken from India some days back, claiming that his health was improving and that he would be back on his feet soon.
At the birth of Nollywood, Elebuwa became a leading figure in the industry as he played several roles ranging from royalty to minor roles.  He had starred in sitcoms like Village Headmaster, playing the role of a Policeman. He also acted in "Mirror in the Sun" .
Heavily built, and with a kingly gait, Elebuwa indeed had a flowery career, as his place in the entertainment industry was defined. That perhaps explains why the Delta State Governor, Dr. Emmanuel Uduaghan, particularly lamented the death of Elebuwa.
In commiserating with the Elebuwa family and the entertainment industry the governor, in a statement issued by his Chief Press Secretary, Mr. Sunny Ogefere, said that he was shocked that the concerted efforts made by well meaning Nigerians to save his life did not yield the desired result.
"I am particularly touched because as a renowned Deltan and talented Nollywood actor, Enebeli still had a lot to offer to Delta, to Nigeria and the entertainment world", he stated.
"I recall that the thespian came to limelight in the 80s when he played the character, Andrew in the Federal Government campaign to get Nigerians to believe in Nigeria. And since then, he remained dominant in the entertainment industry", he added.
Uduaghan said that Enebeli was full of life until he had to battle with some illness unsuccessfully.
Former Actors' Guild President, Segun Arinze, described the veteran actor as one of the shining stars of the industry and will be greatly missed by the Nollywood community.
He further described him as a friend, brother and a veteran that always stood up for others.
His colleagues, including the AGN President, Ibinabo Fiberesima, are expected to meet his family any moment from now to arrange to fly his body back to Nigeria.
Reacting to his death, National Secretary of the Actors Guild of Nigeria, AGN, Abubakar Yakub said "It is a big loss. He was a national hero and we will try our best to give him a befitting burial. I pray that God will give his family the fortitude to bear the loss." .
His first film which was on celluloid, 'Dinner with the Devil' produced by Sanya Dosumu, was in 1974.
He joined the movie industry fully in 1994. Formerly a producer/director in Nigerian Television Authority (NTA), he left behind a wife and four children.
Lagos state government shuts down all schools over #EndSARS protests
The Lagos State Government has ordered the closure of public and private schools in the state indefinitely.
This was announced in a press statement by the state's Head of Public Affairs, Ministry of Education, Kayode Abayomi, on Monday.
The statement was titled, 'Lagos directs students to stay at home'.
It quoted the Commissioner for Education, Mrs. Folasade Adefisayo, as saying that the schools were shut down over "tension generated by the 
#EndSARS
 protests."
The statement read in part, "The Lagos State Government has directed all pupils/students in public and private schools to stay at home following the tension generated by the anti-SARS protests.
"A new date of resumption for all classes will be announced as soon as possible."
Adefisayo added that "the safety of the pupils/students, parents and all staff working in schools is paramount at this critical period".
She however advised parents to "keep an eye on their wards and not allow them to be used as willing tools in the hands of those who might want to hijack the protests to unleash mayhem on the society".
The Commissioner also encouraged schools to "utilize other means of distance teaching and learning i.e radio, television and online media as they have been doing during and post the recent COVID-19 lockdown".
Siberian Husky Awaits Trial For Allegedly Murdering Neighbor Cat
A Siberian Husky in Denver was accused of killing a neighbor's cat and now sits in an animal shelter awaiting a trial.
Zuma, the 12-year-old dog who lives with Kevin and Valerie Kickham, reportedly wandered over to a neighbor's yard in Central Park early August and took the life of a seven-year-old Tabby cat, according to FOX 31 News.
"It was only this one moment in time that I lost track of Zuma and something did occur," Kevin confessed to the outlet with Valerie by his side.
Denver Animal Protection eventually picked Zuma up and has held him in their shelter since the alleged incident.
While Kevin and Valerie "feel bad" about the loss of the cat, they are very concerned for Zuma, whom they have sheltered since he was eight weeks old and call "son."
"He's very much our child," stated Valerie.
"I remember him taking part of his first Thanksgiving turkey," Kevin recalled fondly. "We fed him turkey in the bowl and next thing you know he actually jumped up and grabbed a piece of turkey for himself."
A spokesperson for the Denver Animal Protection told the outlet that a judge may exonerate Zuma. If found guilty, however, Zuma could be put to sleep or relocated "somewhere outside the city."
"It's not a scenario that's ideal," explained Kevin.
While they await the trial date set for mid-November, the Kickhams are allowed weekly visits to the shelter.
"Both of our last visits he wasn't excited," Kevin told the news source. "It's been very hard."
With the life expectancy of a Siberian Husky ranging from 12 to 15 years, the couple are fearful they may not have much more time together with Zuma.
"We know that it's not going to be much longer," Kevin added. "We've cherished every moment with him."
The outlet said they have reached out to the family of the feline victim, but there has been no response.
#EndSARS: If there's no change after one week, we will protest again – Naira Marley
Controversial Nigerian singer, Naira Marley has vowed to initiate a second phase of the #EndSars protest in the coming week if terms are not met.
This is coming after the incessant brutality and harassment of Nigerian youths by officers of the Special Anti-Robbery Squads, SARs.
The first phase of the protest started today, October 8th, led by celebrities like Runtown, Falz, and others within Lagos state.
Naira Marley who earlier backed out of the #EndSars protest applauded youths who supported the movement and has promised to lead a second phase.
The Tesumole crooner wrote in a tweet, "Respect to all the youths out there fighting for their rights and what's right. God bless y'all.
"After a week if there's no changes on this fsars issue as promised by nigeriapoliceforce then we will get back out there stronger. Stay safe and protest peacefully if u re protesting.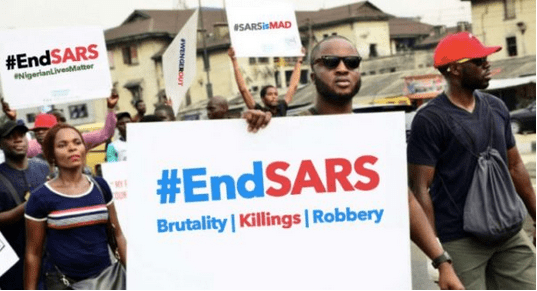 "They know My own crowd ya werey gan o #uncontrollably. I told y'all already 99% Marlians are not on twitter.
"Some of y'all will remain follower and never become a leader."