50 Cent Criticizes Dapper Dan Over Gucci Business Ties
In the wake of Gucci's blackface scandal, many celebrities, including Fif, have called for a Gucci boycott.
via:complex
50 went to Instagram claiming he was giving all his Gucci merch to the homeless. He also posted a video in which he's seen setting fire to one of his Gucci tees.
"I gotta get rid of all the Gucci I have at home," he wrote in a post. "I'm not supporting their brand anymore."
After calling out Floyd Mayweather for his pro-Gucci stance, 50 returned to social media Friday to question the integrity of Dapper Dan—the legendary Harlem designer who began collaborating with the fashion house in 2017. Dapper Dan previously criticized Gucci for its controversial blackface sweater and said he would hold everyone at the label accountable."
"I am a Black man before I am a brand," the designer wrote. "Another fashion house has gotten it outrageously wrong. There is no excuse nor apology that can erase this kind of insult."
On Thursday night, Dapper Dan shared an Instagram post thanking all of his early supporters: JAY-Z, Diddy, Wu-Tang Clan, and Mayweather were some of the celebrities who he acknowledged.
Hours after Dapper Dan's post, Fif shared an Instagram photo of the designer rocking Gucci gear. Let's just say the caption wasn't exactly complimentary.
"Gucci got @dapperdanharlem looking like a big C**n," the rapper wrote. "You are a black man first dap come on."
Dapper Dan has since given an update about his meeting with Gucci executives. He shared an Instagram story stating the label is expected to announce Friday how they will "make amends for what they did." The designer said he will host a subsequent town hall meeting in Harlem, where people can share their thoughts on Gucci's proposed plans.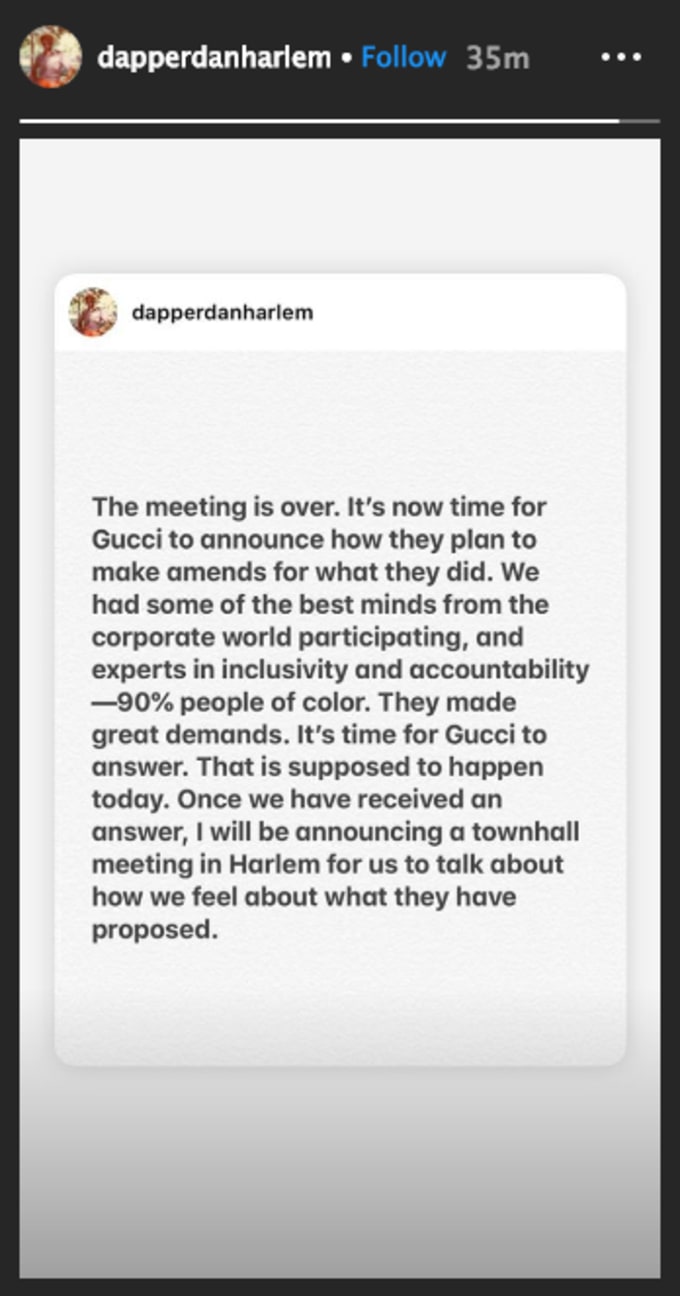 D'banj says he stands in 'solidarity' with the Nigerian youths who #Endsars
D'banj has said he stands in solidarity with Nigerian youths who are condemning police brutality and raising awareness about the extrajudicial killings carried out by SARS operatives in Nigeria.
He wrote:
I know what it means to be in pain, , to lose a child and a loved one,so I know the pain my brothers and sisters are going through and my heart is heavy

I pray God grants us the healing and restoration we so deeply need in our country and that our lights can once again shine
As a Nigerian youth,I try my best to never give up especially when it seems the hardest, so I urge you to do the same.

I stand in solidarity with the Nigerian youth. I stand for restructuring of the Nation system
On that note,we move, we never give up,till we get to the top of the world!
ABUJA ;pls where is the location for the ?? #ReformtheNation #EndSars
Falz Has Appealed To #EndSARS Protesters Not to Lose Focus .
In a post shared on his Twitter handle this morning, the Falz who is also a frontline organizer of the #EndSARS protest asked the protesters to remember it is a protest, not a party. He asked that there should be no Drugs, Alcohol and no partying at the protest grounds
BBNaija's Ex Housemate Erica Tells FG To increase police salary
BBNaija's Erica has asked the federal government to increase the salaries of police officers.
The reality show star backed her call by sharing a photo of the salary structure of Nigerian police officers. Erica wrote; Dear Government of Nigeria, please increase police salary! #sarsmustend