A recent essay that appeared in some online news media, titled "Femi Fani-Kayode and the Laughter of Biafra," purportedly written by one Emmanuel Uchenna Ugwu, was obviously written before the brain was engaged as it generously manifested the uncontrolled masturbatory ejaculation of a writer who gave himself away as one of the famed dogs and baboons of Buhari and Tinubu.
The writer made a greatly laborious but unsuccessful attempt at denigrating Chief Femi Fani-Kayode's call for the rights of those who are peacefully seeking self-determination from Nigeria to be respected and upheld. He joined other leaders and civil societies from all over the world to call for the immediate release of Mr Nnamdi Kanu, Director of Radio Biafra and Leader of the Independent People of Biafra (IPOB), and respect his rights.
In an attempt to justify his paycheck, Ugwu tried to remind his readers of what FFK, as he is popularly known, had said and had not said about the Igbo in the past in order to make him look like an enemy rather than a friend despite his continued support not only for the Igbo but also for all the oppressed and downtrodden everywhere. Hear him: "If you didn't know that Femi Fani-Kayode was a Nigeria-Biafra civil war revisionist and a militant Igbophobia crusader…"
What Ugwu forgot to tell his readers is that Fani-Kayode has been a friend of the Igbo even more than some acclaimed Igbo leaders who lack the courage to stand by their own in trying times. While some Igbo leaders have sat on the fence on the misfortune that have been visited upon the Igbo race in Nigeria, Fani-Kayode has stood by the Igbo over time as much as he has stood with other oppressed people. He is the perfect example of what the Bible describes in the Book of Proverbs 18:24 – "… there is a friend who sticks closer than a brother".
Let it be known to all that whatever Fani-Kayode has said in the past about the Igbo was in the course of an intellectual debate between him and his Igbo counterparts. In the process, a lot of historical facts were thrown up from both sides to either support and strengthen their respective positions or oppose and weaken the argument of the other side. And as an intellectual debate that stripped history bare, some historical events did not favour the Igbo just as some did not favour the Yoruba. One must however admit that both sides had hot exchanges about the other which many mischievous observers have misconstrued as hatred for whichever tribe one represents. The good thing is that, like in any respectable debate, the rivalry stops there and life continues beyond that without bitterness.
It is in light of this that Fani-Kayode has not only been eulogising the Igbo and what they represent but also stoutly defended the race most often even against his own kinsmen as long as it serves the cause of justice and equity. For example, in the run-up to the gubernatorial election in April 2015, Fani-Kayode had described the unfortunate threat of the Oba of Lagos, Oba Rilwanu Akiolu, against the Igbo when he declared that the Igbos in Lagos would perish in the lagoon if they did not vote for the Oba's choice for Lagos state governor. It was Fani-Kayode who among few others stood for the Igbo and described the Oba's threat as "ominous" and "unacceptable". The question we need to ask is, where were people like Emmanuel Uchenna Ugwu and his village champions then?
Furthermore, it is on record that the former minister of aviation employed far more Igbo people than even the Yoruba, his own tribe of origin, while he was the minister of the federal republic. In 2012, he had written glowingly about Chief Emeka Odumegwu Ojukwu, the late renowned and undisputable Igbo leader, thus: "This is the effect that Ojukwu had on me … He was a great and proud warrior; a true son of Africa, the strength and pride of the Igbo race".
Also, in 2011, eulogising the sterling virtues of Igbo women, Fani-Kayode wrote: "…the Igbos seem to have taken over in this respect and are now well-ahead of the rest of Nigeria. Just a few years and look at what they have achieved. It really is quite remarkable. Can anyone tell me their secret or why this is so? What could be responsible for their doggedness, their natural drive, their tremendous energy and their great strength of character? What is it about these strong-willed eastern women of Bantu and Igbo extraction that now and all of a sudden sets them so far apart?"
Can such flowery words as far back as 2011/12 come from a heart of hate? Certainly not! So, those who wish to pit Fani-Kayode against the Igbo race have failed abysmally. We perceive that this is a deliberate plan by the dogs and baboons possibly hired by Buhari and Tinubu to get back at Fani-Kayode for the way and manner he challenges them on germane national matters.
Their messenger, Ugwu, is nothing but a cheap slanderer, a liar, and a dog whose mission is to try to destroy the messenger rather than deal with the message. What he and those that commissioned him to do that hatchet job fail to appreciate is that this whole struggle is not about FFK or what anyone thinks of him, it is about Biafra, about the Igbo.
It is not about FFK but about the brutality and hegemonic ways of the Nigerian state, the Fulani oppressors and the Buhari government.
Whether Ugwu likes it or not, FFK has emerged as one of the courageous voices and formidable heroes in the present struggle for equity and justice for the oppressed people of Nigeria. He has stood up to our collective tormentors and our slave masters from the north and that is all that counts.
what is your opinion???
source:naij.com
Twitter CEO, Jack Dorsey reveals special #EndSARS emoji after endorsing the movement
Twitter CEO,  Jack Dorsey has revealed special #EndSARS Emoji after endorsing the movement against police brutality and other unlawful crimes in Nigeria.
Jack tweeted his support for the #EndSARS protests and called for Bitcoin donations towards the movement two days ago.
Last night, Twitter experienced issues globally with large numbers of users unable to post tweets, access their timelines, or see notifications. After fixing these issues, Jack Dorsey revealed a special #EndSARS emoji, a fist with the colour of the Nigerian flag.
Nigerians have flooded his comment session to thank him for his support and the special #EndSARS emoji he created for the movement.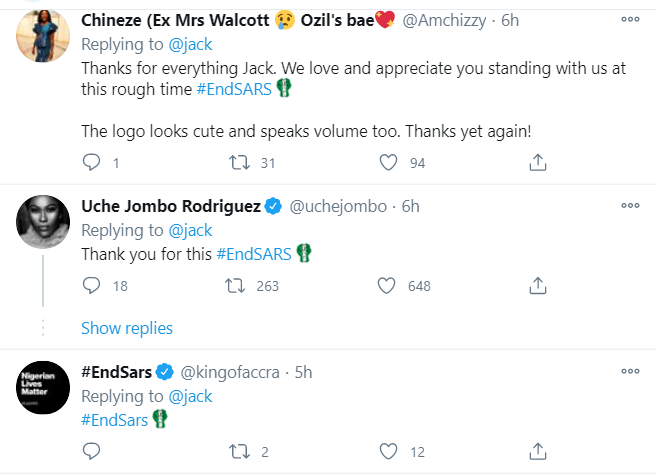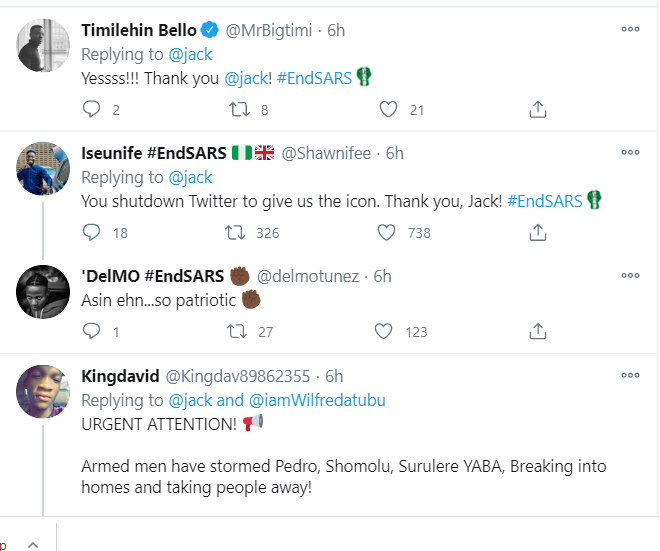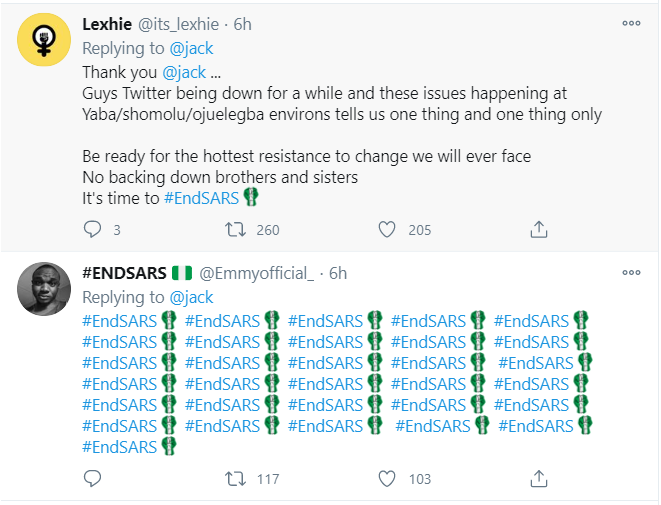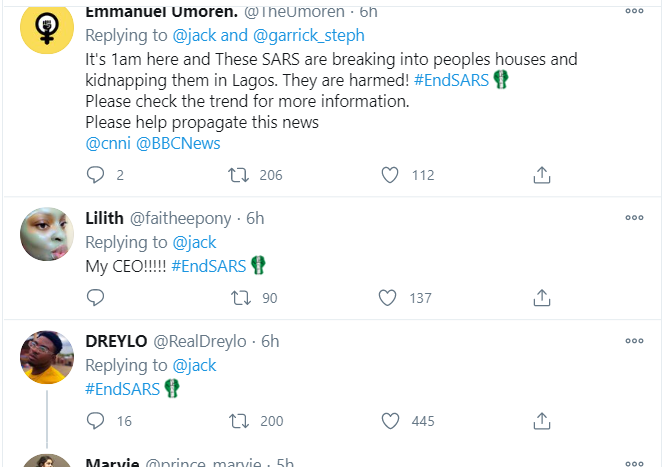 Brazilian footballer Neymar faces fresh police questioning over claim he raped a model in Paris hotel room
Brazilian footballer, Neymar, 26, will be questioned for the second time over claims he raped a model in a Paris Hotel room.
The Paris Saint-Germain star has reportedly agreed to fly into São Paulo in Brazil to meet with detectives over the alleged rape attack on 26-year-old model, Najila Trindade Mendes de Souza. 
Speaking to MailOnline, Dr. Juliana Lopes Bussacos, the officer in charge of the investigation, said: 'He will be treated like any other citizen. He has the same rights as any other man.
'I have interviewed many men in these situations and everyone is equal and they all have the right to tell their story and produce evidence to back it up.'
With detectives desperate to get to the bottom of what happened,  Dr. Juliana said she couldn't enter into details of the rape accuser's complaint due to confidentiality.
'There are so many questions and answers that need clarification. He says he did not rape her and she has said she has evidence.
The former Barcelona striker is expected to give his statement in the next 48 hours, and then officers will decide if there is a case and if it is necessary to bring them together.
This comes after it was revealed that Neymar could be cleared of the rape accusation levied against him within days over lack of more evidence from his accuser.
The Brazilian model has been informed by her lawyer that she faces seeing her case against the Paris Saint-Germain star dropped except there is more evidence. She also faces losing the second lawyer to represent her after he said he could not carry on if his professional 'trust' in her was compromised.
Trindade's attorney Danileo Garcia de Andrade said he still believed Ms. Trindade had a case, but he would step aside if there was a lack of evidence.
Mr. Daileo said he had given her a deadline to produce the video and photographs she claimed to have had which would help prove her allegations of rape against the Brazilian superstar. But if the evidence was not forthcoming, he said, he would drop the case next week.
Mr de Andrade told Brazil's UOL Esporte: 'If the police investigation of the supposed break-in where she lives shows there was no break-in, I am leaving the case.'
He added: 'The attorney-client relationship is based always on trust. If there is no trust, then there is no reason to stay on'
Trindade claimed she was the victim of 'aggression and rape' by the Paris Saint-Germain player in a hotel room in the French capital on May 15. She said the encounter started out consensual but quickly turned violent, leaving her with bruises and scrapes to her legs and buttocks, with Neymar refusing to stop.
She told police her tablet containing a seven-minute video, messages and photos she alleged incriminated the footballer, was stolen in a burglary at her apartment. But the authorities said they found no major signs of a break-in and only Ms. Trindade's fingerprints and those of her maid and friends around the flat.
Neymar has strongly denied raping her but admitted that what happened between them was consensual.
JAMB approves 160 as cut-off mark for 2019 admission
The 19th Policy Meeting on Admissions to Tertiary Institutions in Nigeria has approved 160 and above as the national minimum cutoff mark for admission into state and federal Universities for the year 2019.
The decision was taken at a meeting held at Bola Babalakin Auditorium, Gbongan, Osun State today Tuesday June 11th. It was also agreed that the minimum UTME score for admission into private Universities should be 140.
120 UTME score was approved for polytechnics while 110 score was approved as the least score for admission into private polytechnic.